Kate Hudson And Matthew McConaughey, Plus 6 Other Rom-Com Pairings I Need To See On Screen Again
Put these actors in another rom-com again ASAP!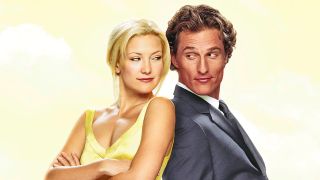 (Image credit: Paramount Pictures)
The first thing you need in my opinion to make a great rom-com is a pair of actors with great chemistry. If the leads don't vibe, the audience won't jive. The common denominator among all the best rom-coms of all time is a couple of actors who have fantastic chemistry and complement each other beautifully. So, with Kate Hudson and Matthew McConaughey's iconic rom-com, How to Lose a Guy in 10 Days celebrating its 20th anniversary, and with Valentine's Day right around the corner, and lots of rom-coms on the 2023 movie schedule, we thought we'd look back at some legendary acting duos who really need to make another romantic comedy together.
Kate Hudson and Matthew McConaughey
Talk about a duo that just oozes charm and chemistry. Both Kate Hudson and Matthew McConaughey are two of the most charismatic, charming and outgoing actors working right now, in my opinion, and it felt inevitable that they'd end up in a rom-com together. I think McConaughey said it best in a live stream on Hudson's Instagram, when he described their personalities and chemistry in How to Lose a Guy in 10 Days like this:
Hudson then said they are both "free" and "spontaneous" souls which allowed them to play on set back in 2003, and they really found their funny and electric chemistry. So, I'm so happy McConaughey took the role after an interaction with a psychic, because it's hard to imagine anyone other than the two of them playing Ben and Andie.
Considering it's been 20 whole years since How to Lose a Guy in 10 Days, I think we're due for two of the most charismatic characters in Hollywood to "play" together again as the actors put it.
Stream How To Lose a Guy in 10 Days with a Paramount+ subscription.
Zoey Deutch and Glen Powell
In my humble opinion, Zoey Deutch and Glen Powell are the Millenial versions of Kate Hudson and Matthew McConaughey. They are both uber-charismatic, extremely funny, and have mad chemistry. Lightning really struck with their Netflix rom-com Set It Up as the two actors played assistants trying to, as the title implies, set their bosses up so they didn't have to work so much.
Seeing as the director of Set It Up already has a sequel in mind, Deutch and Powell have remained good friends, and both their careers have flourished because of movies like Not Okay and Top Gun: Maverick, respectively, I think it's time we see them re-team for another rom-com. Maybe this time they could be the bosses.
Stream Set it Up with a Netflix subscription.
Joel Kim Booster and Conrad Ricamora
One of the best under-the-radar movies from 2022 was Fire Island, and Noah and Will quickly became one of my favorite rom-com couples. It's the classic case of opposites attract. With Joel Kim Booster's extroverted and sassy character and Conrad Ricamora's quieter yet equally sarcastic love interest, they made for a great match on screen.
Fire Island was a retelling of Pride and Prejudice, and Kim Booster and Ricamora played a great parallel to Elizabeth and Mr. Darcy, and it would be amazing to see the two together again. Maybe it could be another modern adaptation of a classic work, a la 10 Things I Hate About You. Or maybe it could be an original story that capitalizes on their comedic timing and wholesome chemistry.
Stream Fire Island with a Hulu subscription.
Anne Hathaway and Chris Pine
Now, Anne Hathaway has some iconic rom-coms and some magnificent screen partners, but nothing comes close to the absolutely legendary pairing of her and Chris Pine in The Princess Diaries 2: Royal Engagement. Growing up with this movie, and watching these two actors go from enemies to lovers was incredible, and set a high bar for all other rom-com pairings moving forward. I mean nothing tops that fountain scene.
Luckily, there is a Princess Daires 3 in the works, however, it's unclear who will be involved. Hopefully, we'll get to see Hathaway and Pine together again, because it's been almost 20 years since they've been on screen together. I think it's time for another Royal Engagement, if you will, from these two powerhouses.
Stream Princess Diaries 2 with a Disney+ subscription.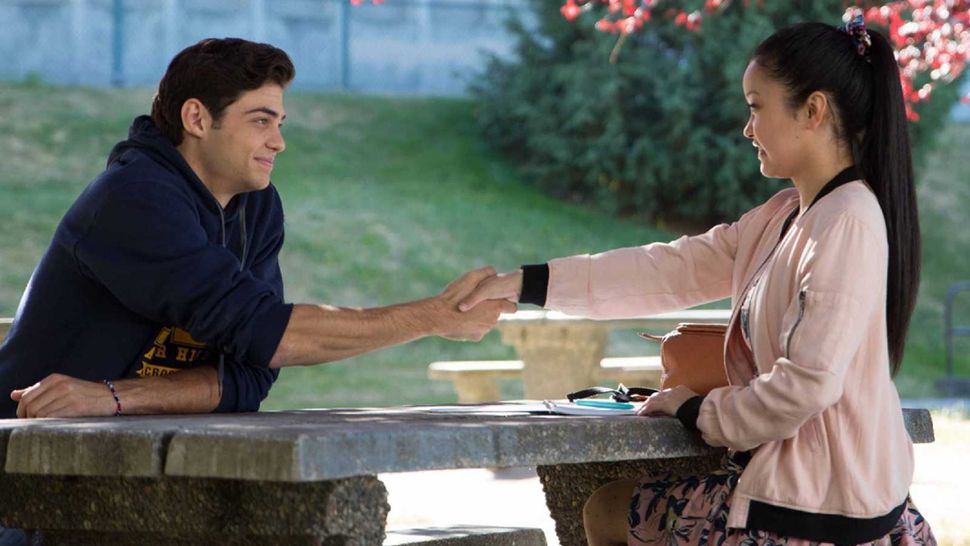 Noah Centineo and Lana Condor
I was a sophomore in college when To All The Boys I've Loved Before came out, and let me tell you, it was a mega-hit among us Zillenials, and remains one of my favorite recent rom-coms. The reason this movie is so good is mostly because of how fantastic Noah Centineo and Lana Condor are together.
The two shined as Lara Jean and Peter, and led the To All The Boys cast fantastically. Now, the two have taken on other roles, and their stars have grown significantly. Now that it's been a few years since this rom-com trilogy ended I think it's time the adorable pair picked up another project together. They're funny and have so much chemistry people actually thought they were dating, however, they decided to keep things platonic, and they seem to have a blast working with each other. So, bring on another rom-com!
Stream To All The Boys I've Loved Before with a Netflix subscription.
Henry Golding and Constance Wu
Crazy Rich Asians proved to be a crazy rich hit in 2018. And while the entire ensemble was incredible, Henry Golding and Constance Wu were at the heart of the story, and they were perfect together. While the two are set to reprise their roles in a sequel as Rachel and Nick, it's unclear when that will happen, so it would be great to see them in another movie together.
What was interesting about Crazy Rich Asians, is when we meet Golding and Wus' characters they are already in a long-term relationship. They worked so well, that I didn't doubt Nick and Rachels' relationship for a second. I think it'd be fun to see the two play out a new relationship in another movie, however, I'm also hoping they reunite for Crazy Rich Asians 2 sooner rather than later.
Stream Crazy Rich Asians with an HBO Max subscription.
Jude Law And Cameron Diaz
There's nothing cozier to me during the Christmas season than sitting down, putting on The Holiday, and watching Cameron Diaz and Jude Law fall in love. Kate Winslet and Jack Black's relationship is oh, so wholesome. However, the big stars of the show are Diaz and Law, whose chemistry jumps off the screen, and their relationship feels like a warm hug.
While our dreams were dashed of ever seeing a sequel to The Holiday, when Kate Winslet turned the rumors down, a girl can dream. And I think it's about time we see Diaz and Law in another comforting rom-com together.
Stream The Holiday on Showtime, or rent/buy it on Amazon (opens in new tab).
These are just a few pairs of actors who I'd love to see together on screen again. From early aught classics, to more recent pairings that have already made their mark, there are so many couples I'd love to see together again. And hopefully, someday all my dreams will come true.
Your Daily Blend of Entertainment News
Riley Utley is a Weekend Editor at CinemaBlend. She spent many years working in local journalism across the country writing about art, news and sports. One of her favorite films is When Harry Met Sally and she walks around constantly quoting Ted Lasso.