Are Megan Fox And Machine Gun Kelly Still Getting Married? A Guide To Their Engagement And The Alleged Cheating Drama That Followed
The ring, the drama, and everything else!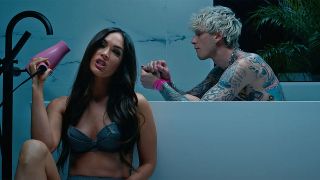 (Image credit: UMG )
In terms of modern celebrity couples, there are few that compete with the media whirlwind that is Megan Fox and Machine Gun Kelly's relationship. The pair, who have been together since the days of quarantine in 2020, became an even bigger internet sensation in January 2022 after news surfaced that MGK, real name Colson Baker, had popped the question of all questions and proposed to his longtime movie star girlfriend.
In the weeks and months since then, however, there have been a lot of questions about the status of their relationship in light of cheating accusations, odd social media behavior, and solo appearances at award show parties. Since we're all about going into all the details about high-profile relationships, we decided to share the ups and downs, cheating scandals, and reconciliations that have made headlines throughout the couple's tumultuous relationship.
How Machine Gun Kelly Proposed To Megan Fox In January 2022
It all started, this chapter anyway, on January 13, 2022, when Megan Fox shared a video to her Instagram account showing Machine Gun Kelly drop down on one knee under a banyan tree and display a small box. Moments (and a few camera cuts) later, Fox kneels down with her musician beau and puts on an engagement ring before they kiss.
The 25-second video, which doesn't feature anything the two said to one another in the moment, was accompanied by a few paragraphs of text from the incredibly busy Megan Fox, where she briefly went into their relationship and why that spot in particular meant so much to the couple. In case you were wondering, according to the caption, they drank each other's blood (and this won't be the last time the couple claimed to do such a thing).
Megan Fox's Engagement Ring Has Not One, But Two Stones
Not long after Megan Fox's Instagram video began to spread through social media like wildfire, it was Machine Gun Kelly's turn to stoke those fires with a post of his own. In a video posted to his Instagram account, he provided specifics about its design and why those details were so significant.
In the post that accompanied the 7-second clip, MGK admitted that he knows tradition calls for one ring, but he and jewelry designer Stephen Webster made it so that it would be made up of two magnetic bands, one holding an emerald ( Fox's birthstone) and the other holding a diamond (his birthstone). The musician also noted that the bands, which even have thorns, represent "two halves of the same souls" coming together to form the "obscure heart."
The Couple Decided To Post The Engagement On Their Socials To 'Control The Narrative'
Shortly after news began to spread that the two were set to get married, Machine Gun Kelly and Megan Fox sat down for an extensive interview with Vogue where they went into great detail about everything from their relationship to the unique engagement ring. One of the most informative moments in the January 2022 chat came when the interviewer asked why the couple resorted to sharing the news themselves over social media, and MGK gave a simple yet effective response:
With paparazzis, and the tabloids that pay handsomely for their work, as prevalent as ever, this direction made perfect sense, especially for an image-conscious couple.
Megan Fox And Machine Gun Kelly Made Their Debut As An Engaged Couple At A Dolce And Gabbana Fashion Show
Many couples have a party or at least invite close friends and family out for drinks to celebrate their engagement (and show off the hardware), but as they have shown time and time again over the course of the past two years, Machine Gun Kelly and Megan Fox like to take chances when it comes to fashion. When it came time to announced themselves to the world (in person and not over social media), the newly engaged couple went to one of the most fabulous parties of the year so far: the Dolce & Gabbana Fall/Winter 2022 menswear show in Milan, Italy, where the recently engaged musician made his runway debut.
According to People, the fashion event, which took place on Saturday, January 15, 2022, just days after the proposal, featured him in a variety of outfits, including a jewel-encrusted double-breasted suit that also had a matching mock turtleneck. Not to be outdone, Fox made a fashion statement of her own with a black lace mini dress.
In April 2022, Megan Fox Admitted She And Machine Gun Kelly Drank Each Other's Blood
In the months following the couple's engagement, both were in and out of the headlines for a myriad of reasons, including drinking each other's blood. During an April 2022 Glamour interview, the Expendables 4 actress admitted that while she and her fiancé weren't sitting around drinking large amounts as though they were on Game of Thrones, they would occasionally consume drops of blood for "ritual purposes only."
Fox went on to explain that whenever she would drink MGK's blood, it always had a purpose and that it was in a controlled setting where they would only shed a few drops.
Breakup Rumors Began To Swirl In August 2022
In August 2022, a little more than six months after they first got engaged, rumors began to swirl that Megan Fox and Machine Gun Kelly were either about to break up or had already split. In the days and weeks that followed, the actress' fans took to social media with all kinds of theories and speculation as to what happened to the once happy couple.
A couple of weeks after the speculation began, an unnamed source told Entertainment Tonight that the couple were still happy and their wedding was still on, it was just that they were both busy with their respective careers and families at the time:
The source went on to say that Fox and MGK were "taking everything one day at a time" when it came to the planned wedding. But this wouldn't be the last time the couple's relationship was questioned. In fact, the whole situation would only get crazier from here.
In February 2023, Machine Gun Kelly Was Accused Of Cheating On Megan Fox With Sophie Lloyd
In February 2023, more than a year after he first proposed to Megan Fox, Machine Gun Kelly was accused of cheating on the actress with musician Sophie Lloyd, which kicked off the next chapter in the seemingly never-ending romantic saga.
In a since-deleted Instagram post (via Page Six), Fox seemed to respond to the whole situation with an extremely vague and loaded caption reading: "You can taste the dishonesty / it's all over your breath." Whether or not it was specifically targeted at her fiancé's alleged tryst with the guitarist is anyone's guess, but those two lines carried a lot of weight. Fox would go on to delete every picture of MGK on her Instagram account before later wiping her account of all images.
Shortly After, Megan Fox Took Off Her Ring But The Engagement Wasn't 'Called Off'
Around the same time this was all going down, a source close to Fox told People that the actress was no longer wearing her engagement ring and that there were serious problems with the couple's relationship, but this didn't mean they were officially calling things off, stating:
The unnamed source didn't provide any additional details concerning the status of the couple's tumultuous relationship, but this wouldn't be the last time they would find themselves in the tabloids.
Megan Fox Attended The Vanity Fair Oscars Party With Her Fiancé In March 2023
The intrigue surrounding Megan Fox and Machine Gun Kelly's engagement would continue into March 2023, when the actress was spotted at the Vanity Fair Oscars Afterparty not only without her ring but also without her fiancé. Citing an unknown source close to the couple, People reported that Fox's friends thought the relationship was on the rocks, while others said the two were trying to work through a myriad of issues.
Megan Fox And Machine Gun Kelly Reportedly Reconciled In April 2023
Just when it appeared as if they were on the path of so many other celebrity couples who have called things off before tying the knot, the duo reportedly got back together and rekindled their romance during a luxurious Hawaiian getaway. In April 2023, the Daily Mail published several photos showing them walking hand-in-hand. One could argue that these were old photos sold to a tabloid, but Fox was rocking the red hairdo she debuted the previous month.
A source would also later tell Us Weekly that they were back together, but that they were taking things slow for the time being. They also revealed that the twosome were once planning a huge L.A. wedding ceremony, but have since put it on hold.
So, now it appears that Megan Fox and Machine Gun Kelly are back together once again. But, if the past year or so has been any indication, this story could go any direction before it's all said and done.
Your Daily Blend of Entertainment News
Philip grew up in Louisiana (not New Orleans) before moving to St. Louis after graduating from Louisiana State University-Shreveport. When he's not writing about movies or television, Philip can be found being chased by his three kids, telling his dogs to stop barking at the mailman, or yelling about professional wrestling to his wife. If the stars properly align, he will talk about For Love Of The Game being the best baseball movie of all time.