Pride And Prejudice: 6+ Thoughts I Had While Rewatching The 2005 Movie
"You have bewitched me body and soul."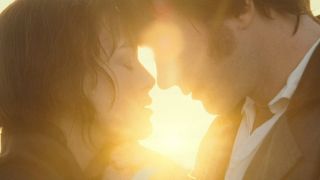 (Image credit: Focus Features)
The love story of Fitzwilliam Darcy and Elizabeth Bennet has been reimagined and adapted many times throughout history. However, the 2005 movie version of Pride and Prejudice is one of the best. Keira Knightley and Matthew Macfadyen really give these characters the quiet brilliance they need to thrive on screen, and it's one of Keira Knightley's best films.
I have seen many Pride and Prejudice screen adaptations and re-imaginings, but this will always be my favorite. Therefore, with the beloved movie coming to Peacock, I knew it was time for another rewatch. It's my first in quite a long time, so I had many thoughts.
Pride And Prejudice Is The Opposite Of A Meet Cute
Everyone loves a good meet cute. Our leads meet and sparks fly. They set out on their romantic journey with all its future triumphs and pitfalls. The meet-cute sets the tone for the relationship.
Mr. Darcy (Matthew Macfadyen) and Elizabeth's (Keira Knightley) first interaction is anything but cute. Clearly, Darcy falls for her the moment he sees her. However, he denies himself.
Then he does the worst thing a guy can do: speaks ill of her to another. This sets them on an enemies-to-lovers path. Like many other great enemies-to-lovers romances, it will take a while for them to find common ground.
Elizabeth has every right to find herself annoyed with Mr. Darcy because who wouldn't in that situation? Pride and Prejudice is made all the more fun because of their failure to communicate even from the start. Some of the best romantic movies involve a little tension at the beginning. It's how you know the film will frustrate and delight you.
Words Matter As Much As Actions In This Movie
As stated, nearly every one of Darcy and Elizabeth's problems could have been resolved if they just had some tea and got to know each other. They didn't talk enough. When they did talk, it was often combative.
Usually, their words shoot daggers at each other. Darcy said something snobby and Elizabeth handled it with wit and a sharp tongue. Their verbal spars were enough to buy premium tickets for the event.
Words got them in trouble. Therefore, when Darcy becomes a man of action, and not just words, he shows Elizabeth his true heart. Pride and Prejudice proves that words and actions both can harm or help you. This means that both deserve equal amounts of effort and attention.
Your pretty words have to be backed with actions. The greatest movie love stories involve both great speeches and great romantic gestures.
The Sisterly Love In Pride And Prejudice Shines As Strongly As The Romance In It
Many of Jane Austen's greatest stories have family at their center along with romance. The love between sisters is also a common theme. Pride and Prejudice may showcase this best. Jane (Rosamund Pike) and Elizabeth are quite attached to each other. They love each other so much that anyone who hurts them becomes an enemy. They have an agreement that says if my sister doesn't like you, then I don't like you.
Mr. Darcy's greatest crime against Elizabeth is that he almost ruined Jane's chance at happiness. If Mr. Darcy did everything right after that, he still probably wouldn't have won Elizabeth's heart until he fixed things with Jane and Mr. Bingley (Simon Woods).
Family, in general, is one of the most important things to Elizabeth. Despite their eccentricities, she really loves them.
Everything About This Film Is Pretty
Pride and Prejudice is such a pretty movie. The cinematography is gorgeous, but also the scenery itself creates a picturesque world.
Clearly, director Joe Wright put a lot of thought into each frame and detail. There are so many breathtaking shots or careful camera movements to create gorgeous images.
Additionally, I am a sucker for great costume designs. I could not tell you if these are accurate costumes to the era but I can say that they are very stunning outfits.
One of the reasons I enjoy Bridgerton and similar movies and shows are the pretty, seemingly hard-to-breathe-in dresses. However, Pride and Prejudice shows women wearing a bit more casual beautiful garments. This works because there are only a few ballroom scenes and the Bennets are not a wealthy family. They wear pretty dresses, but aren't as extravagant as others.
Mr. Darcy Is Such An Attractive Love Interest Because He Owns Up To His Mistakes And Fixes Them
There is something so appealing about a lead character who knows they messed up and fixes it. They don't continuously ignore the problem or argue that they were right. They say, "Oh dang, my bad. Let me fix that."
Mr. Darcy understands the assignment! He says this girl hates me for valid reasons, I need to do everything in my power to atone and help her family. Helping someone else out just because you love them is the ultimate sexy move. A considerate partner? Yes, please. This makes Mr. Darcy one of the sexiest fictional characters.
"You Have Bewitched Me Body And Soul" Stays On Constant Rotation In My Mind
Speaking of sexy moves in movies, how can you not fall for Mr. Darcy when he gives his speech to Elizabeth and says that "you have bewitched me body and soul"? This is, once again, showing that words are so powerful when used thoughtfully.
I don't know many movie quotes or speeches, but those lines were programmed into my brain the moment I heard them. If someone tells you, in earnestness, that you bewitched them body and soul, you almost have to marry them.
Other Thoughts
I have no pride or any prejudice here, so let me share more thoughts:
Poor Mary (Talulah Riley). We have all been movie Mary at one point in our lives.
Mrs. Bennet (Brenda Blethyn) is ruthless in her pursuit of marrying off her daughters, and I love her for it.
Mr. Bennet (Donald Sutherland) constantly shades Lydia (Jena Malone), and honestly, she deserves it.
Pride and Prejudice just makes me want to read more Jane Austen novels. It may be time to finally finish Emma.
Mr. Bennet crying from realizing how much Elizabeth loves Darcy is such a sweet moment.
The whole second proposal scene, through the very end of the movie, just brings me every emotion (from laughter to tears to joy).
Pride and Prejudice is one of the best movies to stream on Peacock right now. It's also one of the best romantic movies to watch, especially if you want a classic book adaptation done really well.
Stream Pride and Prejudice on Peacock. (opens in new tab)
Your Daily Blend of Entertainment News
Spent most of my life in various parts of Illinois, including attending college in Evanston. I have been a life long lover of pop culture, especially television, turned that passion into writing about all things entertainment related. When I'm not writing about pop culture, I can be found channeling Gordon Ramsay by kicking people out the kitchen.