6 Reasons Why Definitely Maybe Is A Great Underrated Rom-Com
This movie makes you swoon and think.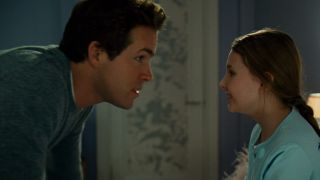 (Image credit: Universal Pictures)
Somehow many romantic comedy fans don't bring Definitely, Maybe into the conversation about the best romantic comedies of all time. I wouldn't argue it belongs on the list, but it should at least make the quarter-finals, because the film is charming and Ryan Reynolds and Abigail Breslin really endear you to this movie.
Definitely, Maybe is a romantic comedy not afraid to tackle some serious topics, such as divorce and politics. It approaches them with care and sensitivity that doesn't remove it from the world of rom-coms, and keeps things light-hearted even when it shows the emotional toll of divorce on a child.
Definitely, Maybe is a romantic comedy that loves the genre but also wants to go a little deeper. It is fun, romantic, and definitely an underrated film. Let's discuss.
Definitely, Maybe Explores Different Romance Tropes (From Opposites Attract To College Sweethearts)
Usually, romantic comedies focus on exploring only one overall romantic trope or type, such as enemies to lovers, fake dating, and star-crossed lovers. However, only a few of these films involve the main character exploring many different romance tropes in a single film.
Will Hayes (Ryan Reynolds) deals with several typical romance themes in Definitely, Maybe. Sometimes the story involves multiple tropes with the same woman. It features these beloved tropes: opposites attract, falling for the best friend, college sweethearts, getting your dream girl/guy, and most importantly, second chance love.
This gives the movie a little more layers than some other romantic comedies, because the film shows the reality of experiencing different types of love stories throughout life. An individual may have only one great love story, but they could be involved in several different types of love stories during their lifetime.
"It's Like A Love Story Mystery"
Definitely, Maybe isn't competition for any of the great mystery movies, but it does have a really interesting mystery at its center. Maya (Abigail Breslin) must figure out which woman from her father's story is her mother. She has to listen for clues to figure it out.
This gives the film a little playful spin because the audience is likely going to try to figure it out, too.
Such a mystery element isn't something often seen in romantic comedies. Many keep things simple with boy meets girl, boy meets boy, girl meets girl or some other story. These movies then focus on romance without adding any other elements, like mystery.
Definitely, Maybe Has A Fully Developed Love Story
Some romantic comedies don't present us with a fully formed love story. The characters fall in love and we're just supposed to believe them with limited proof. Some films don't take the time to create a slow-burn romance, so relationships and couples are rushed together. Overall, this movie avoids that issue.
We watch the development of two of Will's main romances, but his relationship with April (Isla Fisher) gets extra attention and development. We see their first meeting and their relationship evolve over the years. It makes them feel like a fully fleshed-out romance with all its ebbs and flows.
April and Will's romance doesn't feel perfect but it feels real. This is likely due to us seeing so much of the progression and not just the highlights.
It Showcases Various Love Stories That Aren't Just Romantic
Definitely, Maybe has plenty of stories of love. It explores what happens when a first love falls apart. It explores unrequited love, happy love stories, and even familial love stories.
Will's love for his daughter plays a major role, and he's one of the good fathers in movies because of his parenting skills with Maya. Will's love for her is just as important to the story as who he ends up marrying.
It's the catalyst for the film. Additionally, in the final moments, she plays a big role in helping him get a romantic happy ending. Many rom-coms only focus on the main characters' romance, so the story here gives the film a little more weight.
Will wants to find love again but he also has to take into consideration Maya and her wants and needs. This isn't the story of a long-time bachelor, but someone who has done the whole happily ever after and it didn't work out.
It Highlights Ryan Reynolds' Appeal As A Romantic Lead
Ryan Reynolds is probably best known for his comedic roles. However, some of his best movies are romantic comedies. The Proposal, for example, is a masterpiece. Reynolds can play really goofy characters, but he also knows how to channel that into romantic lead charm. He's sweet when necessary, and has more of an imperfect leading man quality than ultra-suave romantic leads. This makes him more of a realistic romance hero.
He hasn't done many romantic comedies, but that doesn't take away from the fact that Definitely, Maybe is one of his best. He makes you want to see Will find a happy ending.
It Shows A Love Story Doesn't Have To Be Forever To Be Important And Magical
So, this is a love story and romantic comedy, but it's also a breakup movie. Unlike movies such as Marriage Story and Blue Valentine, however, it doesn't go into the devastating, depressing, and dark effects of divorce.
You don't see how or why this couple fell apart, though while hearing about his past relationship you can make assumptions, but you aren't invited in to watch it all fall apart. Instead, the film — sort of — celebrates Will and his ex-wife's love story. It doesn't have a happy ending, but it was an important part of their lives.
The relationship helped both evolve. Definitely, Maybe treats all of Will's love stories in the same way. They may not all end up being together forever, but each one plays an important role in his life and future. These relationships also all gave him something, such as a child, clarity, or growth. Each romance played a significant part in his life.
Many romantic comedies treat divorce or a breakup as the worst thing that can happen to a couple. But, this film embraces it as something that can open the door for other possibilities or help a person evolve, and takes a reflective approach to romance and love.
A love story coming to an end doesn't mean it wasn't worth it. It's still magical and important. There is merit to every broken heart.
Definitely, Maybe is one of the best things to watch on Amazon Prime right now. It's a touching romantic comedy with plenty of insight into beginnings and endings.
Stream Definitely, Maybe on Amazon Prime. (opens in new tab)
Your Daily Blend of Entertainment News
Spent most of my life in various parts of Illinois, including attending college in Evanston. I have been a life long lover of pop culture, especially television, turned that passion into writing about all things entertainment related. When I'm not writing about pop culture, I can be found channeling Gordon Ramsay by kicking people out the kitchen.