Reese Witherspoon Is In The Middle Of A Split From Jim Toth, So Of Course She Cut Her Hair
Reese Witherspoon's new life post-Jim Toth starts with a new haircut.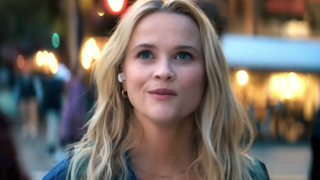 (Image credit: Netflix)
Reese Witherspoon is a fashion icon who continues to dazzle us with her styles. The Legally Blonde actress showed us that blondes have more fun, she can pull off the '70s 'do in Inherent Vice, and be a beautiful brunette in Walk the Line (which she won an Oscar for), and in Apple TV+'s The Morning Show. Even while this talented actress is in the midst of officially filing for divorce from talent agent Jim Toth, she, of course, still found it in herself to grace us with a new haircut that's bringing bangs back.
In March, Reese Witherspoon announced that she was getting a divorce from her husband, Jim Toth, after twelve years of marriage. These two got married on March 26th, 2011 and they share a son together named Tennessee. Toth is also the stepfather to Witherspoon's other children Ava and Deacon that she is currently co-parenting with her ex-husband Ryan Phillippe. But it appears that the ending of her marriage isn't stopping her from posting on Instagram a photo of her new haircut with those bangs doing wonders for her. Take a look at her sparkling new look below:
Like one Instagram user commented, doesn't she look even more so like her 23-year-old daughter Ava with this look? Those bangs look so perfect on her! And as a woman of bangs myself, I'm always happy when more women join that style trend. Plus, I'm not the only one who's a fan of Witherspoon's new look but a number of celebrities chimed in their praiseworthy comments like her Legally Blonde co-star Selma Blair, Chelsea Handler, Jessica Capshaw, Mariska Hargitay, Octavia Spencer, and more.
Witherspoon is also shown in the picture to be connecting with her Southern self standing next to a blooming Magnolia. It's good symbolism for starting anew, especially with a new chapter of her life about to begin post-divorce. You may be wondering why she and Jim Toth have decided to suddenly call off their marriage after 12 years. Reports have said that Toth allegedly grew apart from his wife due to her "more powerful" status and expanded areas of interest. Another reason reported by sources was the spark between the two of them disappeared as they were behaving more as co-parents than a loving couple. Quibi may have been another cause for divorce as Toth took a gamble on wanting to join this streaming service that ultimately went under.
For whatever reason these two decided to divorce, Witherspoon and Toth are allegedly not blaming each other for things not working out. A separate source said the ex-couple's decision to divorce was "mutual" as they're parting as friends and will continue to co-parent. As of now, she, her ex-husband Ryan Philippe, and their kids have been spending time together as a family as they recently celebrated the release of Deacon's debut album "A New Earth." Clearly, the Wild actress is continuing to live life as best as she can with her loved ones and her continuously growing career.
Reese Witherspoon's divorce from Jim Toth isn't stopping her from celebrating her new lease on life with those stylish bangs of hers. I wish her the very best in her life going forward. Take a peek at our 2023 movie releases so you see what new releases this actress/producer has in store for us next.
Your Daily Blend of Entertainment News
Just your average South Floridian cinephile who believes the pen is mightier than the sword.