The Best Jonathan Majors TV Shows And Movies And Where To Watch Them
From When We Rise to Devotion, here are some TV shows and movies to check out.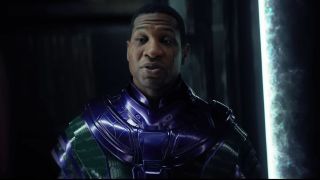 (Image credit: Marvel)
Jonathan Majors is appearing in several of the most anticipated 2023 new movie releases. This includes new Marvel movies, as he appears in Ant-Man and the Wasp: Quantumania. You can also see him take on Michael B. Jordan as part of the Creed III cast. Though it may seem like he has quickly risen to fame, some of his best movies and TV shows were around long before he entered the MCU. Many of them are available on your favorite VOD platform or streaming services.
Majors has already built an impressive acting resume over the last several years. He has appeared in critically acclaimed TV shows, popular streaming movies, and made a big splash in the Marvel Cinematic Universe as Kang the Conqueror. He is definitely an actor to watch.
If you're unfamiliar with his previous work, here are the best Jonathan Majors movies and TV shows to watch.
Lovecraft Country (2020)
Lovecraft Country is an HBO horror series that was unfortunately canceled after only one season. The show follows Tic (Majors) as he travels across the United States in the 1950s in search of his missing father. His old friend Leti (Jurnee Smollett) and his uncle George (Courtney B. Vance) accompany him on this journey.
While traveling, the trio not only face prejudices and threats of racially motivated violence but actual monsters. This is a great show to watch for horror fans because there are plenty of classic horror references, and it is a show that knows how to surprise and frighten. Lovecraft Country is also skilled at showcasing the horrors of segregation and racism at that moment in history and how it is just as terrifying as any fictional monster, maybe even more so.
Stream Lovecraft Country on HBO Max. (opens in new tab)
The Harder They Fall (2021)
The Harder They Fall's cast features an ensemble of Black actors including Jonathan Majors, Idris Elba, Zazie Beetz, Regina King, Delroy Lindo, and Lakeith Stanfield. It's a Western, and as such has plenty of shootouts, robberies, and revenge. Majors plays the lead of The Harder They Fall.
His character, Nat Love, is on a revenge mission. This film really allows him to shine. In a cast full of world-renowned, award-winning, talented actors, he manages to carry the film as its lead. You're compelled to watch his journey and look forward to the eventual showdown between him and Rufus Buck (Elba).
Stream The Harder They Fall on Netflix. (opens in new tab)
Devotion (2022)
Devotion is a biographical film about Jesse LeRoy Brown and Tom Hudner. Both men were United States Navy Officers and aviators in the 1940s and 1950s. Brown became the first African American aviator to complete the Navy's flight training program.
Majors plays Brown, and Glen Powell plays Hudner. The first half of the film is about their friendship. The movie doesn't completely focus on Brown's life but gives a snippet of it, especially his time as an aviator during the Korean War.
Devotion overall is a film about friendship and bonds that last a lifetime. It's also a good introduction to the history of Jesse L. Brown. Majors and Powell really give some of their best performances in this movie. Their friendship is heartwarming but you also feel the weight of each character's life and decisions.
Stream Devotion on Paramount+. (opens in new tab)
Rent/buy Devotion on Amazon. (opens in new tab)
Da 5 Bloods (2020)
Da 5 Bloods is one of Spike Lee's best movies. It follows four Vietnam War veterans as they return to Vietnam in search of the remains of a friend and buried treasure, and stars Delroy Lindo, Jonathan Majors, Clarke Peters, Norm Lewis, Isiah Whitlock Jr., and Chadwick Boseman.
Major plays David, Paul's (Lindo) son who joins the men on this journey. The movie is full of outstanding performances and tells a deep and devastating story with care. It's a mesmerizing film.
Stream Da 5 Bloods on Netflix. (opens in new tab)
The Last Black Man In San Francisco (2019)
Jimmie Falls dreams of owning the home that his grandfather built. He spends most of his days doing random activities with his best friend, Mont (Majors). The two men basically live in their own little hopeful reality. When the opportunity presents itself, Jimmie moves into his grandfather's former home without actually buying it.
This film has a poetic touch and whimsical nature despite being very much grounded in reality and all its tragedies. It's a very personal story that comes across on screen.
Rent/buy The Last Black Man In San Francisco on Amazon. (opens in new tab)
When We Rise (2017)
When We Rise is an ABC miniseries that takes place from the 1970s to the 2010s. It follows a group of LGBTQ activists and rights advocates. ABC aired the eight-episode series in 2017. The cast includes Guy Pearce, Mary-Louise Parker, Jonathan Majors, Michael K. Williams, and Dylan Arnold.
The characters and events are all based on real people and events. Majors appears in several episodes as young Ken Jones, and it was his first major TV role.
Buy When We Rise on Amazon. (opens in new tab)
Captive State (2019)
Chicago is placed under martial law after aliens invade. A group of rebels decides to change things by bringing the fight to the extraterrestrials and proving to the world that they can fight and win against these invaders. It stars John Goodman, Ashton Sanders, Vera Farmiga, Alan Ruck, and Jonathan Majors
Majors plays Rafe Drummond, the face of the rebellion. He witnesses his parents being murdered by the creatures and makes it his life mission to stop them. This is a sci-fi film that I only discovered while creating this list, and it's surprisingly a really interesting concept. The movie isn't one of the best sci-fi films of all time, but it has a lot of fascinating ideas. It's definitely worth a watch.
Rent/buy Captive State on Amazon. (opens in new tab)
White Boy Rick (2018)
White Boy Rick is about a teenager who gets involved in a life of crime. He also acts as an FBI informant. The cast also includes Richie Merritt, Matthew McConaughey, Bel Powley, Jennifer Jason Leigh, and Brian Tyree Henry.
Majors has a supporting role here, but his character is a critical part of the story as one of the head gangsters. Instead of just being a one-dimensional thug, he brings lots of layers to Johnny, even with his limited screen time.
Rent/buy White Boy Rick on Amazon. (opens in new tab)
Loki (2021-)
Loki is the Disney+ Marvel TV show about the God of Mischief (Tom Hiddleston). It takes place after the events of Avengers: Endgame, when a Loki time-variant is grabbed by the Time Variance Authority and held captive while they decide what to do with him. The series also stars Gugu Mbatha-Raw, Owen Wilson, and Sophia Di Martino.
Majors only appears in a couple of episodes, but it's his introduction in the MCU. Therefore, Loki is a good place to start, because Majors and his character play a critical role in future Marvel movies.
Stream Loki on Disney+. (opens in new tab)
Catch Jonathan Majors next in Magazine Dreams, Ant-Man and the Wasp: Quantumania, and Creed III.
Your Daily Blend of Entertainment News
Spent most of my life in various parts of Illinois, including attending college in Evanston. I have been a life long lover of pop culture, especially television, turned that passion into writing about all things entertainment related. When I'm not writing about pop culture, I can be found channeling Gordon Ramsay by kicking people out the kitchen.