Ben Affleck In Mallrats 2? Kevin Smith Gives A Few Updates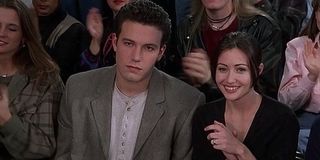 Kevin Smith's long-belated sequel, Mallrats 2 is apparently moving along faster than a case of stink-palm-produced puking. The writer/director has reportedly done a huge amount of legwork corralling most of the members of the cast of the 1995 original film, setting up what should be a raucous reunion. However, there's one character in particular played by a then-unknown Ben Affleck who may be a more difficult acquisition. Now, Smith provides an update on that situation.
In an interview with ComicBook.com, Kevin Smith, currently elbows-deep in pre-production for Mallrats 2, discusses the possibility of Ben Affleck reprising his role as the designer-decked douchebag, Shannon Hamilton. Despite a long-standing friendship with Affleck, it seems that Smith remains unsure about the prospect of a reprisal, citing the chances as "slim," due to the obvious fact of his upcoming role as Batman. Yet, Smith never quite closes that door, as he states,
By "everybody," Smith literally does mean just about every notable person from the cast of the original film, including what may be as many of 6 new characters. It does appear that Mallrats 2, like its 1995 predecessor, will be looking to center on protagonists Brodie Bruce (Jason Lee) and T.S. Quint (Jeremy London), who navigate their hilarious romantic crises amidst their inertia-entailing habit of hanging around at a mall. Yet, Mallrats distinguished itself uniquely in that its vast ensemble came across as equally memorable and their collective participation could prove to be a critical component for this sequel's identity. Yet, the breadth of the returning cast does tend to mitigate the importance of an Affleck return. As Smith continues,
As one of the "villains" of the film, Affleck's Shannon was competing for the love of Brodie's taken-for-granted girlfriend, Rene Mosier (Shannon Doherty). It may be a nice nostalgia trip to see Affleck return to his role as "the proprietor of Fashionable Male," finding out where he ended up after the "uncomfortable place" he found himself after the statutory rape situation. However, the character was only critical as an antagonistic plot device for the first film, serving no further significance to the main characters. Likewise, Smith does appear resigned to the fact that his old friend Ben might be a bit too big at the moment for some random walk-on to reprise a minor pre-stardom role from 20 years ago.
Clearly, Ben Affleck is riding high from a critical perspective with the success of his starring effort, Gone Girl, as well as his directorial talents in Argo, The Town and Gone Baby Gone. However, depending on how things go with next year's Batman V Superman: Dawn of Justice, his stock as a box-office draw could roller-coaster up to unprecedented heights, leaving him in a stratosphere that would make a return as Shannon in Mallrats 2 even more inconceivable. However, we'll have to wait and see if Smith can leverage Affleck with the power of both nostalgia and loyalty to make what will clearly be the most minimal of appearances.
Your Daily Blend of Entertainment News
Thank you for signing up to CinemaBlend. You will receive a verification email shortly.
There was a problem. Please refresh the page and try again.