Emilia Clarke Thinks Stinky Garlic Breath Landed Her A Me Before You Role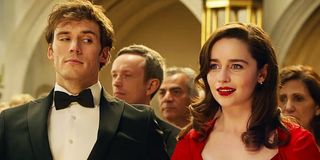 There are many different ways for actors to land roles. Either they can stun during a performance, captivate on tape or speak eloquently about their character during a meeting or dinner. But Emilia Clarke is probably the first actress to ever land a role thanks to her smelly garlic breath and for being a klutz.
Emilia Clarke made this admission to me during a recent roundtable discussion for Me Before You. When I quizzed the actress on the audition process for the role of Louisa Clark in the emotional drama, the Game Of Thrones starlet admitted that one of the most important aspects of the process was her chemistry reading with her eventual co-star Sam Claflin.
However, when I joked if she'd brought along a pair of bumble-bee tights, a garment that her character adores, to impress her potential cast and crew Sam Claflin interjected with, "No, she brought her garlic breath." A mortified Emilia Clarke then explained:
Sam Claflin insisted that because it was the first thing that Emilia Clarke uttered as she entered the audition, it immediately made her endearing. In fact, the actor admitted that it provoked a moment between himself and director Thea Sharrock where they then looked at each other, clocked eyes and realized that this was just like Me Before You's leading character.
Director Thea Sharrock told another anecdote involving Emilia Clarke's klutzy ways that summed up precisely why the 29-year-old was cast as Louisa Clarke. After skyping with Thea Sharrock regarding the role, Emilia Clarke finally met face to face with the director. It turns out that while her first impression was far from cool, it was integral for helping to convince Thea Sharrock that she was perfect for the film. She recalled:
You'll get a chance to see Emilia Clarke's performance in Me Before You this Friday when it's finally released into cinemas. While it's a far cry from her weekly antics riding on the back of dragons and trying to take over Westeros, you also get a feeling that it's much closer to her real personality than anything else she's ever done before. If you need a little more convincing and are so inclined, you can also read my review for Me Before You by clicking here, too.
Your Daily Blend of Entertainment News