Fifty Shades Of Grey Is Getting A Very Exclusive IMAX Release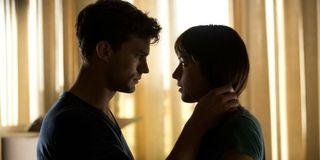 By now, it sounds like a broken record talking about the big event this weekend. And I'm not referencing that one day of the year that we buy expensive chocolates in heart-shaped boxes and pretend that romance isn't dead. I'm talking about the event that has been talked about far more than St. Valentine this year, and now it's getting even bigger treatment. Fifty Shades of Grey could be coming to an IMAX theater near you.
In a completely last minute deal, IMAX has decided to play the sextacular, BDSM-filled film on the big screen in about 75 large screen venues. Deadline first broke the news and IMAX Entertainment CEO Greg Foster insisted that the decision basically came down to: "something I think we have to do". It's all apart of IMAX's big plan to expand beyond its core audience. And in case you needed a second to think of who that 'core audience' is, it is you and me. Basically anyone so excited about a film that they are reading up extensively about it, and dying to see it in the most epic way possible. IMAX is made for fanboys and fangirls. Yes, it was also made for middle-school field trips to see Bugs! in 3D and other stunning flicks (that are somewhat educational).
But, the best part about IMAX, is seeing an awesome action-sequence take up the entire screen, or an epic explosion, or a gorgeous shot of deep space. I just don't know that IMAX is the perfect place to see a film adaptation of an erotic novel. Don't get me wrong, despite the harsh reviews, I'll be going to the theaters to see what all the hype is about. But, I don't think watching Dakota Johnson and Jamie Dornan having sex needs IMAX treatment.
According to Deadline, about eight films account for two-thirds of IMAX's yearly box office, so the company is trying to expand those sales at other times of the year too, and not just when there is a major franchise (aka superhero film) released. IMAX just recently made the impromptu decision to show American Sniper in their theaters, and it did surprisingly well. The theaters also recently showed a couple episodes of HBO's Game of Thrones which generated more than $2 million. The difficulty in IMAX is bringing people for mid-level films explained Foster, and the company is working hard to be more open-minded about what they show, in hope of attracting larger audiences.
While it's great that IMAX is trying to expand, and become more accessible for all genres of film, it brings up the question of why choose IMAX? We know the bigger screen, the higher quality and the better sound systems are worth the higher ticket price in certain instances. But why pay the extra money for a romantic blockbuster?
Your Daily Blend of Entertainment News