Film Critic Drops A Disgusting Porn Reference In The Middle Of His Strange Magic Review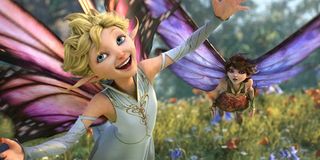 George Lucas' attempt at cornering the kid's animated musical fairy tale market in Strange Magic was, unfortunately, a box-office tragedy for the legendary mind who gave us Star Wars. Its paltry performance financially was only compounded by the shellacking the film would receive from critics, generally dismissing the film as a bizarre, clunky mess of an affair. However, during a discussion of the film, one critic in particular, Ben Mankiewicz would evoke a comparison to "incest porn." Wha?...Huh? You have to give this a listen:
So, just exactly HOW the idea of "incest porn" got juxtaposed to the children's film Strange Magic you may wonder? Well, sitting down for a 3-person video review during web series, What The Flick?!, host Christy Lemire, along with Matt Atchity of Rotten Tomatoes, were also joined by the aforementioned Turner Classic Movie host and product of Hollywood royalty, Ben Mankiewicz. At this point in the sit-down, the critics are savaging the film properly, with Atchity remarking that the best way to get through Strange Magic would be to wait for it to be released on DVD and watch it at home with the sound completely off. – A rough, but relatively normal critical jab at what one perceives as a bad film. This, however prompted Mankiewicz to interject his bizarre and insanely inappropriate comments to a stunned silence amongst occupants of the table. Seemingly set on compounding the awkwardness, Mankiewicz would further explain:
Well, I can only speak for myself when I say unequivocally, "uh, NO" regarding this apparent rite of passage among adolescent boys. Mankiewicz was clearly trying to grab on to the idea Atchity introduced, which implies that watching things on mute helps get through difficult footage and can change the context in your own mind. – We get it. With that said, it was a sadly unnecessary interjection that was clearly attempting to be "edgy," but only coming across as bizarre and almost unnecessarily cruel to the project.
Strange Magic was, by most accounts, including our own review, a problematic piece. Despite being helmed by a veteran sound designer and nascent director in Gary Rydstrom, it was clearly, nay, blatantly promoted as "a George Lucas movie." Something it wasn't. Despite its apparent ambitions, about which Lucas was quite vocal, it certainly did not become this generational-defining timeless tale that he even went on record implying was the reason he quit Star Wars. That might have just been Lucas in hype man mode trying to rile up an audience of grown Star Wars folks to bring their children to his movie, but as it stands, it's a bomb. (Sitting in its second week only at $6 million.) However, it is certainly not comparable to "incest porn."
Your Daily Blend of Entertainment News
Thank you for signing up to CinemaBlend. You will receive a verification email shortly.
There was a problem. Please refresh the page and try again.