Strange Magic: How Social Media Helped Alan Cumming And Evan Rachel Wood Land Roles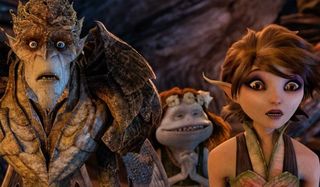 Have you ever landed a job because of Twitter? Alan Cumming has.
The advances in technology are rapidly changing the way we live our lives and, in the case of actors, earn their next paychecks. As Cumming told me during an interview for George Lucas' fairytale musical endeavor, neither he nor his Strange Magic co-star Evan Rachel Wood landed their roles through practical means. There wasn't a traditional audition. They hadn't prepared any songs to sing for the father of Star Wars. Instead, it was thanks to social media that their involvement came to pass.
As Wood said, it was clips of her online that brought her to the attention of the movie's producers, while Cumming had a similar experience. Their co-star Elijah Kelley, however, wasn't as fruitful in this department, and he underwent a more straight-forward process.
What's more impressive, though, is Cumming's admission of landing a different job through Twitter. Though he wouldn't specific as to which one it was, he did say that someone had reached out to him through the social media platform, which led to him earning the gig.
When Disney and Lucasfilm revealed the first image of Strange Magic, everyone was taken aback. George Lucas had secretly been working on an animated, family friendly musical about the collision of fairies and goblins slapped together with musical numbers and a love story? It's not an easy task to make an animated anything — nor is it quick to turnaround — which means Lucas and his team were working on this film for a couple years without saying much of anything to anyone. When Evan Rachel Wood had joined the cast she was pregnant, which was back in 2013, but Lucas had been working on Strange Magic for longer.
Though something of this nature doesn't seem like anything Lucas would do, he had also imagined Strange Magic as a musical. Part of the fun, he said, was sifting through a vast music library and selecting which ones would work for the story. It certainly helped that he was surrounded by a cast of experienced singers: while Cumming has Broadway training and Wood belted a few tunes in Across the Universe, Kelley was featured in a prominent role in the Hairspray movie.
Lucas said recently that one of the more exciting perks of leaving Lucasfilm behind is getting to work on what he calls "experimental" projects like Strange Magic. We all know about much he hates spoilers, so perhaps this marks the first of a slew of films for which he's going to pull a Beyonce — keep them under wraps and then randomly drop them on the masses.
Your Daily Blend of Entertainment News
Thank you for signing up to CinemaBlend. You will receive a verification email shortly.
There was a problem. Please refresh the page and try again.