Friday Night Lights Movie Coming Via Kickstarter, Says Adrianne Palicki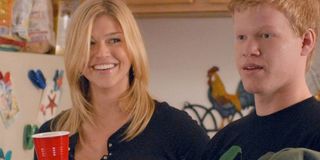 Despite lasting on television for five seasons, Friday Night Lights is a show fans can't get enough of. It's understandable of course. The story of Coach Taylor and his family—both bonded by biology and football—proved gripping and dynamic week after week whether or not you had any interest in the sport. (Cough cough.) The idea of a movie spin-off of the TV show that was a spin-off of a movie that was based on a non-fiction book began bouncing around just months after the series' finale aired back in 2011.
Since then little headway has been made. But with the rebirth of Veronica Mars thanks to a wildly successful Kickstarter campaign, it seems Friday Night Lights has found a new path to the end zone of movie production. Speaking with Screen Rant about her latest project, G.I. Joe: Retaliation, FNL's Adrianne Palicki, who memorably played Tyra on the series, revealed:
I have to admit, I share Palicki's conflicted feelings. Friday Night Lights was one of the rare series that felt like it earned its ending. And while I'd be interested to see what the Taylor clan is up to now, I also take comfort that they've ridden off into a future where presumably there's not enough drama to pack a new movie.
Of course, crucial to getting a Friday Night Lights movie based on the show back on track would be securing Coach Taylor's return. But last time the Kyle Chandler was asked about this possibility, he seemed less than enthusiastic, saying, "It was a great show. I really enjoy it. I still like watching the show again. Because it was so creative - the process. But they ended it at just the right time and exactly the right way, as well."
Is he right? Do you want a FNL movie anyway? Sound off in comments.
Staff writer at CinemaBlend.
Your Daily Blend of Entertainment News
Thank you for signing up to CinemaBlend. You will receive a verification email shortly.
There was a problem. Please refresh the page and try again.