How George Lucas Feels About Spoilers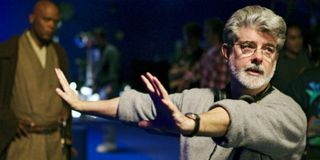 Spoiler culture affects 100% of George Lucas' work. The man behind the original Star Wars movies had to deal with them all the time, as paparazzi and intrepid fans tried to snap as many pics and glean as many details as they could before the films came out. Now that he's moved on to different pastures, it's not as big of a problem anymore. But that doesn't mean he likes them any less.
During an interview with Lucas for his upcoming animated musical Strange Magic, I asked him about his stance on the current state of spoiler culture, especially online. There are folks, like Avengers: Age of Ultron director Joss Whedon, who see both positives and negatives. However, Lucas is not one of those people.
Lucas also said recently that his biggest regret in deciding to direct Star Wars was that he couldn't experience the awe of watching the films with fresh eyes. While he's looking forward to correcting that with Star Wars: Episode 7, since J.J. Abrams is at the helm this time around, the numerous spoilers and rumors circulating the web certainly don't help matters much. There's already been talk of Luke Skywalker's hand floating through space, female Stormtroopers and loads of leaked photos from the set. Though, Episode 7 star Oscar Isaac said that all the ones he's seen have entirely missed the mark, which should bode well for Lucas' mission to stay spoiler free. Here's his full statement in context.
It also helps that J.J. Abrams is behind this project. He's notoriously tightlipped when it comes to his work. As he said previously, he's a diehard Star Wars fan, and he wants to honor the franchise the best way he can, which is what's also prompting his cast to maintain secrecy. Domhnall Gleeson, for one, appreciates all the effort going in to making this movie a massive hit, and he doesn't want to undermine this work by letting anything slip prematurely.
Aside from Lucas, Colin Trevorrow is another movie figure who finds spoilers frustrating and defeating. As the director of Jurassic World, he said it was discouraging for everyone on the crew to see major plot details revealed online a few months before the first trailer was revealed. As he told SlashFilm:
While spoilers can sometimes work in favor of films (e.g. generate buzz and interest), it's undoubtedly disappointing for those actually working hard to keep details close to the vest. Do you agree with what Lucas has to say about spoiler culture, or would you take Joss Whedon's side?
Your Daily Blend of Entertainment News
Thank you for signing up to CinemaBlend. You will receive a verification email shortly.
There was a problem. Please refresh the page and try again.