Star Wars: John Boyega's Intense Reaction To Holding A Lightsaber For The First Time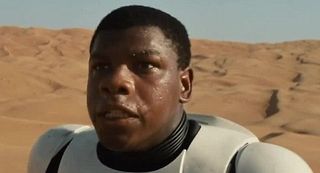 Across the board, filming Star Wars: The Force Awakens was an emotional experience for the actors. Returning stars felt that intense nostalgia being on familiar sets, while many of the newcomers are young enough that they've never lived in a world without Star Wars. John Boyega falls into the second category, and as a lifelong fan, he was super jazzed to be cast, but when he was given a lightsaber he had a truly transcendent experience.
We've seen Boyega's character, an AWOL stormtrooper named Finn, wielding a blue lightsaber, presumably the one that once belonged to Luke Skywalker, and talking to Empire, he revealed the intense reaction he had when he first laid his hands on the weapon from a more civilized time. He said:
While that sounds like it may be a bit extreme, I can't say that I wouldn't have the exact same response, and I'm willing to bet that there are a fair number of you out there in the same boat. Hell, I know more than a few people who would drop to the floor in fits of spontaneous ecstasy in that moment.
This isn't the first time that Boyega has publicly expressed just how damn excited he is to be a part of the Star Wars universe. He's talked about how long and extensive the audition process was, but how it was totally worth it, and he literally flipped over the back of a couch watching one of the recent trailers for The Force Awakens.
The fact that we've seen Finn with a lightsaber in hand, ready to throw down with Adam Driver's villainous Kylo Ren in a snow-covered forest, has led many to believe that he will have some aptitude with the Force in the new movie, though there's been some debate on the subject. There's been talk that all the stormtroopers could learn to use lightsabers as part of their standard training, like in a hand-to-hand combat situation where blasters aren't an option. People have also wondered about whether or not Daisy Ridley's Rey has some Jedi tendencies, as a The Force Awakens trading card leaked out onto the internet and indicated she could be gifted in that realm.
As with most things related to Star Wars: The Force Awakens, we'll have to wait until December 18 to find out for sure, but since that's only a month away, it's time to start getting stoked.
Your Daily Blend of Entertainment News
Thank you for signing up to CinemaBlend. You will receive a verification email shortly.
There was a problem. Please refresh the page and try again.