The Strange, NSFW Thing Cara Delevingne Was Asked To Do For Suicide Squad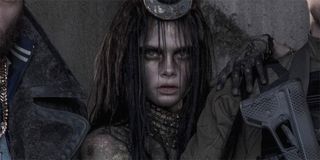 The Suicide Squad movie is going to be weird. We feel very confident in this statement. This might not be news, but what is new and different is learning that Jared Leto wasn't the only one on the set with a slightly skewed perspective on things. Director David Ayer appears to be an equally bizarre individual. We're not sure what else to say about a guy who tells Cara Delevingne that he's decided to give her a part in the film, and then tells her to go run around in the forest naked.
This not particularly surprising revelation comes from Cara Delevingne herself in a recent interview with W Magazine. She discusses the audition process, which we've heard about before, but upon being given the role of the Enchantress, Delevingne couldn't get to work on the script, because there wasn't one. Instead, David Ayer gave her a different recommendation in order to get ready for the movie.
Sure. That makes sense. We can't give you a script, so go run around naked in the mud. It will be just like reading the script. For what it's worth, Cara Delevingne was not running around in random woods, the grounds of her sister's country house was the particular location chosen for this little excursion. At the very least we hope it was warm. It was England though, so, probably not.
Of course, the strangest thing about this entire exchange is that it may be the least strange thing to happen as it regards the Suicide Squad movie. Jared Leto spent most of his down time giving his co-stars terrible things like used condoms and dead rats as presents. Running around naked in the mud in the middle of the night is downright pedestrian by comparison. Of course, now we have to wonder if David Ayer wasn't somehow involved in this. Did Ayer recommend that, in lieu of a script, Leto should kill a rat and give it Margot Robbie as a gift?
The more we hear, the more we can't wait to see what Suicide Squad is really all about. The film appears to be complete madness both in front of and behind the camera. Some of that has been less than intentional, as the movie recently went back out for reshoots for less-than-clear reasons. One way or another, we'll be seeing the final result shortly. Suicide Squad hits theaters in August.
CinemaBlend's resident theme park junkie and amateur Disney historian. Armchair Imagineer. Epcot Stan. Future Club 33 Member.
Your Daily Blend of Entertainment News
Thank you for signing up to CinemaBlend. You will receive a verification email shortly.
There was a problem. Please refresh the page and try again.