10 DC And Marvel Reveals We Hope To See At Comic-Con 2016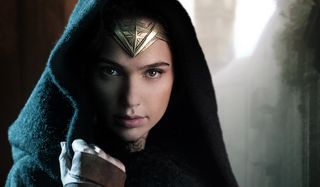 San Diego Comic-Con officially kicks off today, and while this convention has featured all kinds of movie genres in recent years, fans still look forward to the big news drops from Marvel and DC, the superstars of the comic book world. Both companies now have competing cinematic universes, with one having just entered its third phase and the other releasing its third movie next month. News about both franchises come through the entire year, but it's at Comic-Con where they can release some of their best material, be it a trailer, a casting, a special photo or a movie announcement. This year will be no exception.
While Marvel and DC will have their big movie panels on Saturday, big news and other assorted items could really come at any point over the next few days. Some are obvious, others may be long shots, but either way, they'll get fans even more hyped up for these movies. Here are our top 10 picks for reveals we hope to see at some point during Comic-Con from the Big Two.
Suicide Squad Clip
Likelihood: 9 out of 10
Let's start with one that seems like a safe bet. Suicide Squad is only a couple weeks away from release. We've already seen plenty of trailers and TV spots, and with almost the whole cast there for the Hall H panel, the only thing DC and Warner Bros can do that will make an impression is release an extended clip. Of what, that's hard to say. Maybe it will show Rick Flag arguing with Amanda Waller about why they're using criminals as operatives. Perhaps we'll see Deadshot, Harley Quinn and the other Squad members being gathered together by Flag. Who knows, we may even get to see the main characters out in the field in action. Whatever the content, it will just fuel the anticipation for Suicide Squad even higher.
Wonder Woman Teaser
Likelihood: 7 out of 10
Man of Steel released its first teaser 11 months before being released. Batman v Superman: Dawn of Justice released its first teaser 11 months before being released. Suicide Squad released its first footage 13 months before being released, though to be fair, that originally was meant to be a Comic-Con exclusive. Going off these patterns, it's a good bet that Wonder Woman will premiere a teaser trailer. Some Wonder Woman footage was shown back in January during The CW's special DC Films Presents: Dawn of the Justice League, but principal photography officially concluded in early May. They have the material necessary to put together a one-minute teaser to appease hardcore fans and let regular audiences know this movie is on the way. Hopefully they'll also release it to non-con goers immediately afterwards, just like Batman v Superman did with its Comic-Con trailer last year.
Confirming Michael Keaton's Spider-Man: Homecoming Villain
Likelihood: 4 out of 10
Negotiations might have been shaky the first time around, but Michael Keaton is now officially onboard as Spider-Man: Homecoming's main antagonist. The question is, who is this antagonist? Shortly before Keaton's involvement was announced, Vulture was rumored to be the movie's villain, and another report listed Vulture and Tinkerer as the comic book villains being brought in. There hasn't been any word about Spider-Man: Homecoming presenting at Comic-Con, but because the movie is currently shooting in Atlanta, maybe Marvel will give them a little time to show off. If that happens, it would be awesome if they confirmed which Spider-Man rogue Keaton will play. Whoever it is, he won't be alone causing trouble, as Logan Marshall-Green and Bokeem Woodbine will also be playing baddies.
Second Doctor Strange Trailer
Likelihood: 8 out of 10
Marvel Studios kicked off Phase Three with Captain America: Civil War in May, but it's Doctor Strange that will finally bring magic to the MCU later this year. The first trailer for the Sorcerer Supreme's movie was released in April, and with only four months left until its release, Comic-Con is the perfect time to release a new trailer. The teaser primarily focused on Stephen Strange's life as a surgeon, the car crash that damaged his hands and his first exposure to magic by The Ancient One. Aside from that last shot of him walking up the stairs in the Sanctum Sanctorum, there was nothing showing him as the superhero we know and love. This trailer needs to show us what Benedict Cumberbatch's Strange looks like conjuring spells and wielding mystical items against Mads Mikkelsen's Kaecilius and other mystical threats. It would also be great if the Doctor Strange preview provided a better idea of how Chiwetel Ejiofor's Mordo fits into the story.
Revealing The Wonder Woman Villain
Likelihood: 6 out of 10
We've learned a lot about the Wonder Woman movie over the last year, from what era it will take place in to how Diana's characterization will differ from how we see her in Batman v Superman: Dawn of Justice. However, one thing that DC and Warner Bros hasn't revealed yet who the primary villain will be. It was rumored earlier this year that Ares, the god of war, would be the main antagonist, and another report also labeled Circe, the animal-obsessed sorceress, as a co-conspirator. Man's world may be plagued by World War I, but there's a mythological threat out there that only Diana will be able to defeat. Justice League, a movie that doesn't come out until November 2017, has already announced Steppenwolf as its main antagonist, so it's about time that Wonder Woman releases some villain information to the fans.
Guardians Of The Galaxy Vol. 2 Footage
Likelihood: 8 out of 10
Marvel fans can look Guardians of the Galaxy Vol. 2 showing something special, and if past history with their May blockbusters at this convention is any indication, this will probably include finally showing some footage. The movie finished shooting last month, so while there's certainly a lot of post-production work to be completed, the creative team definitely could have put something together. Unfortunately, it's doubtful the studio will show the Comic-Con footage to anyone not at the Hall H panel, instead saving the public first look for a trailer in October or November. Director James Gunn also implied there will be new technology preventing piracy this year, so even if someone is able to record the footage on their smartphone, it doesn't sound like it will come out watchable.
New Avengers: Infinity War Titles
Likelihood: 3 out of 10
Two months ago, Avengers: Infinity War directors Joe and Anthony Russo stated that the titles of these movies were "misleading," and that they will be renamed at some point. Although the third and fourth Avengers movies are both expected to feature Thanos and his conflict against the MCU heroes, apparently their narratives aren't as intertwined as previously thought. Because Doctor Strange and Guardians of the Galaxy Vol. 2 are the main focuses at this year's Comic-Con, we're not getting our hopes up about the new titles being unveiled, but it would a pleasant surprise. That's about the biggest we could realistically expect regarding the still-named Avengers: Infinity War, since the first movie won't begin shooting until the end of the year.
Justice League Group Photo
Likelihood: 5 out of 10
We just got a huge Justice League news drop a few weeks ago, and because Suicide Squad and Wonder Woman are the focuses at this year's Comic-Con, you'd think that the superhero team wouldn't get any coverage. However, DC has been known to surprise fans at these panels, and Ben Affleck did say last month that Justice League will be at Comic-Con. Assuming he wasn't just pulling our legs, that means that at some point during the DC presentation, Justice League will be treating their fans to something, and let's hope that's a team picture. Suicide Squad released its team photo right before it began shooting, and Batman v Superman: Dawn of Justice gave us shots of the eponymous hero and Wonder Woman almost two years before that was released. Seeing the six main heroes banded together would surely get a lot of fans jazzed even more for their team up.
Confirming Kurt Russell's Guardians Of The Galaxy Vol. 2 Character
Likelihood: 6 out of 10
One of the biggest secrets surrounding Guardians of the Galaxy Vol. 2 is who Kurt Russell is playing. Well, sort of. When his casting was first announced, word spread that he will play Peter Quill's mysterious father. While that would be spot-on casting, Marvel hasn't confirmed if that's who The Hateful Eight star will play, so we've had to remain cautious. It would be great if sometime during the Guardians of the Galaxy Vol. 2 presentation, James Gunn either confirmed Russell as Star-Lord's dad or revealed who the character actually is. So far the only new player in the sequel who's been identified is Mantis, so revealing how Russell is involved in the blockbuster would whet our appetites, even if it ends up being someone entirely different.
Shazam Casting
Likelihood: 2 out of 10
Shazam can be looked at as the black sheep of the DCEU. Aside from Dwayne "The Rock" Johnson being cast as Black Adam in 2014, barely any news has come out about its progress. Besides Green Lantern, Shazam is the only main DCEU hero who hasn't bee cast yet, at least to the public. The movie is still three years away from being released, but Warner Bros needs to do something to keep interest in this movie alive. The best way to do that is by announcing who will play the World's Mightiest Mortal. To be clear, we mean the adult hero, not the young actor who will play Billy Batson. Unfortunately, the chances of a casting announcement at this year's Comic-Con are extremely slim, but if it does happen, we'll be extremely happy.
Connoisseur of Marvel, DC, Star Wars, John Wick, MonsterVerse and Doctor Who lore. He's aware he looks like Harry Potter and Clark Kent.
Your Daily Blend of Entertainment News
Thank you for signing up to CinemaBlend. You will receive a verification email shortly.
There was a problem. Please refresh the page and try again.