The Badass Stormtrooper Star Wars: Episode VIII May Introduce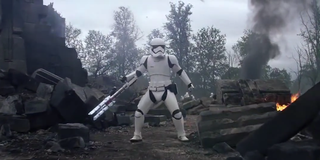 One of Star Wars: The Force Awakens (opens in new tab)' most memorable moments was when John Boyega's Finn clashed with the stormtrooper officially known as FN-2199/"Nines", but nicknamed "TR-8R" by the fans. Whether it was the way he he angrily yelled out "Traitor!" upon seeing Finn or showing off his impressive moves with a riot control baton, he quickly became popular online, to the point that he even received his own Funko Pop! Vinyl figure. Now there's word that Star Wars: Episode VIII may try to replicate this success by introducing a cool stormtrooper known as "The Executioner."
While detailing the minute armor differences on the First Order stormtrooper armor in Star Wars: Episode VIII, Making Star Wars revealed that The Executioner (though that may just be a working title) will be a "force to be feared" in the movie. There are two key elements distinguishing him from the rest of his white-garbed brethren. The first is a matte black line running over half of his helmet. The second is his weapon of choice, which looks similar to FN-2199's baton, but has three spinning blades at the end. He may also have a shield, although it remains to be seen whether he actually uses it. You can head over to the Making Star Wars link above to see a rough sketch of what The Executioner might look like.
Few Star Wars fans will argue that the Original Trilogy stormtroopers were anything to write home about. They were lucky if they ever hit anything. However, in the sequel trilogy, these new stormtroopers are much more competent, to the point that we're now getting theses badasses actually capable of putting up a good fight. In fact, it was also rumored that Finn will have to battle The Executioner, and this time, Han Solo won't be around to watch his back. In case you've forgotten. Finn fought FN-2199 with Luke Skywalker's lightsaber near Maz Kanata's palace, but the latter eventually overpowered him, and if not for Han Solo blasting the stormtrooper off his feet, Finn would have been a goner. If Finn comes face to face with The Executioner in Star Wars: Episode VIII, let's hope he has better luck.
Disney and Lucasfilm haven't released any official Star Wars: Episode VIII plot details yet, but there have been reports that after healing from the injuries he received from Kylo Ren, Finn will be sent on a mission by the Resistance. This will supposedly lead to him meeting an information broker, but during their encounter, he'll be chased down by First Order stormtroopers. It wouldn't be surprising if The Executioner is one of those soldiers, and after cornering Finn, he'll try to kill him with his fancy triple-bladed weapon.
Star Wars: Episode VIII hits theaters on December 15, 2017.
Your Daily Blend of Entertainment News
Connoisseur of Marvel, DC, Star Wars, John Wick, MonsterVerse and Doctor Who lore. He's aware he looks like Harry Potter and Clark Kent.