How To Watch It's A Wonderful Life Streaming And On TV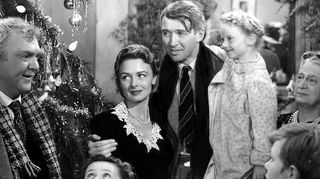 It's the most wonderful time of the year! And by that I mean it's the time to light a fire, wrap some presents and watch George Bailey figure out that he's had a bigger impact on his community than he ever could have imagined. When does It's a Wonderful Life air on TV this year? And how can you watch it streaming? We have the answers!
"Now you listen to me, I don't want any plastics and I don't want any ground floors! And I don't want to get married ever, to anyone!"
Oh, George Bailey. I'll love you till the day I die. It's a Wonderful Life truly is a holiday classic that must be watched at least once during the holiday season. Once upon a time, you could just about turn on the TV at any point in December and find it airing, but times have changed, and its actual availability on the small screen is somewhat limited. That said, we're in the age of digital streaming, so if you're looking for a way to watch the movie without actually having to leave the house, here are your options.
When does It's a Wonderful Life air on TV?
NBC has it lined up to air on Christmas Eve. That's December 24 at 8:00 p.m. EST (7:00 p.m. CST). If you can't wait until the night before Christmas to see if Clarence will get his wings, there are some decent streaming options for digital purchase and download.
Amazon Video
It's a Wonderful Life isn't available streaming on Amazon Prime, however Amazon Video does have it available to buy in digital HD for $6.99. Get it here.
YouTube
Youtube is offering It's a Wonderful Life for the same price as Amazon. Get it for $6.99 here.
iTunes
If you're an Apple fan, iTunes' price for It's a Wonderful Life is a few bucks more. Get it in HD for $9.99 here. (or SD for $7.99)
Is It's a Wonderful Life available on Netflix?
As of December 2016 (in the U.S.) Netflix doesn't offer It's a Wonderful Life streaming, though it's available in their DVD plan.
Hulu
It's A Wonderful Life is not available on Hulu as of December 2016.
Directed by Frank Capra, It's a Wonderful Life was released in 1946 and stars Jimmy Stewart as George Bailey, a decent man in a small town whose only real dream is to explore the world. But his commitments to his family's savings and loan business, and the people of the small town of Bedford Falls keep him from fulfilling that dream. Time after time, he has to put off his plans as he grows into adulthood, starts a family and tries to keep the business afloat. When a crisis strikes, George is at the end of his rope, and its then that his guardian angel steps in and shows him what Bedford Falls would've been like had he never been born.
Based on a short story ("The Greatest Gift"), It's a Wonderful Life is a heartwarming and genuinely moving tale that illustrates the impact one person can have on the world around them. It's a true holiday classic for a reason, and though it was once pretty over-played on television, it's earned the hype.