Vin Diesel Does Skiing The Wrong Way In Crazy New xXx 3 Scene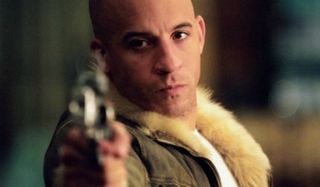 Vin Diesel has proven throughout the course of his career that he's one for high-octane action stunts. Diesel has done just that in Pitch Black, The Fast And The Furious, Chronicles Of Riddick, and xXx films. Vin Diesel will be reprising his role as Xander Cage in the upcoming third installment to the latter franchise, and the latest clip from the action film proves that he'll be getting up to his usual tricks. This time he'll even be skiing through a jungle, just because he can.
That was gloriously stupid, and, at the same time, wonderfully entertaining to see. It will be interesting to see if xXx: The Return Of Xander Cage can keep that balance throughout the film, or if it will descend into just being overly stupid and ultimately a little tedious.
There's hope for the film, though, because in recent years Vin Diesel has been involved in some pretty damn impressive films. Guardians Of The Galaxy was undeniably fun, with Vin Diesel's monosyllabic performance receiving nothing but praise, while Furious 7 was riotously enjoyable, and also went on to become the highest grossing film of the series. But at the same time, Diesel has also been involved in 2013's Riddick and 2015's The Last Witch Hunter, both of which weren't exactly critical darlings.
It has been 15 years since Vin Diesel made his debut as Xander Cage in xXx. While the film was met with only modest reviews, it still went on to gross $277.4 million. But that wasn't enough to convince Vin Diesel to return as Xander Cage in xXx: State Of The Union. Neither did director Rob Cohen or screenwriter Rich Wilkes, and instead it was declared that Xander Cage had died, and Ice Cube was brought in as Darius Stone. State Of The Union was a flop, grossing just $71 million from an $87 million budget, while it also differed in style to the original.
But after the humungous success of Furious 7, Vin Diesel decided to bring Xander Cage back from the dead. This time around he'll be joined by director D.J. Caruso, while Samuel L. Jackson returns as Gibbons, and Donnie Yen, Tony Jaa, Nina Dobrev, and Ruby Rose will be part of the fun, too. You can check out the trailer forxXx: Return Of Xander Cage below.
We don't have long at all to wait until xXx: Return Of Xander Cage is with us, because it is released on January 20, 2017. Those of you wanting even more of Vin Diesel will get just that when Fate Of The Furious is released on April 14.
Your Daily Blend of Entertainment News
Your Daily Blend of Entertainment News
Thank you for signing up to CinemaBlend. You will receive a verification email shortly.
There was a problem. Please refresh the page and try again.