The One Thing Hugh Jackman Says He Can Finally Do Now That He's Finished Playing Wolverine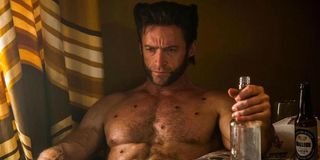 While Hugh Jackman is understandably a little conflicted about leaving behind the character of Wolverine after portraying him nine times in 17 years, not playing the superhero does give the Australian actor a bit more leeway when it comes to keeping in shape. Obviously we don't expect Hugh Jackman to pile on the pounds and become a full-time chubster, but he recently admitted that he can now at least start eating sandwiches again.
Actually, during his recent chat with L'Hebdo Cinema, Hugh Jackman made it clear that he's not just looking forward to eating sandwiches, but just bread on its own. The Australian actor even teased that he's already been baking plenty of bread, before confessing that what he's actually looking forward to doing is munching on bread without immediately feeling like he's letting down Bryan Singer, 20th Century Fox, and everyone who loves the X-Men franchise. Hugh Jackman remarked,
There's one man who is trying his hardest to get Hugh Jackman back on the Wolverine diet sooner rather than later, though. That's because Ryan Reynolds is adamant that he wants Hugh Jackman to return as the superhero for another Wolverine and Deadpool crossover film, especially because X-Men Origins: Wolverine, their first adventure together, was critically savaged because of its treatment of Deadpool.
From the looks of Hugh Jackman's promotional work for Logan, the Australian seems very intent on making this his farewell movie, though. However, there's every chance that if Logan can come close to matching both Deadpool's gross and its critical response, then Jackman might be convinced to return for one final swing of Wolverine's claws. Yes, another final swing.
You can check out Hugh Jackman's full interview with L'Hebdo Cinema, which as well as his revelation regarding bread also saw him discussing both Logan in more detail and how he feels about a future without Wolverine, below.
As you've probably noticed, there's quite a bit of enthusiasm regarding Logan, with the R-rated adventures of the beloved mutant generating a huge amount of hype after its opening forty minutes premiered back in December. You can see why by checking out the trailer for Logan on the next page.
We don't have long to wait at all for Hugh Jackman's farewell as Wolverine now, too, as Logan will finally be released on March 3.
Your Daily Blend of Entertainment News