Man Brings His Wife To Fifty Shades Darker, Gets Arrested For Masturbating During The Movie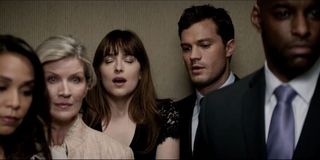 It's one of the oldest ideas in business: sex sells. It's undeniably true, and when it comes to Fifty Shades Darker, people are buying. The steamy Fifty Shades of Grey sequel has done solid business at the box office since hitting theaters a few weeks ago (despite some fairly lackluster reviews), and the movie appears to have made a visceral impact on members of the moviegoing populace. In fact, we've just learned that one particular moviegoer in France was recently arrested for dropping trou and masturbating in the middle of his theater during a showing of the film. Sit back, relax, and prepare for the gross details.
According to a recent report from The Sun, a man was arrested in France during a screening of Fifty Shades Darker for masturbating in a dark corner of the theater. The man attended a recent screening of the film with his wife (!!!) and was caught in the act by off-duty military police officers sitting nearby. The man was released on bail, but he could potentially face up to two weeks in jail and a stiff (phrasing) fine if convicted on charges of sexual exhibitionism.
When confronted about his actions, the man pleaded his case by saying that he has been doing this in movie theaters since he was 15 and that he doesn't see the problem with it. On that note, I would just like to let all of you out there know that is a terrible defense in a situation like this.
This is not the most surprising news story of the day, as similar incidents were reportedly common during the initial release of the first Fifty Shades film back in 2015. The problem has become prevalent enough that movie theaters in Ireland had actually announced bans on allowing single, unaccompanied men from seeing the movie -- although this wouldn't have stopped this particular perpetrator, as he was with his wife when he committed this act of indecency. It's almost as if he learned nothing from Pee-Wee Herman's incident back in 1991.
This also isn't the first insanely bizarre/kinky incident to occur in public following the recent release of the E.L. James book adaptation. In addition to this news story out of France, we also recently reported on a growing occurrence of cucumbers being left behind in movie theaters after screenings of the film. I don't think you need to be an expert in human sexuality to know that people weren't making salads with those cucumbers during screenings of the movie.
Fifty Shades Darker has only been out in theaters for a few weeks now, so I don't think these incidents are going away anytime soon. We will bring you any and all relevant updates related to all of the weirdest Fifty Shades news stories as more information becomes available to us. Make sure to check out the kinky romance in theaters now, but please, keep your pants on in the theater.
Your Daily Blend of Entertainment News
Originally from Connecticut, Conner grew up in San Diego and graduated from Chapman University in 2014. He now lives in Los Angeles working in and around the entertainment industry and can mostly be found binging horror movies and chugging coffee.