5 Marvel Characters Raja Ilya Could Be Playing In An Upcoming Marvel Movie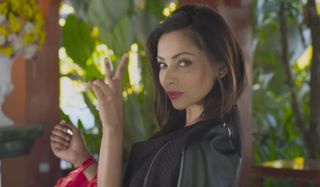 We're still early into the Marvel Cinematic Universe's Phase Three, but while fans wait for Guardians of the Galaxy Vol. 2, Marvel Studios is currently working on projects that aren't coming out for years. This includes casting, and as an example, earlier this month, Malaysian actress Raja Ilya said she would be traveling to the United States later in 2017 to meet with Marvel about a role. She provided no other details, but her comment made it sound it's more of a done deal than a hypothetical situation.
With no information, it's hard to begin to guess what Marvel has in mind for Raja Ilya. It's even possible that they want her for something on television, like one of the Netflix shows. However, for the sake of argument, let's say Ilya will be joining an upcoming Marvel movie. Here are the roles we think she could be a good fit for.
Proxima Midnight
In our original write-up of Raja Ilya's casting, we noted how it's unlikely she has a role in either Avengers: Infinity War and Avengers 4 given that both movies are shooting at the same time through 2017. We still stand by Infinity War, given that the movie comes out in May 2018. Avengers 4, on the other hand, could potentially still be an option if Ilya makes it to the United States before shooting concludes at the end of the year. If that's the case, then we could see her having a minor, yet cool role as Proxima Midnight, a member of the Black Order. Even before obtaining the Infinity Stones, Thanos was a mighty warlord, and he used the Black Order to raze worlds where he demanded tribute from the population. Proxima's abilities include super strength, super speed and invulnerability, as well as being a skilled combatant...though that last one is a basic qualification for any soldier serving the Mad Titan. If Thanos loses the power of the Infinity Stones, he'll need his special squad to back him up, and that could include Ilya as Proxima. After all, she said the actress said she'll be doing some martial arts training ahead of time, so maybe she's getting ready how to use the character's trademark lance against Earth's Mightiest Heroes.
Moonstone
Captain Marvel still seems like the best bet for the Marvel movie that Raja Ilya could appear in given that it's still early into preproduction. No plot details have been revealed yet, but since Carol Danvers doesn't have a big rogues gallery, there are only so many villains the studio can choose from to pit against the heroine. One of those villains is Moonstone, a.k.a. Karla Sofen, who obtained her powers when she manipulated the original Moonstone, Lloyd Boch, into giving up the extraterrestrial gem that powered him. Karla was already a bad seed before that, but with the gem, she wreaked havoc and gave numerous Marvel heroes hell, including Carol Danvers. She even impersonated Carol as Ms. Marvel as part of Norman Osborn's Dark Avengers. Moonstone is one of the likelier candidates to pit against Brie Larson's Carol Danvers in Captain Marvel, and while Marvel Studios usually casts more established actors to play the lead villain, perhaps Ilya was impressive enough to score the role.
Phyla-Vell
Thanks to the Guardians of the Galaxy and Thor movies, the Marvel Cinematic Universe has been getting moviegoers acquainted with its cosmic corners. But the galaxy is a pretty big place, and there are still many notable extraterrestrial characters for these movies to introduce. One of those folks is Phyla-Vell, who was created when Mar-Vell, a.k.a. the first Captain Marvel, died, and she is considered to be his "offspring." She's been a member of the Guardians of the Galaxy in the comics, and she's also gone by Quasar and the inherited title Captain Marvel. Phyla-Vell could conceivably be squeezed into Avengers 4, but we think it's likelier she will be saved for Captain Marvel, Guardians of the Galaxy Vol. 3 or a different Phase Four movie. Captain Marvel holds the most potential for setting up her introduction given that her and Carol Danvers have Mar-Vell tying them together, but Guardians of the Galaxy Vol. 3 could see her officially appearing for the first time. Bring Ilya aboard as Phyla-Vell would be similar to how Guardians of the Galaxy Vol. 2 cast Pom Klementieff as Mantis. The actress isn't well known in the United States, but she proved her acting chops and scored a juicy role for an MCU cosmic adventure.
Namora
It was recently rumored that Marvel is working on a project centered around Namor the Sub-Mariner, Marvel's first superhero. Marvel's Atlantean hero would be a great character to spotlight during Phase Four (assuming the studio has worked out all those legal entanglements), so for the sake of argument, let's assume Marvel does have something in the works for him. Ilya Raja could have a supporting role as Namora, Namor's cousin. Okay, so the name isn't original, but like her relative, Namora rocks powers like super strength, underwater breathing, swimming at incredible speeds and slow aging. Namora was later poisoned, but a clone of her was created named Namorita, and years later, Namora herself was also revived from the dead. Marvel could name this character either Namora or Namorita for the MCU, though if it's the latter, she'd need to be the original product and not a clone. Either way, playing the Atlantean heroine would be a great way for Raja Ilya to contribute to the MCU without taking a lot of attention from the lead.
Black Cat
Spider-Man: Homecoming is still five months way from release, but Sony and Marvel have already greenlit a sequel. It will be a long time before we learn any concrete details about the project, but keeping Raja Ilya's Marvel role in mind, maybe she could be up to play Felicia Hardy, a.k.a. Black Cat. Black Cat still hasn't been properly seen in the Spider-Man movies yet, as Felicity Jones' version in The Amazing Spider-Man 2 was a minor character who never suited up as the feline-themed burglar. Presumably Black Cat wouldn't be the main antagonist in Spider-Man: Homecoming 2, but more a nuisance who later becomes an ally, similar to Catwoman in The Dark Knight Rises. The main problem with this casting is that Ilya is 31, and Tom Holland, currently 20, is playing a high schooler. So having this Black Cat be romantically connected to Spidey would be super creepy, but since that territory is already covered with Liz Allan and possibly Michelle (not to mention that Mary Jane Watson and/or Gwen Stacy could be introduced), Black Cat doesn't need to be a love interest in this universe. That gives Hardy more time to dedicate to her robberies and acrobatics.
Your Daily Blend of Entertainment News
Connoisseur of Marvel, DC, Star Wars, John Wick, MonsterVerse and Doctor Who lore. He's aware he looks like Harry Potter and Clark Kent.
Your Daily Blend of Entertainment News
Thank you for signing up to CinemaBlend. You will receive a verification email shortly.
There was a problem. Please refresh the page and try again.