9 Actresses DC Should Get To Play Batgirl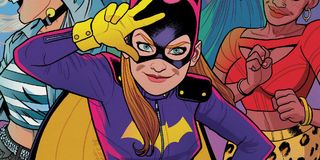 As the DCEU continues to expand, an army of classic heroes will gradually enter the fold. Hot off the heels of the announcement of a Nightwing movie last month, we recently learned that the silver screen Bat Family would continue to grow with the announcement of a Batgirl film as well. The character has never taken center stage in her own live-action solo movie, so all eyes are on director, writer, and producer Joss Whedon to break new ground with this comic book icon.
Of course, the announcement of a Batgirl film raises distinct casting questions. Barbara Gordon is one of the most beloved characters in DC Comics, so everyone has his or her own idea as to who should take on the role. As that question continues to loom, we have compiled a list of actresses that we think are perfect to take on the role of Babs. Check out our choices, and let us know who you want to see don the cape and cowl when the Batgirl movie finally debuts. We have many options to get to, so let's kick this list off with arguably the most obvious of the bunch.
Emma Stone
When it comes to fan-casting the role of Barbara Gordon, Emma Stone is probably the most common suggestion that people throw out -- and it's not hard to understand why. Between her trademark red hair and her offbeat sense of humor, the 28-year-old actress is a dead ringer for the comic book icon. More important than her looks, she's also one of the most talented actors working today, and she recently took home an Oscar for her work on La La Land to prove it. That's the type of prestige that any superhero universe would want to lock down. Besides, we cannot allow her comic book movie legacy to be defined by her work as Gwen Stacy in The Amazing Spider-Man franchise, can we?
Mary Elizabeth Winstead
At 32, Mary Elizabeth Winstead is the oldest entry on this list, but we think that could potentially be a huge asset towards establishing a version of Barbara Gordon with a longer history in Gotham City alongside Batman, Robin, and Nightwing. It also helps that Winstead has definitively proven her strength as a badass heroine through her work on films like The Thing, two Die Hard movies, and (most recently) 10 Cloverfield Lane. Besides, much like Emma Stone and The Amazing Spider-Man franchise, we cannot allow 2005's Sky High to be the last superhero movie that Mary Elizabeth Winstead took part in. She is tailor-made for the role of Barbara Gordon, so it is time for Hollywood to take notice.
Lili Reinhart
Although Lili Reinhart's Riverdale co-star, Madelaine "Cheryl Blossom" Petsch, arguably looks more like Barbara Gordon, the Betty Cooper actress has made a serious impression on audiences and proven herself worthy of the Batgirl role. She strikes a perfect balance between her girl next door persona (literally, in the case of Riverdale) and her hidden dark side that would perfectly compliment the established Bat universe in the DCEU. Most importantly, she now has a wealth of experience playing an iconic comic book character with decades of literary history, so she would perfectly understand the weight of the Batgirl role if afforded the opportunity to enter the silver screen DC universe. She may be young, but we think that she could nail this part if given the chance.
Shailene Woodley
Shailene Woodley was originally supposed to enter The Amazing Spider-Man franchise as Mary Jane Watson back in 2014 with a quick cameo in The Amazing Spider-Man 2, but she ultimately ended up on the cutting room floor to allow more time to mourn Emma Stone's Gwen Stacy. While we're sure that she would've made a great Mary Jane, she could be an even better Barbara Gordon in the DCEU. Her work in projects like The Spectacular Now and Big Little Lies has established her ability to deliver the goods when it comes to drama, and her time as part of the ill-fated Divergent series (which she was easily the highlight of) proved that she could hold her own as the lead of a big-budget action franchise.
Zoë Kravitz
While former X-Men: First Class star Zoe Kravitz may not look like the most traditional comic book version of Barbara Gordon, she has proven herself entirely worthy of the role over the course of her career as an actress. With an eclectic resume that nicely balances blockbuster epics like Mad Max: Fury Road and indie darlings like Dope, she has a very definite knack for bombastic action sequences, as well as quieter and more dramatic moments. On top of that, Ms. Kravitz was already cheated out of a previous opportunity to audition for a role in the Batman universe when she was told she was "too urban" for The Dark Knight Rises. For her to return as Barbara Gordon would be some seriously poetic justice.
Hailee Steinfeld
Although Hailee Steinfeld is one of the younger actresses on this list, she still has a long Hollywood resume that dates back to the role of Mattie Ross in The Coen Brothers' True Grit remake. Since then, she has refused to pigeon-hole herself into any particular genre or role, and she most recently became a household name with her standout performance as Nadine in The Edge of Seventeen. Not only can the 20-year-old actress deliver the drama, but she also has impeccable comedic timing that could serve her well as a more lighthearted protector of Gotham City and its inhabitants. Babs is a fundamentally more optimistic member of The Bat Family, and Hailee Steinfeld could be a perfect counterpoint to Ben Affleck's brooding Caped Crusader.
Lindsey Morgan
Lindsey Morgan holds a special place on this list, because her name has already reportedly emerged as the frontrunner to play Batgirl in Joss Whedon's upcoming Batgirl movie. It's not necessarily hard to understand why, as the 27-year-old star of The CW's The 100 has continuously impressed us with her signature small screen role over the course of the last few years. If she can bring all of the scrappy badassery that she brings to Raven Reyes to Barbara Gordon, then we can rest assured knowing that we will have a Batgirl who is faithful to the comics. Not only is she mentally tough, and fierce in a fight, but (perhaps most importantly) she's an infinitely intelligent superhero with the ability to outthink her opponents.
Jane Levy
Success in the horror genre is often a reliable indicator that a filmmaker can be successful in the blockbuster superhero genre, so there's no reason to believe that such a formula cannot also be applied to an actor. Between her work on the Evil Dead remake and Don't Breathe, Jane Levy has continuously proven herself as THE horror scream queen for the modern age. She routinely portrays heroines who are scrappy, smart, and strong in all of the ways that make her ideally suited to portray Barbara Gordon in the DCEU. After all of the punishment that horror movies have put her through in recent years, I think that it's safe to say that she has earned this iconic role.
Anya Taylor-Joy
Between her work on films like The Witch and Split, Anya-Taylor Joy has slowly but surely established herself as one of the fastest rising stars in Hollywood. Even when she has taken part in mediocre films (Morgan comes to mind) she has routinely stood out as one of the most talented young actresses in the film industry. Her performances are often characterized by a silent intensity that would naturally translate to Barbara Gordon, and (perhaps most importantly) she can expertly convey a perfect balance between quiet intelligence and visceral action when she needs to. A major blockbuster franchise is going to pick up Ms. Joy at some point; DC would be wise to beat the competition to the punch.
Those are our picks, but what do you think? Let us know who you want to play Barbara Gordon in the DCEU below to keep this conversation going!
Originally from Connecticut, Conner grew up in San Diego and graduated from Chapman University in 2014. He now lives in Los Angeles working in and around the entertainment industry and can mostly be found binging horror movies and chugging coffee.
Your Daily Blend of Entertainment News
Thank you for signing up to CinemaBlend. You will receive a verification email shortly.
There was a problem. Please refresh the page and try again.