6 Movies That Let Zac Efron Flaunt His Ridiculous Abs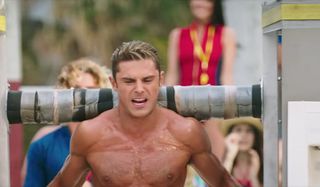 Zac Efron is on his way to turning 30, but he has managed to stay in great shape for the past decade, and we mean great shape. In fact, the actor pops up in this weekends big, bold and funny Baywatch playing an impulsive former Olympian with probably the nicest six pack we've seen on the actor, yet. He's so fit a huge percentage of his movie use his abs of steel to their advantage, and we've gone ahead and compiled some of his best looks on the big screen, starting with Baywatch, a movie in which the director asked him not only to get into insane shape, but also to try to keep up with Dwayne Johnson while carrying a fridge. Completely ridiculous.
Baywatch (2017)
In Baywatch, Zac Efron plays Matt Brody, a former Olympian swimmer. If you've ever seen photos of Ryan Lochte or Michael Phelps, you know swimmers have to be in intense shape; therefore Zac Efron got into incredible shape. He trained with Patrick Murphy for the gig, and subsequently Baywatch co-star Alexandra Daddario did, too. That fridge scene, though, is a different beast altogether.
17 Again (2009)
When other people aged 21 were all gaining weight after legally being able to drink, Zac Efron was looking lean and fit on the set of 17 Again. You can tell from the shot that it's around 2009 because Zac Efron is sporting the then-popular boxer briefs peeking out of his pants look. Although we're glad that's over, we don't hate the lean, not-so-mean version of Efron. There's also a whole shirtless basketball scene in that movie, because why not?
Charlie St. Cloud (2010)
Side profile abs! Honestly, this scene is more about Zac Efron's ability to make his eyes smolder than his pecs look good on camera, but can you imagine this close-up shot on the big screen? Charlie St. Cloud is actually a real downer through a huge chunk of the movie, as Zac Efron has an ability to interact with dead people living on another plane, but I suppose his abs add a nice distraction. There's a swimming rescue in this movie, like Baywatch, so those abs come out more than once.
The Lucky One (2012)
Back in 2012, Zac Efron was starting to bulk up a bit more. During this time, he took on the tender flick The Lucky One, about a Marine serving in Iraq who finds a photo of a young woman and spends time tracking her down when he gets out. This is a love story, so all the ab-related photos also include lovemaking scenes and a lot of Taylor Schilling, who now stars in Orange is the New Black.
Neighbors (2014)
Baywatch may be the best excuse to keep its cast fit and in swimwear, but partying in college also provided Zac Efron with plenty of opportunities to go without a shirt. He's not quite as greased up and oily looking in these movies either, although he's getting to the more ridiculous ab point many know and love today. Neighbors 2 offers more of these shirtless scenes, but if we had to choose between this and a schlubbier scene with Seth Rogen, we choose this.
Dirty Grandpa (2016)
Yeah, Zac Efron has reached nearly peak impressiveness, here, but can we talk for a second about Robert DeNiro? Dude is 73, and this was a year ago, so he has decades and decades on Zac Efron, but in Dirty Grandpa he still has plenty of ab definition. Life goals, Zac Efron, life goals.
Are there any other famous flicks where Zac Efron's abs stood out? Let us know in the comments, below.
Your Daily Blend of Entertainment News
Reality TV fan with a pinch of Disney fairy dust thrown in. Theme park junkie. If you've created a rom-com I've probably watched it.
Your Daily Blend of Entertainment News
Thank you for signing up to CinemaBlend. You will receive a verification email shortly.
There was a problem. Please refresh the page and try again.