New Deadpool 2 Look At Domino Gives Us A Closer Look At Her Signature Spot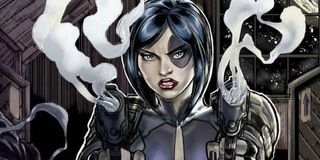 Wade Wilson may be the star of the Deadpool corner of the X-Men franchise, but he will have his work cut out for him in his highly anticipated sequel. Deadpool 2 will open up The Merc with the Mouth's world in unforeseen ways, and part of that process revolves around the inclusion of Atlanta actress Zazie Beetz as X-Force badass Domino. We got our first look at the character earlier this week, and now Beetz has offered us an even closer glimpse at the character -- including a better look at her signature eye spot. Check it out below.
Up close it's much easier to see the finer details in the costume, and it's obvious that Deadpool 2 will continue to strike a balance between tactical utility and a sleek sense of style. Another cool detail worth noting: aside from the conspicuous white spot around her eye, Neena "Domino" Thurman also has a heterochromia -- meaning one of her irises is a different color than the other. Absolute purists have pointed out that the change in Domino's skin tone, and the color of her eye spot, makes her less faithful to the comic book source material. But we've come to expect changes like these for big screen adaptations.
Zazie Beetz's picture makes it plain to see that director David Leitch has opted to make some notable changes to Domino's basic appearance in the development of Deadpool 2, but that really shouldn't surprise us when we look at the way the first Deadpool came together. Individual visual components (like Wade Wilson's suit) perfectly carried over from the comics, but characters like Ajax and Negasonic Teenage Warhead received some massive overhauls in their transitions to the big screen. It's all about figuring out what works for a character (as well as what doesn't work), and this is the look that works for Beetz as Domino.
Just look at how different the live-action Negasonic is when compared to her comic book self. Deadpool didn't go for a 1:1 adaptation, so Deadpool 2 shouldn't be afraid to do the same for Domino.
Domino's unique look isn't the only aspect of the character that has us interested; her outlandish set of skills is nothing to scoff at either. The X-Force member can manipulate odds in her favor (although she has no real control over it) which means she (literally) has the power of good luck on her side. David Leitch hasn't specified how he plans to show this ability in action, but he has made it clear that he has some "fun" ideas for how to visualize it. Couple that with her already badass appearance, and we honestly couldn't be more excited for what Domino has in store.
Zazie Beetz will debut as Domino when Deadpool 2 premieres in theaters next summer on June 1, 2018. As for the films that are set to debut this year, check out our comprehensive movie premiere guide.
Originally from Connecticut, Conner grew up in San Diego and graduated from Chapman University in 2014. He now lives in Los Angeles working in and around the entertainment industry and can mostly be found binging horror movies and chugging coffee.