How Maz Kanata May Fit Into Star Wars: The Last Jedi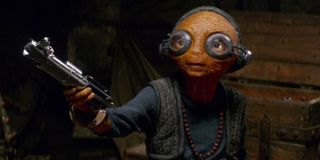 Han Solo may have once claimed Maz Kanata to be an "acquired taste," but Lupita Nyong'o's diminutive Star Wars heroine seems to be pretty popular with just about everyone. On the heels of word last week that Maz might appear in next summer's still untitled Han Solo Star Wars Story comes an update from Star Wars: The Last Jedi's Find the Force campaign that suggests some things have changed for her since the last film. She's reportedly no longer living in the castle on Takodana and is also said to provide a link to Benicio del Toro's character, still referred to only as DJ. One fan was able to reveal the following:
That description was reportedly pulled from the upcoming Find the Force campaign (which will launch in full this Friday, September 1) by a Making Star Wars reader. Rumors concerning a galaxy far, far away should often be taken with a double grain of salt, but this one certainly sounds likely. We know next to nothing about Benicio del Toro's DJ (including what his actual name will be). According to previous reports, DJ has code-breaking skills that cause John Boyega's Finn and Kelly Marie Tran's Rose to seek his services. Neither a member of the resistance or the First Order, DJ certainly sounds like the type of scoundrel with whom Maz Kanata likes to associate.
As intriguing as her connection to DJ may ultimately turn out to be, the notion of Maz Kanata being forced to go mobile should is also a pretty fun idea. What specifically forced her from Takodana? Could it be that the First Order is aware of Maz' connections to the Force? If Kylo Ren believes that his encounter with Rey at the end of The Force Awakens could lead to the Jedi order returning, it's not hard to imagine that he might seize and or destroy locations tied to the Force. Then again, Maz might just be extra cautious and trying to stay two steps ahead of anyone who might wish her harm.
If she's not on Takodana, though, where will we find Maz Kanata in The Last Jedi? Will she take refuge on a similar planet or might she actually have her own ship this time? In The Force Awakens, she liked to jokingly refer Chewbacca as her boyfriend, so it's quite possible that we'll be seeing more of the gearhead side of Maz this time around.
On beyond Maz Kanata and her mysteries, there's still quite a bit to uncover about Star Wars: The Last Jedi between now and when the film hits theaters December 15, 2017. Stay up to date with all the latest info with our detailed guide that offers everything we know so far.
Your Daily Blend of Entertainment News
Thank you for signing up to CinemaBlend. You will receive a verification email shortly.
There was a problem. Please refresh the page and try again.