The Incredibles 2 Just Revealed A Ton Of Plot Details And Character Info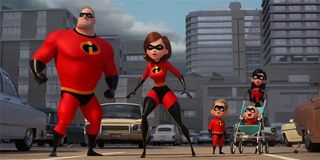 After a hell of a long wait, 2018 will finally be the year that director Brad Bird and the folks at Pixar bring us back into the world of The Incredibles. To date, not much has been revealed about the upcoming sequel, titled simply The Incredibles 2, and the known cast has been limited to the titular family (Craig T. Nelson as Bob Parr/Mr. Incredible, Holly Hunter as Helen Parr/Elastigirl, Sarah Vowell as Violet Parr, and newcomer Huckleberry "Huck" Milner as Dashiell Parr) and notable supporting players (Samuel J. Jackson as Lucius Best/Frozone and Brad Bird as Edna mode). Now, however, the rest of the major side cast and their characters have been announced, and it's packed with big names like Bob Odenkirk, Catherine Keener, Jonathan Banks, Isabella Rossellini, and Sophia Bush.
But it's not just names that Pixar has decided to show us today. The studio has also officially released first-look artwork at each of the new players, and specific details that clue us in on exactly what it is that we can expect from each member of the announced cast. So without delay, let's dive in!
First up we have Holly Hunter's Helen Parr, who we previously learned will be the central protagonist in The Incredibles 2 (similar to how The Incredibles was primarily about her husband). A former superhero herself with the ability to stretch into any form, she will find herself in the spotlight in the sequel as she is asked to lead a very important campaign that will reintroduce superheroes back into society. With the arrival of a new major villain on the scene, however, it also puts a target on her back.
While Helen Parr will be becoming a major player on the world stage, it will be Craig T. Nelson's Bob Parr who is left taking care of things at home. He not only finds himself challenged with the tasks of looking after the household and his children, but finds an extra special surprise taking care of baby Jack-Jack - who he discovers not only has superpowers, but a whole wide variety of different ones.
As mentioned Sarah Vowell will be back as Violet Parr, who has a special ability that matches her shy personality: she has the power to turn invisible and generate protective shields. Unfortunately, the plot details for her character in the official release are pretty slim, mostly highlighting the fact that her meek personality doesn't stop her when it comes time to fight side-by-side with her family against a threatening enemy.
Eleven-year-old Spencer Fox voiced Dashiell "Dash" Parr in the first Incredibles, but the fact that his voice has changed a lot in the last 14 years meant that he couldn't come back to play the part again in The Incredibles 2. Instead, Pixar has cast young newcomer Huckleberry "Huck" Milner as the speedy, enthusiastic young superhero. Like the character's sister, we don't really know a great deal of what he'll be doing in the sequel, but apparently he will still be dealing with some of the key issues he had in the previous story, specifically his desire to show off his powers despite it not being allowed by his parents.
Samuel L. Jackson was playing Lucius Best a.k.a. Frozone four years before his entry into the Marvel Cinematic Universe as Nick Fury, and fourteen years later he will be back playing the role in The Incredibles 2. Lucius is Bob Parr's best friend and former associate from the golden age of superheroes who has the power to turn any water in his environment to ice. We don't know a great deal about his larger part in the plot of the film, but surely he will be very excited by what Helen Parr is doing to try and make being a superhero legal again.
When it comes to making supersuits, nobody in the world of The Incredibles is more skilled than the diminutive, snappy Edna Mode (who will once again be voiced by director Brad Bird). In The Incredibles 2 we probably shouldn't expect her to change her mind regarding capes, but like Lucius Best, she has a lot to gain from superheroes being allowed to do what they do legally once again.
Here we have yet another example of recasting, as some of you may remember Rick Dicker from the first Incredibles, where he was voiced by animator/voice actor Bud Luckey. In The Incredibles 2 he will be brought back to life by Breaking Bad and Better Call Saul star Jonathan Banks. Dicker is a key member of the Super Relocation Program, which is the government's solution to helping superpowered individuals move around the country whenever their special abilities are revealed to the public. He's a good friend of the Parrs, but they are left on their own when Dicker loses his job and his entire department is shut down.
The Breaking Bad/Better Call Saul connection will help us ease into the introduction of our first new character here, who will be voiced by Jonathan Banks' co-star, Bob Odenkirk. In The Incredibles 2 he will be voicing Winston Deavor, who is the co-owner of one of the world's biggest telecommunications companies. He is described as "ultra-wealthy, savvy and suave," but perhaps most important is that he is said to be a big fan of the Supers. He has big plans to change the image of these heroes in the public eye, and presumably Helen Parr will be a significant part of that.
You see above where I identified Winston Deavor as the "co-owner" of one of the world's biggest telecommunications companies? That's because it's a conglomerate that he owns and operates with his sister, Evelyn Deavor (voiced by the fantastic Catherine Keener). While her brother his more of the flashy sales guy, Evelyn is said to be the real brain behind their work, as she is a genius when it comes to technology. She's a problem-solver, and gets the job done via tinkering.
Voyd, who will be voiced by Sophia Bush, is the first new superpowered character that has been announced for The Incredibles 2 - and in a certain light, she kind of mirrors Jason Lee's character from the first movie. Rather than being a huge fan of Mr. Incredible, she is instead totally obsessed with Elastigirl - and while Buddy didn't have any kind of special abilities, Voyd does. As you might have guessed from her name, he has the abilities to generate voids that allow her to cause objects around her to shift in space and disappear/appear.
Lastly we have Isabella Rossellini's character, who is identified solely as the Ambassador. She is described not only as a dignified presence on the global stage, but also a friend of the Supers who wants to see their actions legalized around the globe. If it's not Winston Deavor who The Incredibles 2 sees propping up Helen Parr as the face of good superheroes, it's probably her.
This is by far the most we've learned about The Incredibles 2 to date - but sadly the movie isn't exactly coming out next week. We still have a few months left before the highly-anticipated sequel arrives in theaters, with Disney/Pixar having it set for June 15th. It's one of our most anticipated titles of the year, so we'll be sure to keep you up to date with all of the latest info that is revealed about the animated blockbuster.
NJ native who calls LA home; lives in a Dreamatorium. A decade-plus CinemaBlend veteran; endlessly enthusiastic about the career he's dreamt of since seventh grade.
Your Daily Blend of Entertainment News
Thank you for signing up to CinemaBlend. You will receive a verification email shortly.
There was a problem. Please refresh the page and try again.