One Nightwing Costume Element That Will Likely Be In The DC Movie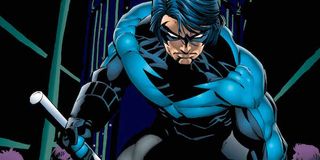 Even though The LEGO Batman Movie showed some love to Dick Grayson last year, the fact of the matter is that we haven't seen Batman's sidekick in a live action theatrical setting since 1997's Batman & Robin. However, that will hopefully be rectified in the coming years, as one of the many DC movies in development is Nightwing, which would focus on Dick's time as a hero operating outside of Batman's shadow. Chris McKay, the man who directed The LEGO Batman Movie, will also helm Nightwing, and while details are still light on what to expect from the movie, it seems the director is all on board for keeping white eyes/lenses on the mask.
Like Batman, traditionally when Dick Grayson is illustrated in the comics, be it as Robin, Nightwing or even serving as the Dark Knight himself, his eyes are depicted as while wearing a mask. In fact, this is a costume element that's seen on many superheroes outside of the Bat-Family in the comics (like Green Lantern and Black Panther, to name a few), but it usually doesn't carry over when those character are adapted for the big screen. But when a Nightwing fan on Twitter suggested that Dick retain the white eyes/lenses look in the upcoming movie, Chris McKay responded with a simple "Agreed." So while nothing is set in stone yet, it sounds like when Dick is costumed up as Nightwing in the movie, we won't have to worry about his eyes being shown.
Presumably the Nightwing mask will be outfitted with lenses that either allow Dick Grayson to read information Iron Man-style or see his environment differently, such as through night vision. This was the case with 2008's The Dark Knight, which was the first live action Batman movie to show Bruce Wayne rocking the white eyes while fighting crime. Batman v Superman: Dawn of Justice also gave the Caped Crusader this look when he was wearing his Dark Knight Returns-inspired armor. If Dick is anything like his comic book counterpart, then even though he isn't working directly with Batman anymore (or at least on a regular basis), he's still taking costume and crimefighting cues from his mentor, so keeping the white eyes makes sense. Plus, in this day and age, superhero movies are keeping more elements from the source material intact, so seeing a Nightwing who looks like he could have jumped directly from the printed page would be most welcome.
Chris McKay recently stated that the Nightwing draft is almost complete, and although there won't be any casting news anytime soon, there will likely be big news about the movie later this year. In 2017, McKay revealed that Nightwing will include nods to Dick's past at Haley's Circus, as well as that the movie will rely less on CGI and more on stunts, which is appropriate for Dick Grayson's fighting style taking into account his acrobatic experience.
Stay tuned to CinemaBlend for more updates about the Nightwing movie as they come in. In the meantime, the DCEU will continue when Aquaman is released on December 21. You can also see a live action Dick Grayson (played by Brenton Thwaites) battling bad guys as Robin when Titans premieres on the DC streaming service later this year.
Your Daily Blend of Entertainment News
Connoisseur of Marvel, DC, Star Wars, John Wick, MonsterVerse and Doctor Who lore. He's aware he looks like Harry Potter and Clark Kent.