Deadpool 2: What We Know About The X-Force From The Comics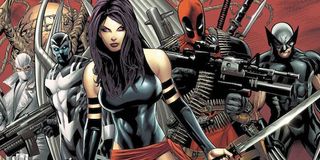 Wade Wilson, a.k.a. Deadpool, is one of the most skilled mercenaries in the Marvel universe, but even the fourth wall-breaking anti-hero needs to be a team player sometimes. In his 2016 movie, the Merc with the Mouth recruited Negasonic Teenage Warhead and Colossus to help him rescue Vanessa from the clutches of Ajax (you may know him better as Francis) and Angel Dust. For Deadpool 2, the eponymous protagonist is taking things to the next level and forming the X-Force, as revealed by the full-length trailer released yesterday. Sure the team name may sound derivative, but for the X-Men film series, this has been a long time coming, particularly since an X-Force movie has been in development since 2013. We have less than two months to go until Deadpool 2's release, but now that we know for certain that the X-Force will appear in the movie, now's as good a time as any to briefly go over the team's comics history.
In contrast with the X-Men, who are a more traditional superhero team, the X-Force is willing to take more extreme methods to get the job done. Introduced in New Mutants #100 and created by Rob Liefeld and Fabian Nicieza, the X-Force was formed by Cable after the New Mutants disbanded, and their original purpose was to battle the Mutant Liberation Front, which was led by Stryfe, Cable's arch-nemesis. The other X-Force founding members included Cannonball, Copycat, Shatterstar, Feral, Boom-Boom and Warpath. However, like most superhero teams, the X-Force lineup has varied over the years, and later notable members included Siryn, Sunspot, Domino, Colossus, Forge and Psylocke The X-Men also formed its own X-Force branch to permanently deal with threats against mutants, and that team's roster included Deadpool and Wolverine. However, it's worth noting that Deadpool already had years of rapport established with Cable from their partnership, much to Cable's displeasure.
In any case, you can count on most versions of the X-Force taking a militant approach when dealing with threats, whether they only target mutants or human innocents as well. You're not going to turn to the X-Force to deliver PSAs or give kids life advice on the side. Interestingly enough, X-Force barely any presence in other media. The team was mentioned in Marvel Anime: X-Men and appeared in Deadpool's ending in the video game Ultimate Marvel vs. Capcom 3, but that's it. So when Deadpool 2 is released, this will be the team's first major appearance away from the printed page. Given that most of the previous X-Men media projects have been geared towards younger fans, it's probably wise that the X-Force's big debut was saved for an R-rated movie.
Which brings us to the cinematic version of the X-Force. Until yesterday, no specific plot details for Deadpool 2 had been revealed, but we now know that the basic story will revolve around Wade Wilson protecting a pyrokinetic mutant kid from the time-traveling Cable. Even with his powers and talents, Cable is too much for Wade to deal with by himself, so he's turning to others to help him out. Although Negasonic Teenage Warhead and Colossus are returning in Deadpool 2, it's unclear if they'll actually join the team or will help out in a different way. The people we do know for sure will be part of Deadpool 2's X-Force are Zazie Beetz's Dominio and Terry Crews' Bedlam, as well as Shioli Kutsana, Bill Skarsgard and Rob Delaney's characters. Judging by her powers, Kutsana is likely playing Surge. Delaney is only listed as someone named Peter, while Skarsgard seems to be playing Shatterstar. Assuming Deadpool follows in the footsteps of the source material, then Cable will eventually join the X-Force, too, and that will set the stage for the X-Force movie, which is being written and directed by Drew Goddard.
Deadpool 2 opens in theaters on May 18, and the X-Force movie is reportedly beginning production this October. Stay tuned to CinemaBlend for more updates about both projects, as well as the rest of the X-Men film franchise.
Your Daily Blend of Entertainment News
Connoisseur of Marvel, DC, Star Wars, John Wick, MonsterVerse and Doctor Who lore. He's aware he looks like Harry Potter and Clark Kent.