Why DC Fast-Tracking Birds Of Prey Is A Good Idea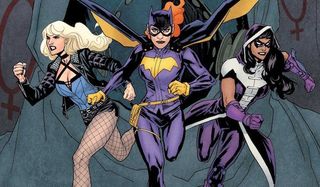 After making numerous appearances in the comics and other (including a 13-episode live action TV series), it appears that the Birds of Prey are finally gearing up to make their cinematic debut. A Birds of Prey movie has been in development since late 2016, with Bumblebee writer Christina Hodson penning the script. Then last week, it was reported that Cathy Yan had been selected to direct the project, and it would see Margot Robbie reprising Harley Quinn. Production is also expected to commence towards the end of 2018, meaning that this could come out sometime in 2020.
Until now, Suicide Squad 2 had been rumored to be the next DC Extended Universe movie following Wonder Woman 2, but with this latest update, it looks like that honor now belongs to Birds of Prey. While we have a long way to go until learning what this Birds of Prey movie will be about and who will comprise the cast, making this a priority is a good idea on DC and Warner Bros' part for several reasons. Starting off, let's look at the lineup that the movie will likely feature.
It Brings More Superheroines Into The DCEU Quickly
So far the only prominent superheroine that's running around in the DCEU is Wonder Woman, but assuming that the core lineup of the cinematic Birds of Prey is anything like it is in the comics, that means we'll be introduced to Batgirl, Huntress and Black Canary at minimum. Batgirl has already received some cinematic attention (more on that later) alongside her other numerous media appearances, and while Huntress and Black Canary have also appeared in projects like Justice League Unlimited and Arrow, I suspect that this movie would be the first time folks who don't follow the comic book lore are seeing them. And those three may just be the tip of the proverbial iceberg, as other Birds of Prey in the comics have included Katana (who we've already met in Suicide Squad), Lady Blackhawk, Hawkgirl, Vixen, the list goes on. In any case, looking at how well Wonder Woman performed, DC and Warner Bros are wise to start bringing in more superheroines sooner rather than later, both to offer more variety in DC's heroic lineup and to work towards that same kind of success.
It Gives Harley Quinn A Different Opportunity To Shine
Harley Quinn was introduced to the DCEU in 2016's Suicide Squad, and while the movie received a lot of criticism, Margot Robbie's portrayal of The Joker's girlfriend/Task Force X member was among the praiseworthy elements. Since then, a number of Harley Quinn-centric projects have been announced, and it looks like Birds of Prey will be the first of this bunch to move forward. Given that nowadays in the comics Harley is serving more as an antihero than a villain, it's unclear if she would be Birds of Prey's main antagonist or if she would fight alongside the protagonists, potentially even joining the team. Either way, this is a good opportunity to see what Robbie can do with Harley both away from her Suicide Squad teammates and hopefully far away from The Joker. As a bonus, Birds of Prey can also set up whatever Harley's next DCEU appearance is, whether that's Suicide Squad 2, Gotham City Sirens or even her "rom-com" with Joker.
It Doesn't Need To Closely Tie Into The Rest Of The DCEU
Before going further, let me clarify that of course Birds of Prey will have some ties to the rest of the DCEU. Batgirl and Harley Quinn's presence alone guarantees that, and don't be surprised if the movie drops in a reference or two to Superman, the battle in Metropolis, etc. That being said, much like Wonder Woman, Birds of Prey can be made in a way so that those who haven't kept up with the DCEU can still enjoy it as a standalone story. Yes, Harley Quinn has history from Suicide Squad, but with the right exposition and potentially even a flashback or two, this can be quickly covered. The same goes for Batgirl; just touch briefly upon her partnership with Batman (assuming that Birds of Prey doesn't mark the beginning of Barbara Gordon's heroic journey), and we can move on. Just because something exists in a shared universe doesn't mean it needs to have close connections with all the other movies. Similar to Shazam! coming up, Birds of Prey can carve out its own little corner of the DCEU and still walk a fine line with ties to this wider superhero world.
It May Set The Stage For The Batgirl Movie
Shortly after the announcement that Cathy Yan (more on her soon) was tapped to direct Birds of Prey, it was reported that the reasons DC and Warner Bros are supposedly prioritizing Birds of Prey over Suicide Squad 2 is because of Christina Hodson's script and because they want to set Batgirl up before her solo movie, similar to how Black Panther was introduced in Captain America: Civil War and then starred in his own adventure. Originally attached to write and direct Batgirl, Joss Whedon departed the project last month due to being unable to come up with a good story. Hodson has since taken over scripting duties from Whedon, but a new director hasn't been found yet. Regardless, considering how well this approach worked for Black Panther, it might be cool to see Batgirl fighting alongside other crimefighters before jumping into her own story. Live action-wise, Batgirl's only movie appearance so far was in 1997's Batman & Robin, and needless to say that didn't go well. Here's hoping Birds of Prey can not only do a better job of introducing her (which, admittedly, shouldn't be too tough), but also ensure that audiences are invested in her enough to want to check out the Batgirl movie later on.
It Spotlights New Directing Talent
James Wan and David F. Sandberg, two of the biggest horror directors in recent years, are helming Aquaman and Shazam!, respectively, and Patty Jenkins, whose fame skyrocketed thanks to Wonder Woman and was already known for her work on Monster, is returning to oversee Wonder Woman 2. Cathy Yan, however, is a newcomer to the world of filmmaking. Originally a reporter for the Wall Street Journal, she pivoted to making short films and made her feature-length debut earlier this year with Dead Pigs. Frequently with superhero movies, directors who are already well-established in the business are handed the reins, but every now and then someone who doesn't have a big resume is given the opportunity to prove themself. Look at what Jon Watts did with Spider-Man: Homecoming. Yan could follow a similar path with Birds of Prey, and in an industry where men are predominantly directors, it's good to see Warner Bros giving her the opportunity to direct a movie centered on some of DC's most famous heroines (this also makes her the first Asian-American woman to direct a superhero movie).
Your Daily Blend of Entertainment News
Connoisseur of Marvel, DC, Star Wars, John Wick, MonsterVerse and Doctor Who lore. He's aware he looks like Harry Potter and Clark Kent.