When Will The Avengers 4 Trailer Be Released?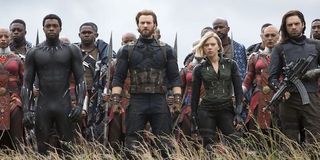 Next summer, we'll know how it all ends. The cliffhanger finale of Joe and Anthony Russo's Avengers: Infinity War will have played itself out in Avengers 4 -- a movie that still doesn't have a proper title, synopsis, or trailer. This is uncharted territory in the film world, as marketing departments usually work hand in hand with creative teams to begin selling an upcoming blockbuster to potential audiences. Marvel's audience for Avengers 4 doesn't have to be sold. They're showing up, even if this thing's still called Avengers 4 when it opens on May 3, 2019.
A trailer for Avengers 4, by this stage of the game, would be nice. Even if we are using Avengers: Infinity War as an example, a sizzle reel of tasty footage had played at D23 and, later, at San Diego Comic-Con. As for Avengers 4? Nada. Zip. Nothing. Radio silence. Is this normal? Nope. But nothing regarding Avengers 4 has been normal, and that likely won't change any time soon.
Will we get a trailer? Yes, likely. (Though it's also possible that we will NOT get one, as Marvel Studios answers to no one, and is making up the rules of this game as it goes.) When will that trailer drop? It's unclear. There's no Star Wars movie sitting patiently in December, waiting for the Avengers 4 trailer to be attached. And the next Marvel Studios movie isn't coming for a long while. So, based on what we know, let's make our best guesses.
In November
This is the educated guess, and it's based off of the fact that November is when the official Avengers: Infinity War trailer dropped. November 29, to be exact. Seeing as how Infinity War also opened in late April/early May (we expect Avenger 4 to move back into April, like its predecessor did), this would mean that the pending sequel is staying on a similar marketing track, getting audiences excited for the conclusion to the battle with Thanos (Josh Brolin) as they head into theaters over Thanksgiving weekend. The trailer likely would arrive online first, but a trailer drop near the end of November seems to make the most sense.
During The Super Bowl
This makes less sense, but is still very possible, given the fact that Avengers 4 can play by its own rules. Timing, from a marketing standpoint, has not favored Marvel Studios this year. Disney didn't host a D23. The studio chose to sit out San Diego Comic-Con, when an Avengers 4 sizzle might have been shown. So, the biggest marketing event between now and May 2019 remains the Super Bowl, and that means we can't count out a big fat, splashy debut of footage on the world's biggest stage.
Attached to a Disney Release
Studios usually -- though not always -- attach a trailer to a movie that's from its own slate. Marvel and Disney would want to put Avengers 4 ahead of another Disney movie, by that logic. If the drop date is November, this makes the animated Ralph Breaks the Internet as the most likely contender. However, maybe Disney wants to use the Marvel trailer to boost attention around Mary Poppins Returns? It wouldn't make sense to hold that Avengers 4 tease it all the way until Captain Marvel in March. There's a very good chance that by then, Avengers 4 will have moved up to April, so if Captain Marvel has a trailer attached to it, it likely would be a second sneak peek at footage.
They Won't Drop a Trailer At All
Wouldn't that be something? We make this joke, on occasion. There are certain movies that don't need a trailer at all. Just post the title, and the release date, and the fans will show up. Avengers 4 absolutely is one of those movies. You have made it this far into the MCU. Most of you saw Avengers: Infinity War (it earned $2 billion globally). You need to see how it ends. Do I think this will happen? No. I believe that some time between now and May 3, 2019, a trailer of footage teasing Avengers 4 will arrive. And likely on one of the moments that I listed in this feature.
Your Daily Blend of Entertainment News
Sean O'Connell is a journalist and CinemaBlend's Managing Editor. He's frequently found on Twitter at @Sean_OConnell. ReelBlend cohost. A movie junkie who's Infatuated with comic-book films. Helped get the Snyder Cut released, then wrote a book about it.