Avengers 4 Could Be Coming Out Earlier Than Expected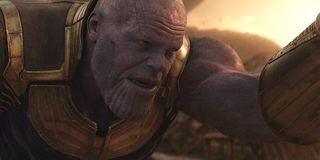 UPDATE: IMAX reached out with clarification, saying that the company's 10Q financial report referred to when Avengers 4 will first appear in IMAX's global theater network, not necessarily when it will hit a specific market. So as far as the United States is concerned, Avengers 4 is still scheduled for May 3, 2019. The original story follows below.
With the release of Ant-Man and the Wasp earlier this month, all of Marvel's 2018 offerings have now been released, meaning that we can now dedicate our full attention to what the studio has coming next year. First up will be the 1990s-set Captain Marvel, and after that, Phase Three of the Marvel Cinematic Universe will wrap up with Avengers 4. Ever since it was announced back in late 2014, Avengers 4 has been scheduled for release on May 3, 2019, but now there's new information indicating that just like Avengers: Infinity War, the movie concluding the Thanos storyline is being moved to April.
At the start of March earlier this year, Marvel surprised fans when it moved Avengers: Infinity War from its original May 4 release date to April 27, a full week earlier. It seems that the studio might be repeating that approach, as IMAX's 10Q financial report (via Seeking Alpha) lists Avengers 4 being scheduled for April 2019. While no specific date is given, my guess is that just like Infinity War, Marvel would tack Avengers 4 at the end of the month, i.e. April 26, 2019, thus giving it a head start over the other summer blockbusters. Assuming this information is true, whatever day Avengers 4 ends up hitting theaters next April, that means there will be less than a two-month gap between it and Captain Marvel.
Right now, Avengers 4 has the May 3, 2019 date all to itself, but whether it stays there, moves to April or was even put in January, you can be sure it's going to make a ridiculous amount of money. Like Avengers: Infinity War, this movie has been hyped as a huge blockbuster event for years, and after the way Infinity War ended, you can bet that a lot of people will want to see how this narrative is wrapped up. Infinity War has made over $2 billion worldwide, and I wouldn't be at all surprised if Avengers 4 reaches that same amount, if not exceeds it slightly.
Warning: Avengers: Infinity War SPOILERS are ahead!
With less than a year to go until Avengers 4's release, Marvel Studios is still staying tight-lipped on specific plot details about the movie, though there's certainly been no shortage of speculation on what will go down. At the end of Avengers: Infinity War, Thanos succeeded in wiping out half of all life in the universe with the power of the six Infinity Stones. So far most of the Infinity War cast is confirmed to reprise their respective roles for Avengers 4, but we'll also see Ant-Man, Wasp, Hawkeye and Captain Marvel being thrown into the mix as well.
Stay tuned to CinemaBlend for more updates about Avengers 4, but in the meantime, check out our Marvel movies guide to find out what else is in development for the MCU. You can also experience/re-experience the blockbuster event that is Avengers: Infinity War when it arrives on Digital HD tomorrow, followed by the Blu-ray/DVD release on August 14.
Your Daily Blend of Entertainment News
Connoisseur of Marvel, DC, Star Wars, John Wick, MonsterVerse and Doctor Who lore. He's aware he looks like Harry Potter and Clark Kent.