2018 Holiday Gift Guide: The Best DVD Sets Include Jurassic Park, Deadpool And More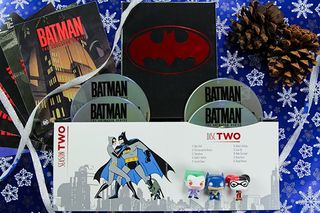 We're adapting to a world where streaming can be a higher priority than ownership, but there's still something to be said about looking at the shelves in your living room and seeing the movies and TV shows you hold near and dear glistening in their plastic cases.
What better time of the year to purchase your favorite sets than during the holiday season---especially if you can convince Mom, Dad, your DH, your DW or even other family members to shell out for you?
Each year, we take a look at some of the fun sets the major studios are putting out and we comb through some of the best to bring you our list of some of the best DVD, Blu-ray and 4K releases that money can buy. There are a lot of fun ones out there this year and you can take a look, below. (Looking to last year for inspiration? We have you covered.)
Lionsgate's Retro VHS Style Blu-rays
What Is It? This year, Lionsgate released a dozen of its most popular retro movies with exciting covers tying in with the nostalgia factor. The new sets hearken back to the days when families could own movies without a reel and a projector for the first time. The titles in the new release are First Blood, The Crow, Young Guns, John Wick, Power Rangers, Highlander, Dirty Dancing, Halloween: The Curse Of Michael Myers, 3:10 To Yuma, Meatballs, Terminator 2: Judgment Day, and Total Recall. Get your own at Walmart (opens in new tab).
Some Cool Extras: Mostly, what you are paying for are the covers, here. The Walmart exclusive sets even come with added details that make them seem as if they are coming straight off of the shelves at a video rental store. It amps up the nostalgia factor considerably.
Who Is It For? Literally anyone who pines for the days when "Be Kind, Rewind" meant something. Also, if you know anyone who simply wants a copy of Dirty Dancing or whatever, I'm pretty sure you'll get brownie points if you decide to purchase this copy with the excessively exciting cover.
Jackass Complete Movie and TV Collection
What Is It? The guys from Jackass may have stopped beating themselves up on the regular in more recent years, but there are still plenty of ridiculous antics worth revisiting. This boxed set is nothing fancy, but it does combine a ton of stuff into one convenient set. All seven movies are available, along with the entire TV series, courtesy of Paramount Home Entertainment. Get your own (opens in new tab).
Some Cool Extras: A director's cut of Jackass 3 is included. Extras with the TV portion of the set include outtakes and a whole section looking at dangerous stunts. Pretty much your standard Jackass stuff, but if you are a fan, there is much joy to be had in this comprehensive set.
Who Is It For? Families who watch people fall together, stay together. Anyone who revels in gross out humor. That cousin who is always doing the type of things that come with the warning "don't try this at home."
Batman: The Animated Series Deluxe Limited Edition
What is it? This Limited Edition set from Warner Bros. Home Entertainment is spread across 10 discs and even features a Digital copy of the series for when you are on the go. The 92-95 series has also been remastered for Blu-ray for the first time. Get the full set.
Some Cool Extras: Beyond the pretty packaging, the new set features a 90-minute segment called The Heart of Batman which looks at the making of the animated series. Plus, yes you are looking correctly. There are Batman, Harley Quinn and Joker mini Funko pops for those who purchase the set as well. Art cards and a slip case round out the cool collectibles.
Who Is It For? Batman superfans (obviously), anyone who already has way too many Funko minifigures on their desks, and fans of a Robin who doesn't drop F-bombs.
Jurassic Park 25th Anniversary 4 Movie Set
What is it? This summer, Jurassic Park turned 25 and there's a whole box set to prove it. Given that Jurassic World: Fallen Kingdom is now out, this set may be even more complete the next time it is released for an anniversary--and most complete after this series of Jurassic World movies wraps. That said, what a set. Four movies, cool packaging and a colored booklet really bring Universal Pictures Home Entertainment's limited edition set to life. 4K is also available, so be sure to check it out.
Some Cool Extras: Mostly, it's just nice to have all of the movies together in one set if you don't already own a copy. It's also nice to have these on 4K if you have the capacity to watch them that way and the audio has been heavily improved with DTS:X. I'll count that as an extra Standard bonus features are included.
Who Is It For? Anyone who likes watching lawyers die on toilets, anyone who likes watching young children encounter dinosaurs for the first time, Spielberg fans, Colin Trevorrow fans, 4K buyers. Honestly, I could keep going, but even if you think Jurassic Park 3 is not the best, the dinosaurs are still flipping cool. Who doesn't want a copy of these?
Pixar Short Films Collection #3
What is It? If you have ever owned one of these collections, you know you will get quite a few Pixar shorts in one compact set. In fact, Disney has a Digital version of all 3 volumes of shorts available, if a Digital copy more fits your lifestyle. However, a hard copy of the third short is now also available in a special multi-screen edition that will give you access to the latest Pixar shorts through a variety of platforms, including "Bao," "LOU," and "Piper."
Some Cool Extras: Two Bonus Mini-Movies are included with the set, "Marine Life Interviews" and "Miss Fritter's Racing Skoool"
Who Is It For? Pixar megafans, those who were pumped about "Bao" being the first Pixar short helmed by a lady director, those who own Collection 1 and Collection 2 already.
Die Hard
What It Is?: There's nothing merrier than hearing John McClane holler, "Yippee-ki-yay motherfucker." This season you can even give that gift to a loved one complete with a festive, holiday-oriented cover--and for a really reasonable, stocking stuffer price. Get your own copy of the R-rated flick.
Some Cool Extras: You're paying for the cover, here. But it's the best ugly sweater that will ever sit on your shelf.
Who Is It For? Anyone who thinks Die Hard is the best damn Christmas movie of all time or who just likes inexpensive copies of good movies.
The Originals: The Complete Series
What Is It? Just as Legacies is heating up in Mystic Falls with dragons and more, Warner Bros. Home Entertainment has brought us the full series for The Originals, a tale of the original Mikaelson vampire family. that comes complete with a time jump in its final season. Fans of the series will get all five seasons, which directly ties in with Legacies near the end. The price for five seasons ain't half bad, either.
Some Cool Extras: The standard extras for each season of the fairly long-running series are available, including access to Comic-Con panels, deleted scenes and more.
Who Is It For? Anyone watching Legacies, those who already own copies of The Vampire Diaries: The Complete Series, general vampire lovers, maybe even the Legacies cast...
Ash vs Evil Dead Complete Collection
What Is It? Lionsgate's cool set full of all of the Bruce Campbell and co.'s big moments on Starz is now available in full. After wrapping up after Season 3, the 6-disc Complete Collection set
brings together all three seasons of the hit series. The only thing that could make this better is a set also including the movies, but for now this one should still make a great gift for franchise fans.
Some Cool Extras: Audio commentaries are golden in each of these sets, but every season also offers a slew of featurettes that should be perfect for fans. Season 2 offers the most options, featurettes-wise.
Who Is It For? Major Evil Dead fans, obviously, but also if you just wanted to catch that series by itself rather than pay for a full network subscription, this could be the set for you.
The Big Lebowski 20th Anniversary 4K Edition
What Is It? A lot of sets are getting vivid-looking 4K releases and plenty of them could have made the list this year. That said, The Big Lebowski came out in 1998, making this an anniversary year for the popular movie. If you'd like to revisit it, 4K may be the way. Take a look.
Some Cool Extras: The 4K is a real winner for us, but major collectors may also want to look at the 20th Anniversary Gift set, which comes complete with a collectible bowling bag and a sweater package.
Who Is It For? Lebowski Fest attendees, 4K collectors, and that dude you know who makes a lot of White Russians, preferably whilst wearing a robe.
Deadpool: The Complete Collection (For Now)
What Is It? A compilation of the first two theatrical, R-rated releases featuring the not-so-friendly neighborhood Deadpool. The teen-friendly Once Upon A Deadpool will likely be in the next (For Now) set. Nab it now (opens in new tab).
Some Cool Extras: A Digital copy comes with the Blu-ray set. It also has its own fun, unicorn-friendly cover. It's available in 4K, but mostly is a set for people who would like to own both Deadpool and Deadpool 2 in convenient packaging.
Who Is It For? Hugh Jackman.
This poll is no longer available.
Reality TV fan with a pinch of Disney fairy dust thrown in. Theme park junkie. If you've created a rom-com I've probably watched it.
Your Daily Blend of Entertainment News
Thank you for signing up to CinemaBlend. You will receive a verification email shortly.
There was a problem. Please refresh the page and try again.