Aquaman's Jason Momoa Got Superhero Advice From Michael Fassbender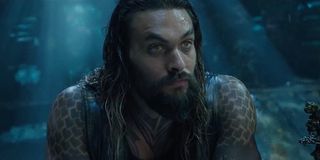 Like with movies of other genres, not all superhero movies are alike, so ultimately it's up to the actor to decide how to portray a character based off the script (obviously), the director's instructions and their own take on said character. Still, if you can get advice from someone who has experience in that fictional realm, that's most welcome. For Jason Momoa, the DC Extended Universe's Aquaman, he talked with Michael Fassbender, who has comic book movie experience on two fronts, about how to tackle DC's King of the Seven Seas. Momoa recalled:
Jason Momoa then added a "So thanks, buddy!" to the camera after delivering the above comments to RTE. Of all the actors Momoa could have spoken to about playing a superhero movie character, Michael Fassbender is definitely a good resource. I'm particularly intrigued that these two aren't just acquaintances, but "dear friends," and thus curious about how that friendship was born. In any case, it seems like following Fassbender's advice paid off for Momoa, as his version of Aquaman definitely Momma-like traits, which helps distinguish this Aquaman from his comic book predecessor. The tattoos and fondness for whiskey help, too.
Michael Fassbender, best known at the time for 300 and Inglorious Basterds, got his start in comic book movies with 2010's Jonah Hex, a fellow DC property. There he played Burke, the right-hand man to John Malkovich's Quentin Turnbull, the main antagonist. Granted, Jonah Hex ended up being a critical and commercial box office bomb, but still, experience is experience.
In 2011, though, that's when Fassbender made a big impression as Erik Lensherr, a.k.a. Magneto, in X-Men: First Class. The first three X-Men movies saw Ian McKellen playing the Master of Magnetism in the 'present day,' i.e. the early-mid 2000s, but First Class wound back the clock to 1962 to show Fassbender's younger Magneto trying to find Dr. Klaus Schmidt (a.k.a. Sebastian Shaw, the man who killed his mother), meeting Charles Xavier, getting involved in the Cuban Missile Crisis and taking his first steps to fight for mutant superiority.
Michael Fassbender has since reprised Magneto in X-Men: Days of Future Past (which Ian McKellen also appeared in) and X-Men: Apocalypse, and because of the timeline changes from the former movie, Fassbender's version of the character is now on a different path in life compared to McKellen's version. Fassbender return as Magneto once more in next June's Dark Phoenix, where he's running the mutant community Genosha and gets drawn back into action when Jean Grey loses control and become the Phoenix. So with four X-Men movies and Jonah Hex under his belt, Fassbender is definitely a good person to seek advice from if you're about to be a lead actor in a superhero franchise.
Looking at Jason Momoa, although many people were already familiar with him as Ronon Dex on Stargate: Atlantis, Conan the Barbarian in, well, the same-named 2011 movie, and Khal Drogo on Game of Thrones, his time has Aquaman has arguably boosted him to Hollywood star status. He debuted as the half-human, half-Atlantean hero in Batman v Superman: Dawn of Justice, but that was just a cameo, as one of Lex Luthor's metahuman files was video footage of Aquaman taking out an underwater camera.
It wasn't until November 2017 that Aquaman was fully introduced in Justice League, where we got our first taste of what this adaptation of the character was like as he teamed up with Batman, Wonder Woman, Flash and Cyborg (and later Superman) to stop Steppenwolf and his Parademon army from turning Earth into another Apokolips. Justice League was met with mixed-to-negative critical reception overall, but Momoa did receive praise for his portrayal of Aquaman from various sources.
More than a year later, now Jason Momoa is snagging the spotlight in Aquaman, which will both follow the hero after the events of Justice League and show flashbacks to the hero's childhood. As mentioned earlier, this version of Aquaman definitely looks and feels a lot different than the Aquaman who's graced the comics for decades. There are some familiar elements intact, such as his upbringing and getting to wear the orange suit at some point, but it definitely seems like Momoa got to put his own unique stamp on the character more so than the actors playing the other Justice Leaguers. Judging by Momoa's quote, Michael Fassbender's advice helped make that happen.
In Aquaman, Arthur Curry will find himself becoming Atlantis' new king, though looking at the movie's trailers, he's reluctant to do so. Once he takes the throne, he'll find himself caught between the surface world, where he's spent the majority of his life, and the Atlantans who want to attack humanity for polluting the oceans. Momoa is joined in Aquaman by Amber Heard as Mera, Patrick Wilson as Orm (a.k.a. Ocean Master), Yahya Abdul Mateen II as Black Manta, Willem Dafoe as Vulko, Dolph Lundgren as Nereus, Nicole Kidman as Atlanna, Temuera Morrison as Thomas Curry, Ludi Lin as Murk, Michael Beach as David Kane and Randall Park as Dr. Stephen Shin.
Aquaman dives into theaters on December 21, so stay tuned to CinemaBlend for continuing coverage, including our review of the movie. For now, you can look through our holiday premiere guide to learn what other movies are coming out before 2018 is finished, or you can scan through our DC movies guide to learn what the DCEU franchise has in development.
Connoisseur of Marvel, DC, Star Wars, John Wick, MonsterVerse and Doctor Who lore. He's aware he looks like Harry Potter and Clark Kent.
Your Daily Blend of Entertainment News
Thank you for signing up to CinemaBlend. You will receive a verification email shortly.
There was a problem. Please refresh the page and try again.