Fans Made A Low Budget Captain Marvel Trailer, And Brie Larson Loves It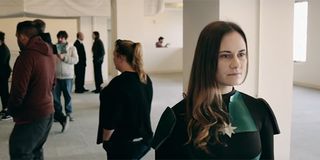 Fans often go to incredible lengths to celebrate and connect with their favorite stories and characters, from laborious theorizing to meticulously designed cosplay. But sometimes, fans go well past above and beyond to create something truly special. That's what one group has done with a shot for shot recreation of the first Captain Marvel trailer. It's so good that even Brie Larson took notice. Check it out:
This is incredibly impressive, and you can tell that a painstaking amount of work went in to it. It may be low budget relative to an MCU film, but it still likely took a fair bit of time and effort to make it as close as possible to the actual Captain Marvel trailer. It has this fun homemade feel to it that is very reminiscent of the reshot movies in Michel Gondry's 2008 film Be Kind Rewind, which makes sense considering that is where the term 'Sweded' originated.
There is a lot of ingenuity on display here and it's brilliant how the creators at Dumb Drum were able to recreate the shots in the trailer, especially the stunts and the special effects, on a low budget. They used actors for medium shots and close ups on stuff they could recreate. For stuff that they couldn't, they used toys like LEGOs, as well as craft supplies.
I especially liked the part in the trailer where the alien ship appeared in Earth's orbit. The ship was basically just a piece of paper that was burned and then the video was played in reverse to make it look like it was appearing. The blue gels for the energy blasts was also a cool touch. You can really see how impressive, and faithful, it is by checking out Dumb Drum's side-by-side comparison with the original trailer.
Somehow this 'Sweded' trailer made its way to Brie Larson and the Captain Marvel actress was especially enthusiastic about it. Take a look:
Brie Larson's first film in the MCU isn't even out yet and already she's beginning to see the level of fandom you get to experience as a part of this massive franchise. Just wait till next Halloween when she sees tons of kids wearing Captain Marvel costumes. The actress clearly really loved this trailer and who can blame her? Her tweet will also likely lead to a lot of people checking out the hard work these fans put in.
This Sweded trailer isn't the only new trailer we've gotten this week either. The second official trailer for Captain Marvel, with 100% fewer LEGOs and 1 more cat than this fan trailer arrived and with it we got looks at some new characters, Captain Marvel's awesome powers and plenty of things to speculate about.
Captain Marvel hits theaters on March 8, 2019. Check out our 2019 release schedule to see all of the biggest movies hitting theaters next year, and for the latest in superhero movie news, stay tuned to CinemaBlend.
Nick grew up in Maryland has degrees in Film Studies and Communications. His life goal is to walk the earth, meet people and get into adventures. He's also still looking for The Adventures of Pete and Pete season 3 on DVD if anyone has a lead.
Your Daily Blend of Entertainment News
Thank you for signing up to CinemaBlend. You will receive a verification email shortly.
There was a problem. Please refresh the page and try again.