Is Once Upon a Deadpool Better Than Deadpool 2?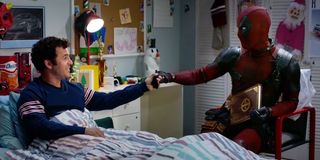 (Image credit: (20th Century Fox))
This holiday season, Deadpool has his eye on getting on Santa's nice list with the PG-13 re-release of Deadpool 2, thoughtfully known as Once Upon a Deadpool. The limited holiday engagement features an involuntary, middle-aged Fred Savage back in an exact replica of his character's room in The Princess Bride as the Merc with a Mouth reads him the summer hit through "filtered through the prison of childlike innocence."
Once Upon a Deadpool completely embodies the reputation of the anti-hero: he means well and certainly knows how to make us laugh, but he can't quite shake his playful and foul-mouthed energy even when he invites the kiddies along. This makes it quite an interesting re-release because it is basically the same movie we saw over the summer, but the framing device is so clever and hilarious that I don't mind giving into the "cash grab."
The film uses the nostalgia of '80s favorite The Princess Bride to give the studios what they have wished for quite some time, a PG-13 Deadpool. The framing with Fred Savage works well because he plays the role of the weary audience member who sees right through Deadpool's tricks (such as the release itself) only to be offset by the pure fun of his masked mischief, along with the complete blast Deadpool 2 is on its own.
Its main audience seems to be for the Deadpool fan, as The Princess Bride framing and the new jokes feel geared distinctly to the generation who can already buy a ticket to an R-rated film. However, a younger audience does enjoy it -- when you see it, the roaring laughter came from both kids and adults alike. It also didn't feel like something that would be awkward to enjoy with an under 17 audience and it didn't spoil the fun of Deadpool 2 either by sanitizing him or stripping him of its personality. If anything, it has more personality and meta humor when Fred Savage comes along for the ride, unwillingly anyway.
The additions are in Deadpool's maximum effort to reach a youthful audience. Imagine Wade Wilson as a father; he's not going to change who he is completely just because a kid is in the room, but he will try. Once Upon a Deadpool uses comparisons to The Lion King to explain death and has two other distinctly Disney Animation references which I think were already there before. The franchise isn't afraid to be tacky with all its '80s music and fourth wall moments, so while it tones it a bit down on the distinctly R content, it amps up the additions to make up for it.
A PG-13 version of 2016's Deadpool wouldn't have worked at all, and I think the character needed to establish itself as an R-rated character before inviting a wider audience. So Once Upon a Deadpool doesn't prove that Deadpool could be a little more inclusive all along. It experiments with this space and succeeds, but not without playing with some additional mature-but-really-funny quips as Deadpool and a 42-year-old Fred Savage talk about comic book tropes, the upcoming sealed deal between Fox and Disney and Matt Damon, obviously.
Speaking of the Disney/Fox merger, I think of Once Upon a Deadpool as a studio experiment to try out if the Merc with a Mouth can handle taking it down a notch. As kids laugh too at the suggestive jokes delivered by Ryan Reynolds, the movie certainly becomes filtered through the eyes of how it can appeal to younger audiences... which might be a lot more than you think. Wade Wilson kind of thrives off a childish sensibility of just saying whatever he pleases and just going with it anyway.
In comparison to the completely PG-13 Marvel Cinematic Universe, Deadpool actually feels more closely aligned to the content younger audiences are used to -- goofy gags, physical comedy and shock value. Take out however many fucks and sword splicing, and Deadpool is just the right amount of crazy for the whole family. A film such as Avengers: Infinity War feels suddenly grittier because it more seriously deals with the action and themes at hand, while Once Upon a Deadpool eases into them and constantly plays them off with joke after joke.
So does Once Upon a Deadpool work better than Deadpool 2 because it's PG-13? The answer probably isn't as straightforward as you'd like, because yes it works in PG-13, but just about the same as the film worked when it was rated-R. The film seamlessly can flow between both the ratings well without one feeling like it's missing the other for a set of two audiences, as proved by this little holiday experiment.
When the re-release was announced two months back, it puzzled us all. Make Deadpool family-friendly? How? Once Upon a Deadpool is proof that Wade Wilson can do both, but especially because Deadpool 2 was already framed as a "family film" explicitly so in the beginning by the comic hero himself and as the X-Force walks out of the film together as a new and unusual family at the end of the film.
The film also doubles as a way for fans of the film to give back a little during the holidays, as it is giving $1 from every ticket to the charity Fudge Cancer (as it's been renamed for a short time), a nonprofit dedicated to helping with the prevention, early detection and emotional support for cancer patients. It's a way for parents to finally can share the one superhero with their kids that they've been going off and watching without them. It's also a successful experiment in my book that could pave the way for Deadpool to appear in the MCU safely -- though he would undeniably steal the show.
It's not distinctly better or worse than Deadpool 2, but it is a smart and witty take on a re-release that only a character like Ryan Reynolds' Wade Wilson could make genuinely enjoyable and feel worth your time. Once Upon a Deadpool is in theaters everywhere until December 24.
Your Daily Blend of Entertainment News
YA genre tribute. Horror May Queen. Word webslinger. All her writing should be read in Sarah Connor's Terminator 2 voice over.