The Best Scary Horror Movies On Netflix Now In 2019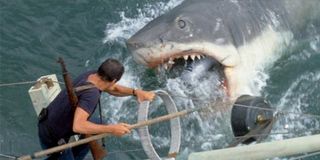 Looking for a great horror movie to watch on Netflix? Simply opening up Netflix and browsing around can be a bit daunting. After all, there is a gigantic selection of titles to choose from, and if you're not 100% sure what you want to watch, you could spend hours trying to make a decision. If, however, you're currently feeling in the mood for the scares provided by a great horror film, we're here to help you out and keep your movie night on track.
We've built this feature to highlight what is really the cream of the crop when it comes to the horror catalogue on Netflix. If you're looking for vampires, zombies, serial killers, and all other kinds of splatter entertainment currently available, you're in the right place.
We picked 25 of the best horror movies on Netflix right now, and we've grouped them by some popular horror genres to help you jump straight into the kind of movie you're interested in. First we have Slashers , those classic movies where some terrifying murderer is out to get everyone with their favorite weapon of choice. Then we have Bloody Messes which is pretty much exactly what it sounds like, you shouldn't expect everyone to make it out alive... Following that is the section for Hauntings , where you can fully expect to be terrified and stay up all night wondering if that noise in your attic is just the wind or actually a centuries old demon come to your house specifically. Fourth we have The Classics which are just some of the best movies you've probably at least heard about in pop culture and are worth watching if you want to understand all the references. Lastly, check out some of the best Netflix Originals, since Netflix is doing their best to provide some great horror films to add to their library.
The numbers are in no particular order, just by the groupings above, so without further ado, let's start with our Slashers:
25. All The Boys Love Mandy Lane
Jonathan Levine's All the Boys Love Mandy Lane was a film that, years ago, audiences thought they might never see. The movie premiered at the Toronto International Film Festival in 2006, and followed that up with a brief festival run, but it wasn't actually until 2013 that it finally got a limited release. Now the movie is easily accessible to all Netflix subscribers, however, and fans can get freaked out watching Amber Heard try to survive in a more modern take on the slasher subgenre.
24. Cult Of Chucky
While there is a tendency for horror franchises to become truly terrible the longer they exist, that is weirdly not the case for the killer doll known as Chucky. Sure, there was a weird time when things got a bit too comedic for their own good, but the titles being made today are just as good as the original Child's Play and Child's Play 2. This definitely includes Don Mancini's Cult Of Chucky, which is not only a fun, scary horror feature, but a surprisingly great follow-up to 2013's Curse of Chucky.
23. Jason X
Weirdly, the Friday The 13th franchise only has two titles on Netflix, and considering the other one is Jason Goes To Hell, this pick was pretty damn easy - not to mention the fact that James Isaac's Jason X is arguably the best movie in the entire series. While a lot of the other adventures of Jason Voorhees tend to blend together, this film is most definitely a standout, being the only one that is set in the future and has the iconic slasher doing his killing in space.
22. Scream 4
This isn't the case of picking the best title from a franchise, as none of the other Scream movies are currently available on Netflix, but at the same time Wes Craven's Scream 4 is a film that deserves a bit more recognition that it gets. No, it's not as good as the first two in the series, and it does make some unfortunate choices in its third act, but it is at the same time a nice update from a meta perspective, and does have something to say about the current generation and modern horror.
21. Final Destination
Fans of the Final Destination features will be happy to know that the first three movies from the series are available on Netflix, but I'm only singling out one title from various franchises, and the first film in this case is definitely the best (though Final Destination 2 has the best opening of all five titles). It's hard not to love both the premise and execution of this one, as it's really a horror fan's delight watching filmmakers design the most convoluted and creative ways to kill all of the characters.
20. From Dusk Till Dawn
There is no denying it: Robert Rodriguez's From Dusk Till Dawn is a weird movie. It starts as a violent crime thriller, but as it shifts its way into its second half it turns into a balls-to-the-wall, vampire-filled horror fest. It's kind of a jarring experience, but if you're game for it, it's also a blast. It's honestly some of the best character work from George Clooney's early career, and a lot of fun to go with some bizarre and gory scares.
19. Green Room
Jeremy Saulnier's Green Room will sadly long be remembered as one of the last films to star Anton Yelchin before his untimely death in 2016, but even putting that aside the movie is one deserving of viewing simply because it's absolutely incredible. The story centers on members of a punk band that find themselves in serious trouble when they witness a murder after a gig at a neo-Nazi club, and it's the kind of filmmaking that has you clawing at the armrests. Not only is Yelchin brilliant, but there is also some great stuff from Patrick Stewart, Alia Shawkat, and Imogen Poots.
18. Raw
Cannibalism is one of those things that people generally don't like thinking about on a regular basis (for what are hopefully obvious reasons), and perhaps because of this there aren't too many films on the subject. Julia Ducournau's Raw tackles it head-on, however, and the results are just as disturbing as you would hope. A French-language film, the plot finds a young vegetarian woman (Garance Marillier) undergo a seriously disturbing change when she goes through a horrific initiation ritual at her veterinary school – specifically one that sees he start craving the taste of human flesh.
17. Se7en
After establishing himself as a phenomenal music video director, David Fincher's work in the feature business didn't start out so well, with a lot of messiness happening behind the scenes of Alien3, but thankfully he rebounded with Se7en, which is simply one of the best serial killer films ever, and features one of the best twists ever (and I say this fully recognizing the next two titles in this feature). Even knowing how it all ends, however, it's still amazing to watch this one play out, following a pair of detectives (Brad Pitt, Morgan Freeman) tracking a homicidal maniac taking inspiration from the seven deadly sins.
16. Train To Busan
There's an unfortunate overall lack of great zombie movies featured on Netflix, but at the very least the presence of Yeon Sang-ho's Train To Busan makes up for some of that. This is easily one of the best modern examples of the subgenre, choosing a fascinating and truly scary location for its characters to be in during the outbreak of a deadly virus that turns people into mindless monsters (it's in the title). There was a point in recent history where Hollywood did its best to totally exhaust audiences with zombie stories, but this one still manages to feel fresh.
15. The Witch
Few period horror films are quite as transportive as Robert Eggers' The Witch, which throws audiences back to 17th century New England for a hyper-disturbing ride. A family is forced to make it on their own after being cast out of their community, and while living on the edge of a dark wood they find themselves plagued upon by an evil witch. This definitely isn't a movie about jump scares, but it is nightmarish all the same, and one of the best examples of the genre in the young 21st century.
14. Before I Wake
Netflix has begun forging relationships with a lot of great directors, and Mike Flanagan can be counted among them. The filmmaker is notably the showrunner of the original series The Haunting Of Hill House, but the streaming service also hosts a number of his fantastic films. Before I Wake is a great example of his talent, creating a literal nightmare parenting scenario when a mom and dad (Kate Bosworth and Tom Jane) realize that the dreams of their son (Jacob Tremblay) are manifesting in reality as he sleeps.
13. The Conjuring
Breaking out with his massive hit Saw, James Wan has become one of the most significant voices in the world of modern horror, and one could argue that The Conjuring is the best film he's made to date in the genre. The film that launched the uber-successful franchise, the premise seems entirely basic – two paranormal investigators (Patrick Wilson and Vera Farmiga) investigate mysterious happenings in a country house – but what makes it sing is gorgeous cinematography, fantastic performances, and some truly terrifying set pieces.
12. Flatliners
Primarily thanks to his Batman movies, Joel Schumacher's legacy in Hollywood isn't entirely fantastic, but Flatliners remains an easy movie to defend - particularly just for the 1990-ness of it. It's a star-studded cast including Kiefer Sutherland, Kevin Bacon, Julia Roberts, Oliver Platt and William Baldwin carrying out experiments with death, and it features not only some cool, creative ideas, but some nice occasional scares.
11. The Sixth Sense
M. Night Shyamalan's career has definitely been a mixed bag – most recently highlighted by the release of Glass – but the title from his filmography that audiences will always largely agree on is The Sixth Sense. Even beyond having what is considered one of the greatest twists in modern cinema, it's really a beautiful, dark, and understated feature that shines in large part to the performances from Bruce Willis and young Haley Joel Osment. Even after all this time, one can't argue with why Shyamalan's star initially rose like it did.
10. Cape Fear
Martin Scorsese is one of the greatest filmmakers to ever live, and while he isn't exactly known for his work in the horror genre, he's still made some very scary films. The most recent was Shutter Island, but arguably his best is Cape Fear: a remake of J. Lee Thompson's 1962 film that stars Robert De Niro as the terrifying Max Cady – a psychopath who, after getting out of prison, executes a plan to stalk and kill the defense attorney (Nick Nolte) who he blames for getting him incarcerated.
9. Christine
We've already mentioned Stephen King once in this feature, but Christine is a two-fer when it comes to horror icons, what with it being directed by the legendary John Carpenter. This is definitely one of the most well-known stories in the King canon, telling the story of an evil car that is not only practically indestructible and kills anyone it doesn't like, but fully corrupts its owner.
8. Jaws
Like Martin Scorsese, Steven Spielberg is a legendary director who hasn't spent much time in the horror genre, but what he has contributed is some of the best stuff of all time. Jaws is an absolute masterpiece, built with not only some of the greatest sequences in cinema history, but also some of the greatest single shots. This epic battle of man vs. shark is a tale that will be remembered and regarded for centuries… and being available on Netflix will only help that happen.
7. Poltergeist
Speaking of Steven Spielberg, Poltergeist is arguably his second best contribution to the genre the filmmaker has made, with the debate about who directed it still without a truly definitive answer. Putting that aside, this movie is one of the best examples of 20th century horror out there, with images – from the killer tree to the living clown doll – that will haunt the minds of audiences forever.
6. The Silence Of The Lambs
The horror genre has never classically gotten a lot of respect when it comes to award season, especially the Oscars, but Jonathan Demme's The Silence Of The Lambs is an extreme exception. The iconic story of an FBI agent (Jodie Foster) turning to a psychopath (Anthony Hopkins) for advice while trying to hunt down a serial killer, the film is one of only three movies to win the Big Five at the Academy Awards – and in retrospect, the prizes are definitely well-deserved.
5. 1922
When talking about horror, Stephen King is always a great place to start. 1922 is an adaptation of one of his lesser-known stories, but has a dark and disturbing yarn to spin, with Tom Jane starring as a farmer who conspires with his son to kill his wife as part of a financial scheme. Terrible actions tend to have terrible consequences, however, and those discovered here are very much of the unexpected variety.
4. Apostle
Gareth Evans really blew audiences away with his breakout films The Raid and The Raid 2, but after considering The Raid 3 he instead decided to make a genre switch and try out a bit of cult horror with Apostle. A Netflix original release, the 1905-set story follows a criminal (Dan Stevens) as he covertly travels to a remote island with the hopes of rescuing his sister from a dangerous cult. He gains access pretending to be a follower, but is in no way ready for the realities of what's going on behind closed doors and underground.
3. Cam
Cam girl culture is not a world that many filmmakers have tackled, but Daniel Goldhaber's Cam takes it on with an awesome horror bent. It centers on an ambitious young woman (Madeline Brewer) who is excited to be gaining popularity as a cam girl star, but finds herself deeply disturbed when she discovers that a doppelganger has taken over her channel.
2. Gerald's Game
We've arrived at Stephen King adaptation number three, and Mike Flanagan film number two! Gerald's Game is based on a straight-forward premise – centering on a woman (Carla Gugino) who is handcuffed to her bed by her husband (Bruce Greenwood) during a romantic retreat, and then left struggling to survive when he dies from a heart attack – but it's also one of the most tense movies released in recent years. Despite spending the bulk of her screen time in one spot, Gugino, who has always been a phenomenal talent, delivers one of the best performances of her career, and drives home a fantastic message about the power of inner-strength.
1. Hush
Yup, it's time for another Mike Flanagan entry! (and sadly the last) While Netflix also has Bryan Bertino's The Strangers available to stream, Hush is a vastly superior home invasion film that actually has something new to add to the subgenre. What makes this one particularly different is that its protagonist (Kate Siegel) is deaf, which inspires the unnamed killer (John Gallagher Jr.) to actually be somehow even more sadistic and cruel than your typical homicidal home invader. It's a movie that will have you jumping out of your skin, and further proof of Flanagan's extreme talent.
So what do you plan on streaming the next time you open Netflix? Hit the comments section below with your favorites!