Should Marvel Announce Its Entire Phase 4 Slate Post-Endgame?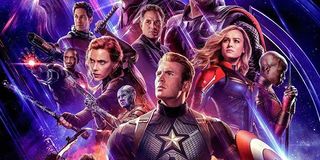 On October 28, 2014, while still in the midst of Phase Two and around six months before the release of Avengers: Age of Ultron, Marvel announced its slate of movies for Phase Three. It was like Christmas morning for fans of the Marvel Cinematic Universe and comic book movies in general, as the studio laid out an incredibly ambitious plan that promised an expanding universe of new heroes and epic events.
That slate has changed a bit over the years, dates were moved around, Spider-Man came home, the Wasp teamed up with Ant-Man and the Inhumans were put out to pasture on ABC, but ultimately I don't think it's controversial to say that Marvel mostly delivered on the promise of that slate and even exceeded those lofty expectations.
Now we are rapidly approaching the end of that Phase Three slate. Avengers: Endgame arrives in theaters this weekend, the culmination of the MCU's 11-year, 22-film journey, followed by Spider-Man: Far From Home in July, which, according to Kevin Feige, is the true end of Phase Three.
When we come to the end of something, we often look to the past and the journey that brought us here, but our eyes eventually inevitably turn towards the future. So as Marvel closes the book on The Infinity Saga, it is worth asking what comes next. To that end, we have to wonder if Marvel will announce its entire Phase Four slate (if it is called Phase 4) after Avengers: Endgame/Spider-Man: Far From Home? And to be more specific, should it?
It's not like we are in the dark about what the future of the MCU holds. In fact, we know quite a bit based on reports about projects in development, castings and the filmmakers hired for these future films.
The long awaited Black Widow solo movie is putting together an impressive cast, as is Marvel's newest foray into the MCU cosmos, The Eternals. Director Scott Derrickson is returning for Doctor Strange 2, as is Ryan Coogler for the Black Panther sequel and (thankfully) James Gunn for Guardians of the Galaxy Vol. 3. Add in a Shang-Chi movie and you have a pretty impressive slate.
However, the studio hasn't officially announced these titles. Marvel has release dates carved out from next spring to the summer of 2022, but the movies coming out on those dates are still a mystery. That brings us back around to the question of if Marvel Studios should show all of its cards for the next chapter of the MCU in the wake of Avengers: Endgame.
On the one hand, the answer to this question seems obvious; of course Marvel should announce its entire Phase 4 slate post-Endgame. The Phase Three slate announcement seemed to work out fairly well and we already know some of the stuff that's coming, so we might as well have confirmation. It would also be a good move to get audiences excited about what the future holds after Avengers: Endgame concludes the current story.
From a fan perspective, who wouldn't want to know for sure what's coming and what we have to look forward to? Speculation is part of the fun of being a fan of these types of movies, and in some ways knowing what's coming gives us more to speculate about and discuss, not less. Just think about how awesome it was when we saw iconic comic book arcs reflected in titles like Civil War, Ragnarok and Infinity War. That hype was a magical feeling and I think we'd all be down to experience it again.
However, there is a less obvious argument that Marvel shouldn't announce its entire Phase Four slate after Avengers: Endgame or Spider-Man: Far From Home. When Marvel made that Phase Three slate announcement way back in 2014, it was a mere two weeks removed from Warner Bros. announcing its own ambitious slate of DC films.
So it seems possible that Marvel didn't intend to announce all of those films right away, and only did so to let comic book movie fans and shareholders know that it was not ceding the crown anytime soon. This time around, there is no pressure for Marvel to announce everything if it isn't ready to do so or would prefer not to.
There is also something to be said for keeping fans in the dark and maintaining an air of mystery about what the Marvel Cinematic Universe will be moving forward. Because we really have no idea what this universe will look like post-Endgame. If you think about it, we've known that Thanos was the final boss the heroes would be facing at some point since the mid-credits scene in 2012's The Avengers. The Infinity Stones have been the through-line of The Infinity Saga and everything has built toward that Thanos encounter.
Right now, we may know some movies that are coming, but Phase Four has no such obvious path. We don't know what the contours of this next chapter will be. Is it building towards something like a big team-up movie as the previous phases have? What's the connective tissue between an epic that spans tens of thousands of years, a former KGB spy and a master of Kung-Fu? We don't know yet and that's exciting.
If Marvel chooses to dole out information a little bit at a time, versus a dump of information revealing everything that's coming, we'll be viewing each film more as an individual piece versus how it fits into the larger narrative arc of "the Phase." That might result in less forward momentum, but there would be a greater potential for surprises.
For example, it doesn't seem like the X-Men or Fantastic Four will be brought in for a while, but we know they're coming eventually. So what's more exciting: an announcement and a logo reveal as part of a press conference, or some sort of shocking tease in an end-credits scene? Obviously casting and development news can spoil future reveals, but I think there is merit to learning about the destination as part of the journey, not in advance of it.
Kevin Feige has indicated that Marvel has a three-year plan post-Endgame. The seven movies we believe are in the works are only enough to cover a little over two years of that at a rate of three MCU movies a year. We're definitely going to hear about some of those movies before too long because Marvel needs to let people know what movies are coming, particularly next year. Still, we don't know if we'll hear about the entire three-year slate.
Ultimately, I think that Marvel should announce some of its Phase Four slate after Avengers: Endgame and Spider-Man: Far From Home, but I don't think the studio needs to or should announce the entire Phase Four movie plan right away. I want to know what's coming, but not everything, not yet.
Before we get to any of that, we have to see how Phase 3 and the Infinity Saga comes to a close in this weekend's Avengers: Endgame. Stay locked to CinemaBlend for all the latest coverage from the film and check out our 2019 Release Schedule to keep track of all of this summer's biggest movies.
This poll is no longer available.
Nick grew up in Maryland has degrees in Film Studies and Communications. His life goal is to walk the earth, meet people and get into adventures. He's also still looking for The Adventures of Pete and Pete season 3 on DVD if anyone has a lead.
Your Daily Blend of Entertainment News
Thank you for signing up to CinemaBlend. You will receive a verification email shortly.
There was a problem. Please refresh the page and try again.