The Top 5 Pornhub Movie Character Searches Are All Superheroes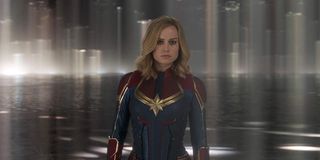 As we inch closer to the end of 2019 and into 2020, you're understandably seeing a lot of retrospectives about the last 12 months. Well, the good folks at Pornhub have joined in on that fun providing statistics on what its users look up on the site in 2019. As it turns out, when it comes to character searches, many Pornhubbers are, uh, big fans of superheroes.
Looking over the Movies and TV Characters category of the Pornhub Insights, a lot of visitors to the site clearly experienced a lot of pleasure watching Marvel and DC-themed sexual revelry this past year. Here are the folks/teams who took the top 5 spots on this list.
The Avengers ranking at #1 is no surprise given the record-breaking success of Avengers: Endgame this year. The same goes for Captain Marvel, which finally introduced Carol Danvers to the Marvel Cinematic Universe and ranks as 2019's fourth highest-grossing movie worldwide. As for the Incredibles, evidently plenty of people are still fantasizing about Pixar's family of costumed crimefighters more than a year out from Incredibles 2's release.
It should also be noted Harley Quinn and Teen Titans qualify in both the movie and TV categories. Harley starred in 2016's Suicide Squad and currently leads her own animated series on the DC Universe streaming service, while the Titans starred in last year's animated Teen Titans Go! to the Movies (the primary fanbase for that movie should stay FAR AWAY from Pornhub) and have also have their own DC Universe series.
Of the Top 5, Harley Quinn and The Incredibles are the only holdovers from 2018's Top 5, with Avengers just barely missing the cut at #6 last year. However, in 2018, Harley Quinn took the #1 spot, but again, the Avengers were the 2019 MVPs, so the Clown Princess of Crime taking 2nd is hardly a knock on her appeal. After all, apparently a lot of people are into clown porn. As for why The Incredibles moved from third to fourth place, I'm guessing DC Universe's Titans simply sparked a lot of new fantasies.
Lower down on the characters list, Black Widow, Joker, Wonder Woman, Spider-Man, Catwoman, Elastigirl, Batman, X-Men, Batgirl, Deadpool and Captain America were also popular searches. Some of those Marvel characters can technically still qualify in the Top 5 though since they're part of the Avengers. And while they don't belong at Marvel or DC, I'd be remiss if I didn't mention that Power Rangers made the cut too, with those morphenomenal superheroes still going strong on TV and preparing for another cinematic reboot.
It was already clear that superheroes are still reigning supreme in pop culture from the continually-expanding lineup and movies and TV shows, but these Pornhub searches just further cement that. Something tells me when we regroup this time next year, superheroes will still dominate the character searches on the site. Although looking at the Marvel and DC film slate, I wouldn't be surprised if Harley Quinn takes back the #1 spot thanks to Birds of Prey. It's also a good bet that Black Widow and Wonder Woman will jump higher up thanks to their respective movies.
When you're done experiencing superhero-themed adult entertainment available on Pornhub, be sure to look through our Marvel movies guide and DC movies guide to learn what these franchises have coming down their respective pipelines.
Connoisseur of Marvel, DC, Star Wars, John Wick, MonsterVerse and Doctor Who lore. He's aware he looks like Harry Potter and Clark Kent.
Your Daily Blend of Entertainment News
Thank you for signing up to CinemaBlend. You will receive a verification email shortly.
There was a problem. Please refresh the page and try again.