7 Marvel And DC Characters Who Will Steal The Show In 2020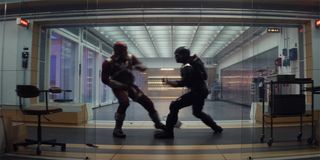 Between Captain Marvel, Avengers: Endgame, Spider-Man: Far From Home, Dark Phoenix, Shazam!, and Joker, 2019 was an absolutely massive year for comic book movies, and that trend most definitely isn't disappearing as we head into the new year. While there are, by the numbers, fewer Marvel and DC blockbusters set to hit the big screen, each title is expected to ride into theaters in 2020 on a major wave of excitement, each of them featuring action and character work that should thrill audiences worldwide.
Diving a bit deeper than that, however, while these projects are all highly anticipated in general, there are certain heroes and villains in the individual releases that are garnering more attention than others – and it's those characters that we are focusing on here. While there is a lot of mystery surrounding all of the roles that will be discussed, leaving a lot of room for speculation based on limited information and the source material, our larger expectations matched with a particular level of optimism has generated this list of those Marvel and DC characters who we think will steal the show in the next year.
Harley Quinn
While 2016's Suicide Squad was heavily criticized upon release, one aspect of the film that most could positively agree on was the performance by breakout star Margot Robbie as fan-favorite Dr. Harleen Quinzel a.k.a. Harley Quinn. Now she's getting her very own playground in which she can generate her particular brand of chaos, titled Birds Of Prey (And The Fantabulous Emancipation Of One Harley Quinn), and it should be a blast.
The marketing for the movie definitely suggests that Harley is the film's primary protagonist, making a name for herself after being dumped by The Joker, and the character's energy combined with her altered perspective should result in her role in the girl gang feature being a major standout. Her name may be the last words of a very long title, but it looks like this is going to be the Harley Quinn movie that fans have been wanting to see ever since her introduction in Batman: The Animated Series with the titular all-female team as supporting players.
Cheetah
Kristen Wiig is primarily known to audiences as a comedian, but she is also a seriously talented dramatic actor, as evidenced by her performances in films like Welcome To Me and The Skeleton Twins. It's that particular duality that should make for some seriously exciting stuff in next year's Wonder Woman 1984. The transformation of nerdy Barbara Ann Minerva, who is best friends with Gal Gadot's Diana Prince, into the vicious and sharp Cheetah is a perfect fit for the actress' skills, and it should lead to some fantastic big screen results.
At this point we don't know much about why it is that she starts to transform (presumably it has something to do with the guy we'll be talking about next), or even what she'll ultimately look like at the end of said transformation (it would seem that the full cat-person look is going to be kept as a reveal for the big screen), but anticipation is definitely high for the first live-action version of the character. If all goes well, hopefully we'll get a great collection of laughs and screams.
Maxwell Lord
Pedro Pascal has a whole lot of heat right now thanks to his role as the titular character on the hit Disney+ series The Mandalorian, and that should carry over in interesting ways to Wonder Woman 1984 – specifically because the part couldn't be any more different (also, he won't be getting regularly outshined by Baby Yoda). Playing Maxwell Lord should allow Pascal to act more like a charismatic charm bomb (much more in line with his work on Game of Thrones), and the idea of him playing an '80s-era "King of Infomercials" is really fantastic… especially given that we know there will be a deeply sinister side to him lurking behind his bright smile.
How exactly is he delivering on his promise to give people everything that they want? What is his big endgame? What can we expect from his confrontations with Gal Gadot's Wonder Woman? This is a turn that should have a lot of surprises in store, and we can't wait to watch when the film hits theaters in June 2020.
Red Guardian
Truth be told, David Harbour didn't have a great 2019 when it came to comic book movies, as Hellboy didn't exactly turn out to be the film that fans were hoping it would be. That being said, he has an amazing opportunity for redemption in 2020 with his performance as Red Guardian in Black Widow. While the character's comic book counterpart is essentially a Russian version of Captain America, the big screen incarnation appears to be taking him in some wild new directions, and it looks amazing.
Everything about the aesthetic is perfect, including the big beard, the prison tattoos, and capped teeth. He gives off tremendous scene-stealing energy in the trailer, making him a must for this list, even though he is surrounded by an outstanding cast and serves as a kind of father figure in a family that includes Scarlett Johansson' Natasha Romanoff (of course), Florence Pugh's Yelena Belova, and Rachel Weisz's Melina.
Taskmaster
Who is Taskmaster? When it comes to the Marvel Cinematic Universe we really have no idea at the present moment, but should he wind up being a proper adaptation of the character from the Marvel source material, audiences will be in for quite a show when he makes his live-action debut as one of the primary antagonists of Black Widow in 2020. In the comics, Taskmaster a.k.a. Tony Masters is gifted with an ability dubbed "photographic reflexes," which allows him to instantly mimic the physical behavior of anybody he sees (even if he only has the opportunity to watch them in a video), and provided that's properly brought to life it should result in some spectacular cinema in the coming months.
There is tremendous eagerness among fans to see the character in all his mirroring glory on the big screen, especially given the action-centric opportunities the plot presents, and the mystery surrounding his identity is just icing on the cake. Right now we don't even know the actor behind the mask (is it someone in the cast, or a star being kept a secret?), and anticipation for that revelation is just one of the many reason we're excited to see the Cate Shortland movie in 2020.
Thena
It's always exciting when a big star signs on to a major comic book blockbuster and essentially stakes their claim in pop culture as the live-action version of a particular character, and that's exactly the situation we have with Angelina Jolie in Eternals. She always has a powerful presence in the work that she does, but this should be a special case given that she is practically playing a god. A Jack Kirby creation inspired by the Greek goddess Athena and possessing many remarkable abilities, Thena has a commanding role among the titular group of near-immortals, and it's hard to imagine a stronger choice for the role than Jolie.
Even though the film features what is undoubtedly one of the best ensembles that Marvel Studios has put together to date, including Richard Madden, Salma Hayek, Brian Tyree Henry, Kumail Nanjiani, and Gemma Chan, there is expectation for her to shine brightly as the character traverses millennia and watches humanity grow and change over the course of many eras. How exactly she will fit into the story on a more micro level remains a mystery, but already our expectations are high.
Black Knight
With the exception of the occasional King Arthur movie that pops up every few years, the blockbuster landscape is generally totally lacking in medieval action, but we have high hopes that Kit Harrington's Dane Whitman a.k.a. Black Knight will satiate that particular hunger. Beyond the hero being a classic Avengers member finally getting his blockbuster debut, his role parallel to the Eternals in the upcoming Chloe Zhao film should be fascinating – as his story in the Marvel Universe is one of both multi-generation heroics and redemption.
There is limited information available about how the character will play into Eternals, let alone how the live-action movie will translate his classic costume into something that fits with the larger aesthetic of the film, or how the representation will differ from the comics, but what we do know about him is enough to get him a spot on this list.
Birds Of Prey (And The Fantabulous Emancipation Of One Harley Quinn), Wonder Woman 1984, Black Widow, and Eternals are high on our list of most anticipated films going into the new year, so be sure to stay tuned for more news and features about all of them, as well as more 2020 anticipatory features here on CinemaBlend. For now, though, be sure to go down to the comments section and tell us which Marvel and DC characters you think will be stealing the show in the next twelve months.
NJ native who calls LA home; lives in a Dreamatorium. A decade-plus CinemaBlend veteran; endlessly enthusiastic about the career he's dreamt of since seventh grade.
Your Daily Blend of Entertainment News
Thank you for signing up to CinemaBlend. You will receive a verification email shortly.
There was a problem. Please refresh the page and try again.