6 Great Shakira And Jennifer Lopez Movies Streaming Right Now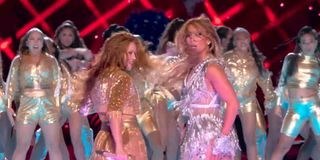 Shakira and Jennifer Lopez scored the biggest touchdown of Super Bowl Sunday with their mesmerizing halftime performances. The hips definitely didn't lie as the two singers turned the halftime show into their own mini concert that included guest performers Bad Bunny and J Balvin. Shakira and Jennifer Lopez reminded people why they're two of the greatest modern day performers. Their talents reach further than singing and dancing, as they both had memorable performances in movies.
Jennifer Lopez splits her time between making music, producing movies and shows, and acting. Her movie career has been going strong since it started in 1995 and propelled with her starring role in 1997's Selena. The "Let's Get Loud" singer even received a lot of Oscar buzz for her supporting actress performance in Hustlers. Unfortunately, the Academy decided not to grant Jennifer Lopez her first Oscar nomination, but at the Super Bowl, Lopez showed them that she deserved a nomination for core strength in addition to her acting.
While better known for her music, Shakira is also no stranger to the world of film and television. She made brief guest appearances as herself in Ugly Betty and Wizards of Waverly Place. In 1994, teen Shakira appeared in a novela called El Oasis. Shakira's Ugly Betty episode (opens in new tab) is available to stream on Hulu, along with the entire series (opens in new tab). The entire series of Wizards of Waverly Place is also available to stream on Disney+ (opens in new tab). Shakira also appeared as a coach on The Voice for a couple of seasons. Her time on The Voice is available to stream on NBC.com.
Jennifer Lopez's filmography is long, but there is a limited selection of those available to stream through a subscription service. Here are a couple of entertaining Jennifer Lopez and Shakira movies available to stream.
Zootopia (Disney+)
Zootopia is Disney's Academy Award winning animated movie that features Ginnifer Goodwin as Judy Hopps, a rabbit who wants to join the Zootopia Police Department, and Jason Bateman as Nick Wilde, a con artist fox. The film puts this unlikely duo together to solve a mystery. Zootopia acts as an allegory for serious modern day issues like prejudice and racism.
In Zootopia, Shakira plays a character named Gazelle. Shakira's Zootopia character has a big performance number, similar to her Super Bowl performance. She sings a song written just for the movie called "Try Everything." Shakira's Zootopia performance is brief but the animated gazelle, Gazelle, eloquently exhibits Shakira's style and flare. Zootopia is available to stream on Disney+. Stream it HERE (opens in new tab).
The Wedding Planner (IMDbTV)
Jennifer Lopez and Matthew McConaughey fall in love in The Wedding Planner. She plays Mary, the woman hired to plan Steven (Matthew McConaughey) and Fran (Bridgette Wilson-Sampras)'s wedding. As the two work together planning his wedding, they realize that they have an undeniable connection.
The Wedding Planner has all the cheesy goodness of a romantic comedy: it's sweet, simple, and a solid choice for your romantic movie needs. Jennifer Lopez has a natural charisma that makes her an ideal choice for romantic leading lady roles. The Wedding Planner is available for free with ads on IMDbTV. You can access IMDbTV through Amazon Prime Video or directly on the IMDb site. Stream The Wedding Planner HERE (opens in new tab).
Lila & Eve (Netflix)
Viola Davis and Jennifer Lopez star in Lila & Eve. They play Lila (Viola Davis) and Eve (Jennifer Lopez), two people who decide to take justice into their own hands. After both of their children are murdered, they go on a hunt for those responsible for the death of Lila's son.
Lila & Eve is a thrilling crime drama that involves two powerhouse performers being vigilantes. It also has a major twist that will make your jaw drop. Fans of Viola Davis and Jennifer Lopez may enjoy this intense drama with even more intense performances. Lila & Eve is available to stream on Netflix. Stream it HERE (opens in new tab).
Shakira In Concert: El Dorado World Tour (HBO)
Shakira in Concert: El Dorado World Tour follows Shakira's 2018 tour. The tour comes after the release of her Grammy Award winning El Dorado album. Shakira in Concert: El Dorado World Tour includes live concert footage and a behind the scene look at the process to make the tour a success.
Shakira at her core is a fantastic singer and dancer. She very much earned her global superstar status, and her concert documentary gives fans Shakira at her best. If you haven't been able to catch Shakira in concert, Shakira in Concert: El Dorado World Tour gives you a snippet of the excitement and joy of the that experience. The film is available to stream with a HBO cable subscription or a HBO Now subscription. Stream Shakira in Concert: El Dorado World Tour HERE.
Second Act (Showtime)
In Second Act, Jennifer Lopez plays a woman who never earned a college degree. The lack of a degree has hurt her career advancement possibilities. One day, her best friend's son hears her complaining about not getting her dream job, and he creates fake social media profiles that embellish her career achievements. Jennifer Lopez's character then gets a job at one of the biggest retail companies.
Second Act is an endearing comedy about regret and second chances. Jennifer Lopez gives a sincere performance as a woman with all the right ideas, but not the background of formal education to back it up. Second Act's supporting cast includes Vanessa Hudgens, Treat Williams, Leah Remini, and Milo Ventimiglia. Second Act is available to stream through a Showtime subscription. Those who don't subscribe to Showtime yet can add the channel to their Amazon Prime Video or Hulu subscription. Stream it HERE.
Out Of Sight (HBO)
Jennifer Lopez and George Clooney star in Out of Sight, a sexy crime thriller directed by Steven Soderbergh. This film follows U.S Marshal Karen Sisco (Jennifer Lopez) and bank robber Jack Foley (George Clooney). It's a cat and mouse chase between Karen and Jack as they try to deny their attraction to each other. The film is a hilarious heist movie that also doubles as an ill-fated romance movie.
George Clooney and Jennifer Lopez bring the heat to Out of Sight. There is no world where Karen and Jack end up together and live happily ever after, but you want them to find a way to make it work. The film is a fun crime movie that is more comedy than drama. It's one of Jennifer Lopez's best performances, and one of her most memorable films. Out of Sight is available to stream through a HBO subscription service. Stream it HERE.
Shakira just released a new single called "Me Gusta," which is available to stream on multiple music streaming services, and available to purchase wherever music is sold. Jennifer Lopez co-stars with Owen Wilson in Marry Me sometime later this year. It looks like the new year will be an exciting one for these global superstars.
Relive their Super Bowl performance by clicking the video below.
Spent most of my life in various parts of Illinois, including attending college in Evanston. I have been a life long lover of pop culture, especially television, turned that passion into writing about all things entertainment related. When I'm not writing about pop culture, I can be found channeling Gordon Ramsay by kicking people out the kitchen.
Your Daily Blend of Entertainment News
Thank you for signing up to CinemaBlend. You will receive a verification email shortly.
There was a problem. Please refresh the page and try again.