Marvel And 4 Other Major Franchises That Daisy Ridley Would Be Perfect For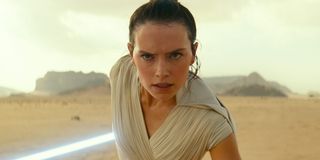 CinemaBlend is partnering with PIA VPN to bring you fresh content to stay in and stream with each day. We're also offering a special 76% discounted rate for a limited time only. You can sign up for the package with PIA here (opens in new tab).
From London to a galaxy far, far away, Daisy Ridley seemed to come right out of nowhere and straight into stardom after playing in the lead in Star Wars: The Force Awakens. Now that she has (supposedly) hung up the yellow lightsaber and retired as Rey, the abandoned Jakku scavenger-turned-heroic Jedi, we cannot help but wonder what cinematic franchise she is destined to lend her talents to next. A role in the Marvel Cinematic Universe, perhaps?
Of course, the 28-year-old actress had a role in 2017's Murder on the Orient Express, which reignited franchise potential for Agatha Christie's renowned literary detective Hercule Poirot, and played "Cotton-Tail" in the first of two James Corden-led Peter Rabbit movies. Yet, both of those were unusually small roles for an actress of Daisy Ridley's current magnitude. Being a fan of her performance in the new Star Wars trilogy, I really want to see if Daisy Ridley has what it takes to be the next to crossover from one blockbuster series to the next effortlessly.
Marvel is just one of a good handful of powerful, ongoing movie franchises that I think Daisy Ridley would shine in. I have five in mind, to be exact. This is why…
Marvel Cinematic Universe
Now admittedly, it does seem almost a little too natural of a thing to assume that Daisy Ridley could be one of the next celebrities to join the MCU. In addition to the fact that the Star Wars star is already employed by Disney, she has also made friends with Captain Marvel, co-starred alongside Tom Holland in the upcoming dystopian thriller Chaos Walking and (if she really, really needed it) she could nab a few extra tips from her Murder on the Orient Express director Kenneth Branagh, who helmed the first Thor movie.
However, I honestly do believe she has proven herself as more than capable of playing a superhero (and pretty much already has if you can count a Jedi as such), considering her emotional range, physicality and how fans have already pointed out she would make a great Jessica Drew (better known as Spider-Woman) if the MCU were to find a way to bring her into the proceedings. Not to mention, this would not be Ridley's first comic book-related role either, technically. If you don't believe me, look up a little thriller from 2015 called Scrawl about a boy whose comic book creation become horrifying realities.
Fantastic Beasts And Where To Find Them
You know, I bet that there is an alternate reality in which, instead of Star Wars, Daisy Ridley's big break was in the Harry Potter franchise, as was the case for many, many other fellow British actors. Of course, we do not live in whatever reality that is, so Daisy's last chance to be a part of the Wizarding World is to join the cast of the prequel series, Fantastic Beasts and Where to Find Them.
While the films, inspired by Harry Potter scribe J.K. Rowling's fictional textbook of the same name, have already cast a good majority of pre-existing characters, there remain a few that can still be reincorporated as younger iterations. Daisy Ridley could bring a new aura to, for instance, Hogwarts professor Bathilda Bagshot, who is known to have been previously close to Lily Potter and for introducing Albus Dumbledore to Gellert Grindelwald. Even if there was only enough room for her in a flashback, that would still be a role, other than being hard to resist, that Ridley could make especially memorable.
The Conjuring Universe
While I personally feel that the strange events that took place in Enfield, England, have inspired better films than The Conjuring 2 (see Ghostwatch, if you can find it), I do applaud the 2016 sequel for bringing a well-known paranormal hot spot from overseas under its spotlight. In fact, I think the series could benefit from continuing to explore famous haunts from across the globe and, if it was to return to the United Kingdom, why not cast Daisy Ridley?
Any of the typical roles in a supernatural horror thriller are prime real estate for Daisy Ridley to easily claim. She could channel Rey's telepathic Jedi skills into a portrayal of a medium tasked with communicating with spirits, or use her villainous debut role in Scrawl to inspire a performance as a victim of a nasty possession. She could even put herself in the same mindset of the several horror shorts she starred in during the early years of her career to play a woman scared out of her wits by whatever is "living" in her house. Ridley would give Vera Farmiga and Patrick Wilson a run for their money.
Mission: Impossible
I love seeing Ethan Hunt's team of IMF agents expanding. It all started with Tom Cruise getting the spotlight for the first three entries before Brad Bird's fourth Mission: Impossible - Ghost Protocol emphasized that the latest assignment would be more of a team effort, which has been a tradition of the franchise since. Well, I hope there is enough room for another spy to join in on the fun, because I recommend Daisy Ridley.
If for some reason Marvel decided to go with a different Star Wars alum or Daisy Ridley had reason to pass on the superhero gig, she should at least be willing to consider saving the world in a more (somewhat) grounded way. In fact, I would even vouch for her as a worthy successor to Tom Cruise once he decides to hang up the gloves and spelunking rope, if those epic flips she did in The Rise of Skywalker are good evidence. On the other hand, to really test Daisy Ridley's range, perhaps she should consider playing the opposite side of the world of espionage...
James Bond
By a show of hands, who remembers the last time 007 faced off with a female villain? Now, by another show of hands, who would have been more satisfied with Star Wars: The Rise of Skywalker had Rey been the one to turn to the Dark Side by the end? Well, the solution to both of these completely unrelated issues would be to cast Daisy Ridley in a future installment, not as the Bond girl, but as the Bond villain.
To once again reference her much overlooked (for a reason) debut in Scrawl and her mysterious character in Murder on the Orient Express, Daisy Ridley knows how to play a character with sinister intent. Yet, since she hit the A-list, she has not been given the chance to really prove what a convincingly villainous spirit she can conjure out from behind that million dollar smile. Besides, what a way to introduce the next generation's James Bond this would prove to be?
What do you think? Does Daisy Ridley have the magic touch to breathe new life into these franchises, or does she deserve better? Let us know in the comments and be sure to check back for more information and updates on the veteran Star Wars actress here on CinemaBlend.
Your Daily Blend of Entertainment News
Jason has been writing since he was able to pick up a washable marker, with which he wrote his debut illustrated children's story, later transitioning to a short-lived comic book series and (very) amateur filmmaking before finally settling on pursuing a career in writing about movies in lieu of making them. Look for his name in just about any article related to Batman.
Your Daily Blend of Entertainment News
Thank you for signing up to CinemaBlend. You will receive a verification email shortly.
There was a problem. Please refresh the page and try again.