The Willoughbys: The Best Movies To Stream If You Loved The Netflix Movie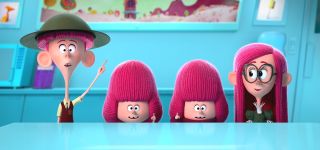 This past week, The Willoughbys hit Netflix, providing families everywhere with a charmingly morose new animated movie to watch on family nights. Based on the book of the same name by Lois Lowry (The Giver), the splendidly-animated movie matched colorful animation with a darkly funny tale of a dysfunctional family. The result is an inspired, entertaining animated movie that also harkens back to other morbidly amusing family movies from the not-too-distant past. Therefore, if you're looking for a few family films to watch in the same vein as The Willoughbys, we have a few recommendations. Here are some other streaming-friendly family movies you can watch with your family from the comfort of your home if you loved this animated movie.
The Addams Family
What It's About: Based on Charles Addams' cartoon of the same name, The Addams Family follows an eccentric family of morbid oddities and the con artists who plan to swindle them by using an accomplice who eerily looks like their long-lost uncle.
Why The Willoughbys Fans Will Like It: As I watched The Willoughbys, the property that came to mind most often was The Addams Family. The long-popular comic characters have a lovably wicked taste for all things kooky and ooky, mysterious and spooky. While The Willoughbys doesn't fall into that same exact Halloween-esque vibe, its love for bombastic mischievousness makes it an easy companion. While The Addams Family were given a new look this past fall, the 1991 live-action movie remains superior. With fantastic casting, excellent production design, a fabulously kooky screenplay, and some delightfully twisted antics, it's a delightfully deprived good time.
Stream it on Starz here. (opens in new tab)
Despicable Me
What It's About: A criminal mastermind uses a trio of orphans as pawns for his plan to steal the moon, but his heart softens by their small company.
Why The Willoughbys Fans Will Like It: If you like animated comedies about dysfunctional families with vibrant colors, punchy animation, slapstick violence, and a great deal of heart and humor, you'll find a good double feature with Despicable Me, which is also currently available on Netflix. This 2010 animated movie turned Illumination Entertainment into one of the biggest animation studios of the past decade. Through this enormously successful critical/commercial smash, we saw a wave of wackier, zanier animated films — not the least of which includes The Willoughbys. While the latter doesn't center around evil characters learning to be good, it does have a similarly warm, loving look at adoptive parenting. It's also lots of fun.
Stream it on Netflix here (opens in new tab).
James and the Giant Peach
What It's About: A lonely orphan who lives with two wickedly cruel aunts befriends a group of anthropomorphic bugs who live inside a gigantic peach. Together, they go on an adventure to New York City.
Why The Willoughbys Fans Will Like It: James and the Giant Peach is based on the novel of the same name by Roald Dahl, and the author's cheekily twisted sense of humor is similar to the one shared in The Willoughbys. The macabre outlook is apparent throughout this Disney production, though for all its morbid tendencies and general weirdness, there's a beaming sweetness to its dysfunctional family story. Centered around a young protagonist living with two horrendously awful parental figures, James eventually sneaks away and finds his own sense of family in these enormous bugs. These similar themes connect these two off-kilter family movies together.
Stream it on Disney+ here (opens in new tab).
Coraline
What It's About: A young girl discovers a strange alternate version of her home, but she soon discovers that it holds dark secrets.
Why The Willoughbys Fans Will Like It: Harry Selick's Coraline is another adaptation that shares similar themes with The Willoughbys. When our title character cannot connect with her demanding parent, she discovers an unconventional world that mirrors her own but in seemingly better ways... until its sincere underbelly grows apparent. Filled with spooky surprises and wondrous visuals, Coraline is a wonderfully dark family film, one that isn't as consistently funny as The Willougbys but shares its similarly unconventional perspective. Children will often accept creepier, even scarier stories when they're presented in an agreeable way. While Coraline can be unsettling for some younger viewers, it's also an oddly accessible movie too, one that's filled with splendid animation and a great big heart.
Stream it on Starz here (opens in new tab).
The Nightmare Before Christmas
What It's About: Jack Skellington, the skeleton king of Halloween, wonders into Christmas Town and decides to celebrate the elusive holiday.
Why The Willoughbys Fans Will Like It: Likewise, if you enjoyed both Coraline and James and the Giant Peach, you should enjoy the director's most famous and recognizable movie, The Nightmare Before Christmas. Produced by Tim Burton at the height of his fame, this darkly hilarious holiday treat combines the spirits of Halloween and Christmas — in more ways than one — by providing a visually stunning, wonderfully original new take on two of the most popular year-end holidays. It shares a moody, morbid (but never bleak) vision, which should make it an easy companion to The Willoughbys.
Stream it on Disney+ here (opens in new tab).
The Rugrats Movie
What It's About: In their first movie, the central babies of Rugrats get lost in the forest — away from their mommies and daddies — shortly after Tommy Pickles gets a new baby brother.
Why The Willoughbys Fans Will Like It: When it comes to tales of children outwitting their neglectful, absent-minded parents and taking wild, weird adventures, The Rugrats Movie makes an easy point of comparison. The first in a trilogy of movies based on the popular '90s animated Nickelodeon series, The Rugrats Movie doesn't go quite as wild as the sequels, but this emotional, sweet feature-length film adaptation of the series does capture the sense of adventure and thrills at the center of this baby-based show. Filled with heart, humor, and action, The Rugrats Movie is an appealing movie for all ages. It'll win over fans of the show and newcomers alike.
Stream it on Netflix here (opens in new tab).
Storks
What It's About: Once known for delivering babies, storks carry packages now. But when an order for a baby arrives, the company's best delivery stork scrambles to deliver the child.
Why The Willoughbys Fans Will Like It: Family is what you make of it. Learning to change your life for the children introduced later in the game is something that nearly every parent must learn with their first child, and Storks tackles that idea in a clever, vibrant, highly entertaining way. From Warner Bros.' animation studio, there is an undeniably goofy Looney Tunes-esque aesthetic to Storks, one that captures the style and high energy of those older cartoons. The fluid animation, consistently amusing jokes, and bubbly emotions make Storks share several common similarities to The Willoughbys. While it doesn't ever dive into dark humor, its similarly charming ending makes you carry the same sweet-hearted feelings.
Stream it on HBO Go here.
The Croods
What It's About: A prehistoric family set off on a fantastical adventure into undiscovered lands.
Why The Willoughbys Fans Will Like It: An inspired family road trip comedy with great visuals, passionate voice performances, good laughs, and a wallop of heart, The Croods takes what could've been a fairly conventional family movie and makes it something dynamic, lively, inspired and moving. Similarly, The Willoughbys is another family comedy that could've fallen into familiar traps, but through its kooky sense of humor and its oddball cast of characters, it becomes something more enjoyably off-beat. Both dysfunctional movies are quick to win over your heart, though, by their tender finales.
Stream it on Netflix here (opens in new tab).
The Cat in the Hat
What It's About: Based on Dr. Seuss' beloved book, The Cat in the Hat follows two home-ridden kids who are paid a visit by a talking anaphoric cat.
Why The Willoughbys Fans Will Like It: Admittedly, many folks find 2003's The Cat in the Hat live-action adaptation to be... less-than-worthy of its inspiration. With its inappropriately crude sense of humor, inconsistent tonal shifts, ramshackle plotting, and its oddly mean-spirited tone, it isn't what many readers — young or not — thought this feature-length film would become. While these criticisms hold weight, The Cat in the Hat is fascinating; it almost disdains the work that inspired it. It has a sense of chaos and anarchy that's absurd and genuine, likely due to its unstable behind-the-scenes production. It's a vibrantly weird, off-balance, and morally unhinged adaptation, and it makes an interesting companion piece.
Stream it on Netflix here (opens in new tab).
Hotel Transylvania 3: Summer Vacation
What It's About: Count Dracula and his monstrous friends and family leave the hotel for a few weeks to take a summer cruise vacation.
Why The Willoughbys Fans Will Like It: With its frenetic, zany high-energy and slapstick-heavily family antics, The Willoughbys does share a good bit in common with the gleefully juvenile Hotel Transylvania movies. The Adam Sandler-led animated comedies have won over several families and young audiences with their wackily lowbrow looks at these familiar horror characters, but the beating heart of those movies ultimately resides in the emotional dysfunctional family ties, and the same can be said for The Willoughbys. They both revel in lighthearted dark humor, never letting the darkness get too intense, violent, unsettling, or mean-spirited for young audiences. The third Hotel Transylvania film is, in my view, the best, and it's available on Netflix.
Stream it on Netflix here. (opens in new tab)
Meet the Robinsons
What It's About: A brilliant boy inventor meets a stranger who whisks him into a time machine with life-altering implications.
Why The Willoughbys Fans Will Like It: Made just a few short years before Disney would have another animation resurgence, Meet the Robinsons can be forgotten in terms of '00s cinema, though its kooky plot, wacky sense of humor, biting bits of oddball eccentrics, and warm dysfunctional family plot make it an easy comparison to The Willoughbys. Meet the Robinsons takes more of a sci-fi/futuristic bend, and it also doesn't get quite as dark as The Willoughbys, but they each have a beating heart amid their goofiness. It's easy for audiences to be won over by the emotions presented in their finales.
Stream it on Disney+ here (opens in new tab).
Did you love The Willoughbys? Which movies would you recommend? Let us know in the comment section below.
Will is an entertainment writer based in Pittsburgh, PA. His writing can also be found in The Playlist, Cut Print Film, We Got This Covered, The Young Folks, Slate and other outlets. He also co-hosts the weekly film/TV podcast Cinemaholics with Jon Negroni and he likes to think he's a professional Garfield enthusiast.
Your Daily Blend of Entertainment News
Thank you for signing up to CinemaBlend. You will receive a verification email shortly.
There was a problem. Please refresh the page and try again.