What To Watch On Streaming If You Like Will Smith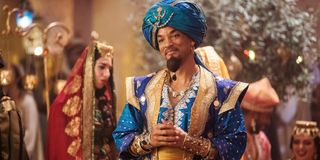 Will Smith has used his talents, charisma, dedication, and passion to become one of the biggest global superstars. Visit many countries, and Will Smith is a recognizable name. He's someone that others are excited to watch and admire, either for his dynamic content or his varied body of work.
The Will Smith movie collection is vast, wide, and diverse. Whether watching him take on one of his signature characters or pushing himself to new heights, Smith is an actor you can rely on to keep you entertained. Thanks to the invention of streaming services, whenever you need to get jiggy (sorry) with Will Smith, there are plenty of options out there.
Six Degrees Of Separation (1993)
Will Smith plays Paul, a young con-artist who finds wealthy families and impresses them with his lies about being the son of Sidney Poitier. Six Degrees of Separation takes place at a dinner party where a couple, Quisa (Stockard Channing) and Flan (Donald Sutherland), recount their encounter with Paul.
Why It's A Good Option for Will Smith Fans: Six Degrees of Separation is one of Smith's first movies, and it blends his comedic and dramatic flare. The movie is based on a play of the same name, so the movie very much has a theatrical feel. It's full of monologues and dialogue. The film showcases Smith's winning charm, which makes it easy to see how he could so easily manipulate socialites.
Stream it on Amazon Prime here (opens in new tab).
The Pursuit Of Happyness (2006)
The Pursuit Of Happyness is a biopic about Chris Gardner, a man who becomes homeless with his son but continues to fight for financial security and a better life for his family. Gardner loses it all but doesn't lose his faith in things getting better.
Why It's a Good Option for Will Smith Fans: The Pursuit of Happyness is an inspirational movie that works mainly because of Smith's more subdued, earnest performance. You feel Gardner's pain and struggles because Smith gives this character the sincerity he needs to work.
Stream it on Netflix here (opens in new tab).
Hitch (2005)
Will Smith, Eva Mendes, and Kevin James star in this romantic comedy about a man who professionally teaches men how to woo women. He finds his toughest case when he fails to woo his own love interest.
Why It's a Good Option for Will Smith Fans: Will Smith rarely appears in romantic comedies, so this a bit of a departure from his norm. Smith also often plays the more comedic, goofy character to a more straight-man type, but this time he's more serious when paired with Kevin James' character.
Stream it on Hulu here (opens in new tab).
Aladdin (2019)
This Disney live-action version of the animated classic follows Aladdin (Mena Massoud), Jasmine (Naomi Scott), and the Genie (Will Smith) as they combat the evil Jafar (Marwan Kenzari).
Why It's a Good Option for Will Smith Fans: The Genie is a popular Disney character, made famous by Robin Williams, so Smith had big shoes to fill in this role. Smith's big personality helps him nail the role of this goofy, lovable character. Smith doesn't try to imitate Williams' animated version exactly, but instead, he offers his own, just as entertaining version of the character.
Stream it on Disney+ here (opens in new tab).
Enemy Of The State (1998)
Will Smith and Gene Hackman star in this action thriller about NSA agents that conspire to kill a Congressman, but have their deed exposed when a wildlife researcher accidentally captures the murder on camera. The NSA starts hunting him to kill him as well. The man bumps into an old college friend, played by Smith. Before he's murdered, he slips him the video. Smith's character ends up teaming up with a former communications expert, played by Hackman. The two men go on the run together as one disaster after another occurs.
Why It's a Good Option for Will Smith Fans: If you're looking for action-adventure, then Enemy of the State is a good option. Hackman and Smith are both great in the film, as Hackman plays someone sly, smart, and witty, and Smith plays more of a naive character but learns as they go.
Stream it on HBO Max here (opens in new tab).
Concussion (2015)
In Concussion, Dr. Bennet Omalu (Will Smith) published his findings of damaging long-term effects of repeated blows to the head by NFL players. The NFL tries to stop him from further examining this problem and exposing it to the players and the world.
Why It's a Good Option for Will Smith Fans: Will Smith makes his best attempt at a Nigerian accent as he plays a man passionate about his work, and even more passionate about saving lives. Smith completely transforms himself into this role. You feel like you're watching Dr. Omalu and not Will Smith.
Stream it on Tubi here.
Ali (2001)
Will Smith takes on the role of boxing legend Muhammad Ali. The film documents ten years of his life, from 1964 to 1974. Jamie Foxx and Jon Voight also star.
Why It's A Good Option for Will Smith Fans: Ali is one of Smith's most critically acclaimed roles, even earning him an Academy Award nomination. Smith Imitates the legend that is Ali by giving him a deeper look and portrayal than often seen in clips and fights. He shows why Ali is a sports legend, but also a man who has suffered and persevered through it all.
Stream it on Netflix here (opens in new tab).
Bad Boys And Bad Boys II (1995, 2003)
Martin Lawrence and Will Smith star in the Bad Boys franchise as Detective sergeant Burnett and Lowrey.
Why It's A Good Option for Will Smith Fans: This Michael Bay series has everything fans have come to expect from the director: grandiose action sequences, explosions, running, and fights. The Bad Boys franchise also had the added bonus of the unmatched comedic and on-screen chemistry of Lawrence and Smith. Their chemistry is what helped make these films global successes, and why it might possibly add another movie to the franchise.
Stream Bad Boys on Netflix here (opens in new tab).
Stream Bad Boys II on Netflix here (opens in new tab).
Suicide Squad (2016)
Suicide Squad is the DC comics film that paired some of the universes' most notorious villains to take on the ancient evil creature known as Enchantress (Cara Delevingne). Will Smith leads the rowdy team as Deadshot. Jared Leto, Margot Robbie, and Viola Davis are among Suicide Squad's ensemble cast.
Why It's A Good Option for Will Smith Fans: Many things can be said about the 2016 Suicide Squad, many of them not-so-good, but one thing that can be said is that Smith made Deadshot a sympathetic character. He felt less like a villain, and more like a man doing what he felt was right to survive and protect his family. Smith won't be one of the names returning for the 2021 Suicide Squad movie, but he gave an interesting take on the DC character, so I wouldn't mind seeing his version of Deadshot again.
Stream it on HBO Max here (opens in new tab).
The Fresh Prince Of Bel-Air (1990-1996)
The Fresh Prince of Bel-Air is Will Smith's breakout acting role, where he plays a fictionalized version of himself. He moves from Philadelphia to live with his rich relatives. It's a show of cultures clashing and learning from one another. The Fresh Prince of Bel-Air cast includes James Avery, Janet Hubert-Whitten, Daphne Maxwell Reid, Alfonso Ribeiro, Karyn Parsons, Tatyana M. Ali, Joseph Marcell, and D.J. Jazzy Jeff.
Why It's a Good Option for Will Smith Fans: In the world of iconic roles, Smith's most popular and beloved role is as Will in The Fresh Prince of Bel-Air. It's a hilarious and sincere sitcom that remains a 90s classic.
Stream it on HBO Max here (opens in new tab).
Hancock (2008)
In Hancock, Will Smith plays a less than heroic superhero whose recklessness usually results in high costs and damage for L.A. However, he meets Ray (Jason Bateman) who is determined to help Hancock clean up his public image. Charlize Theron also stars.
Why It's A Good Option for Will Smith Fans: Hancock is a fun role for Smith as he plays this larger than life superhero, who is also a bit of a jerk. It's a unique spin on the hero genre and gives Smith a fun role where he can play both an anti-hero and a superhero.
Stream it on Netflix here (opens in new tab).
Gemini Man (2019)
Henry Brogan, a sniper assassin finds himself on the run from his younger clone. He must literally fight himself to stay alive. Ang Lee directs Gemini Man, and Will Smith stars alongside Mary Elizabeth Winstead, Benedict Wong, and Clive Owen.
Why It's a Good Option for Will Smith Fans: What's better than one Will Smith? Two of them. To me, there is something so fascinating when an actor plays two different characters in the same movie, even if one of them is a CGI version of themselves. Smith has built a long career in being a leading man that can carry an action movie. Gemini Man once again proves this. The film is a thrill ride from start to finish, so if you're looking for an action-pack Will Smith film, then Gemini Man should hit all the boxes.
Stream it on Epix here.
Will Smith has two movies in production, a drama called Life in a Year, which he produced with wife Jada Pinkett Smith, and stars his son Jaden Smith. In 2021, he'll play Serena and Venus Williams' father Richard Williams in a biopic called King Richard. If you can't get enough of Smith movies to stream, here are a few other ones available to stream online: Seven Pounds, Bright, and Wild Wild West.
Spent most of my life in various parts of Illinois, including attending college in Evanston. I have been a life long lover of pop culture, especially television, turned that passion into writing about all things entertainment related. When I'm not writing about pop culture, I can be found channeling Gordon Ramsay by kicking people out the kitchen.
Your Daily Blend of Entertainment News
Thank you for signing up to CinemaBlend. You will receive a verification email shortly.
There was a problem. Please refresh the page and try again.