Romany Malco: 7 Cool Things To Know About The Tijuana Jackson: Purpose Over Prison Star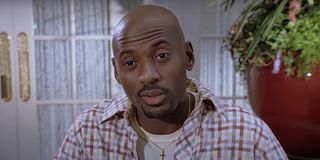 The world could really use more of Romany Malco, as evidenced by his performances in The 40-Year-Old Virgin, on Jenji Kohan's suburban crime dramedy Weeds and, currently, on the ABC drama A Million Little Things alone. Perhaps there is a chance we could see more of the talented performer amid the release of his directorial debut, Tijuana Jackson: Purpose Over Prison, which he also wrote and stars in as the title character.
This is some wishful thinking, especially if you only recognize the 51-year-old scene-stealer from any of the aforementioned titles. Because that would mean you missed him on Key & Peele, in his recurring role on The Good Wife, as the charming player Zeke in the Think Like a Man movies with Kevin Hart, or his reunion with the comedian on his reality show spoof The Real Husbands of Hollywood. In fact, his contributions to pop culture legend go even deeper than you might have ever expected.
Care to learn more about what you may have missed from Romany Malco? Well, as you can probably tell, there is plenty, but here are just seven of the most fascinating things about the actor, writer, producer, director, and musician.
Romany Malco's Trinidadian Heritage Helped Inspired His Artistry
While promoting Last Vegas, in which he starred alongside the likes of Robert De Niro and Morgan Freeman, on The Wendy Williams Show, Romany Malco mentioned that he was born in Brooklyn to parents from Trinidad and Tobago. The actor more recently spoke to Caribbean news outlet Loop about how he spent much of his childhood there, raised by his grandmother after after his parents' split, where he was introduced to the theatre and various styles of music that provided him a "much broader palate for artistry." He adds that his sense of humor also borrows a lot from Trini culture, particularly adding sarcasm to unwitting absurdity, which he picked up mostly from his father and uncle.
Romany Malco Was Part Of The Chart-topping Rap Group College Boyz
Before he ever had any interest in acting, one of Romany Malco's first tastes of show business was in the early 1990s, during which he went as R.O.M. in the hip-hop quartet College Boyz. Their debut album Radio Fusion Radio, released by Virgin Records in 1992, featured the song "Victim of the Ghetto," which hit Number One on the Hot Rap Singles chart. However, Malco was actually a hitmaker before then, contributing to one of the most iconic musical collaborations of all time.
Romany Malco Only Wrote MC Skat Kat's Rap On Paula Abdul's "Opposites Attract"
During his aforementioned 2013 Wendy Williams appearance, Romany Malco was asked to clarify if he was the voice of MC Skat Kat, Paula Abdul's animated sidekick from the Grammy-winning 1990 video for her hit single "Opposite's Attract." He calls the story "a half-truth," as he did write the lyrics for the funky feline, which were actually rapped by Derrick "Delite" Stevens, who would reprise the character on Sesame Street and American Dad! Malco then explains that when he asked the former American Idol judge who started rumors that he was the voice behind MC Skat Kat, she admitted it was her, believing that "it makes a better story."
John Leguizamo Encouraged Romany Malco To Pursue Acting
Romany Malco's music career was actually what first got him on a film set after John Leguizamo enlisted his help to rap just like MC Skat Kat on an original song for his 1997 dark comedy The Pest. As the actor recalled on Los Angeles' KTLA, the Emmy-winning Latino comic insisted that Malco was as funny as any of the other comedians he knew and urged him to audition for the movie. While he did not get the part, his audition impressed casting agent Wendy Kurtzman to spread the word that "her favorite audition of all time" was his and, years later, Hollywood began taking interest.
Tijuana Jackson Was Inspired By Romany Malco's Own Criticism Of Life Coaches
The mark Romany Malco began leaving on Hollywood gave him street cred to introduce a character of his own creation who is all about the street. Debuting on HBO's Funny or Die Presents... before landing his own online talk show Prison Logic in 2011 was Tijuana Jackson, an ex-convict turned aspiring life coach who gives questionable advice and is played by his creator, made almost unrecognizable just with fake teeth and a distinct change of voice. While promoting Tijuana Jackson: Purpose Over Prison, a feature-length mockumentary which he also wrote and directed, Malco had the following about the character's origin to KTLA's Sam Rubin:
We would also learn that Tijuana Jackson has a unique interviewing style, which we will touch upon in just a moment. But, first: a little insight into one of Romany Malco's greatest acting challenges.
Jay's Early Exit In The 40-Year-Old Virgin Chest Wax Was Unscripted
It is no secret that many key scenes from The 40-Year-Old Virgin, Judd Apatow's cinematic directing debut starring Steve Carell as a middle-aged sexual innocent, are the result of improvisation. It may surprise and/or disturb some, however, to learn that the chest hair waxing scene (during which Andy calls out Kelly Clarkson's name) was 100% real, and proved to be a little too real for Romany Malco. Testimonies from both he, in an interview with Tribute.ca, and Carell, when speaking with Graham Norton, claim that the moment when Jay's "weak stomach" prompts him to dip out early was not in the script, but was the actor's true disgusted reaction to the painful mess happening in front of him.
Romany Malco Interviewed His Think Like A Man Co-Stars As Tijuana Jackson
Years after The 40-Year-Old Virgin became an unexpected critical and commercial success, Romany Malco scored his next box office hit with Think Like a Man, inspired by the philosophies introduced in Steve Harvey's book Act Like a Lady, Think Like a Man. The actor used the promotion of the 2012 romantic comedy as an opportunity for Tijuana Jackson to leave his mark on Hollywood by interviewing his co-stars (Terrence Jenkins, Kevin Hart, Michael Ealy, and Jerry Ferrara) in character with increasingly inappropriate questions made worse by gross assumptions. The four interviewees manage to keep a straight face for the entire video, released as a Prison Logic segment, which I can only imagine was a great challenge against Malco in one of his finest moments in character.
Romany Malco's Tijuana Jackson: Purpose over Prison arrives on demand on July 31, 2020. Be sure to check back for additional information on future projects from Romany Malco, as well as even more in-depth looks into the lives of your favorite celebrities, here on CinemaBlend.
Jason has been writing since he was able to pick up a washable marker, with which he wrote his debut illustrated children's story, later transitioning to a short-lived comic book series and (very) amateur filmmaking before finally settling on pursuing a career in writing about movies in lieu of making them. Look for his name in just about any article related to Batman.
Your Daily Blend of Entertainment News
Thank you for signing up to CinemaBlend. You will receive a verification email shortly.
There was a problem. Please refresh the page and try again.