Jared Leto: 7 Cool Facts About The Morbius Star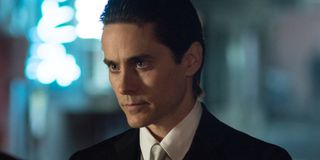 There are not many stars quite like Jared Leto on the A List, or really any list establishing celebrity status, even. He has made a living as just about anything you can be in the entertainment industry, including a teen heartthrob (at 21) on My So-Called Life, a rock star as lead vocalist in 30 Seconds To Mars, and a comic book character, the second of which he will debut as next year in Morbius.
Of course, that is just what the Academy Award-winning, 49-year-old Louisiana native is best known for in the public eye. There are a few things in his repertoire that you may not know about, or even a few things about his better known efforts that flew past your radar. In fact, they may even be a few things you thought you knew about him that were actually just his own ways of having fun at the expense of his unwitting audience.
Say, what you want about the Tron 3 star, but you cannot deny that he is an artist to his very bones, treating the world like a stage and life like a performance that tends to be difficult to distinguish from what is real. Perhaps we can help fill in the blanks with these seven fascinating facts about his life. Speaking of life…
Jared Leto's My So-Called Life Role Was Not Originally A Series Regular
Like his Golden Globe-winning romantic co-star Claire Danes, Jared Leto's breakthrough moment came on My So-Called Life, the groundbreaking ABC dramedy that serves as a highly influential time capsule of mid-90s teen angst despite lasting one, 19-episode season. Yet, according to an oral history by Elle, Leto's role Jordan Catalano might not have been as big had he not made such an impression on creator Winnie Holzman, who said the following:
Thankfully, Jared Leto agreed to stick with it as his performance bred the quintessential high school crush of '90s television, perfected with devastating realism from the heartbreak he causes Claire Danes' protagonist Angela Chase.
Prior To Morbius, Jared Leto "Loved Vampires" Growing Up
You almost have to wonder if Jared Leto based the inexplicable allure of Jordan Catalano on Dracula, a character which he and his brother Shannon were quite fascinated by in their youth. In a 2019 episode of Variety's The Big Ticket podcast, the actor explains to host Marc Malkin how an early interest in vampire lore influenced his decision to play the titular anti-hero of Morbius, an upcoming film based on a Marvel comic about a biochemist whose attempt to cure his rare blood decides gives him abilities similar to Bram Stoker's famous literary figure. Speaking of, Leto recalls admiring Gary Oldman's lead performance in Francis Ford Coppola's 1994 Dracula adaptation and reading The Vampire Chronicles by Anne Rice, but admits that he was "too damn old" for Twilight when Stephanie Meyer's romantic saga hit its peak of popularity.
Jared Leto Has Directed 30 Seconds To Mars Videos Under A Pseudonym
Around the time that 30 Seconds To Mars, the rock band Jared Leto founded with his brother Shannon in 1998, began receiving acclaim for 2005's "The Kill (Bury Me)," the vocalist told people the Kubrickian music video was helmed by Bartholomew Cubbins. The Danish albino filmmaker, as would Leto describe him, is credited as the director for several of the band's videos, despite Leto's claims that he was retiring soon after directing "The Kill." Well, anyone familiar with the performer's unique sense of humor and the work of Dr. Seuss would know that Batholomew Cubbins is not real, but the pseudonym Leto often uses when he steps behind the camera.
One Of Jared Leto's Joker Inspirations Was David Bowie
Speaking of rock and roll and unlikely artistic influences, looking at Jared Leto's depiction of the Joker in Suicide Squad, you might assume he took inspiration from Iggy Pop, or The Sex Pistols' Sid Vicious, or anyone else relevant to the punk scene. Yet, an interview with NME revealed that the actor actually looked more toward the glam era, particularly that of David Bowie. Perhaps, in short bursts, I can see some of the late "Space Oddity" singer's "class, his elegance, [and] his timelessness" in that iteration of Batman's arch nemesis, especially in the makeup job, per se.
Jared Leto Is A Very Successful Tech Investor
To speak even further about rock and roll (somewhat), in an interview with Squawk Box on CNBC, Jared Leto compares the roots of a rock band to how most start-up companies begin with "a few people in a garage," much like Steve Jobs did with Apple, before adding that starting 30 Seconds to Mars taught him much about the entrepreneurial world. That path led him to become one of the most prolific investors in the tech industry, putting stock in more than 50 companies in their early stages, including Uber and Airbnb. Hopefully, he never takes his technological interests as far as a certain recent role in his career.
Jared Leto Actually Blinded Himself For Blade Runner 2049
Speaking of which, for his stunning sci-fi sequel Blade Runner 2049, director Denis Villeneuve looked to Jared Leto to play the mid-21st Century's dominant replicant manufacturer, Niander Wallace, who is unmistakably blind in the film. For authenticity's sake, Leto actually used sight-depriving contacts during production, which he has said actually enhanced his performance, especially when playing opposite one of his acting heroes, Harrison Ford, claiming to Jimmy Fallon on The Tonight Show that he "probably would have shit" himself if he could have seen his legendary co-star. At least we can say this is not the weirdest alleged acting method of his.
Jared Leto Sent Bizarre Gifts To His Suicide Squad Co-Stars
There is actually some misinterpretation surrounding this story, although Jared Leto did send some odd items to the Suicide Squad cast to adopt a Joker-like mindset, from a box of bullets to Deadshot actor Will Smith, a dead rat to Margot Robbie, and another a dead hog meant for everyone. However, the actor made sure to set the record straight that the report of him sending used condoms was "not true" on SiriusXM's Entertainment Weekly Radio, which director David Ayer had previously backed up explaining to Rolling Stone that they were "removed from their packages, but [not] actually used." Leto may have said they were in an interview for E! at CinemaCon, but, it seems to be another "Bartholomew Cubbins" situation that we all should have taken with a grain of salt from the beginning.
What do you think? Do you feel like you know the real Jared Leto better from the previous bits of trivia, or is there still much about him left to the imagination and you prefer it that way? Let us know in the comments and be sure to check back for additional information and updates on the Oscar-winning musician, as well as even more in-depth looks into the lives of your favorite celebrities, here on CinemaBlend.
Your Daily Blend of Entertainment News
Jason has been writing since he was able to pick up a washable marker, with which he wrote his debut illustrated children's story, later transitioning to a short-lived comic book series and (very) amateur filmmaking before finally settling on pursuing a career in writing about movies in lieu of making them. Look for his name in just about any article related to Batman.
Your Daily Blend of Entertainment News
Thank you for signing up to CinemaBlend. You will receive a verification email shortly.
There was a problem. Please refresh the page and try again.