15 Great Movies Coming To HBO Max In September 2020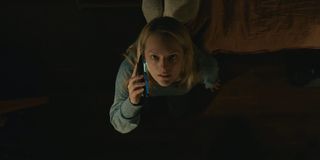 A new month is dawning in the streaming universe, and with both Hulu and Netflix weighing in with their September 2020 offerings, it feels like the proper time for HBO Max to unveil its lineup as well. So if you've still got your streaming service watch list open on your desktop/calendar, we're about to give you 15 more movies to add on top of the ones you've already earmarked from other platforms. Unless noted below, the titles listed below will be available on September 1st to all HBO Max subscribers.
Black Dynamite
Parody, as previously noted, is an art form that takes a lot of balance and skill to pull off effectively. But the approach taken in the indie comedy Black Dynamite will not only have modern fans laughing themselves silly, but will also crack a smile on the faces of those who are familiar with such black filmmaking classics as the Shaft series. When our hero (Michael Jai White) loses his brother to organized crime, he'll stop at nothing to bust down everything standing between him and vengeance.
Blood Diamond
Another one of director Edward Zwick's films is headed to streaming this month, as not only is Glory coming to Netflix, but Blood Diamond will be available on HBO Max. Leonardo DiCaprio and Djimon Hounsou star as a pair who are fixated on the titular diamond, with DiCaprio looking to make a killing and Hounsou looking to be reunited with his family. Needless to say, action and violence stand between our two protagonists and their ultimate goal, and the results are impressive to behold.
Charlotte's Web
The Hanna-Barbara adaptation of Charlotte's Web is one of those animated films that gets passed down from generation to generation. Author E. B. White's tale of kindness and positivity is something that never truly goes out of style, and it shows by long this film's legacy has extended. With Debbie Reynolds as Charlotte herself, and a memorable turn from Paul Lynde as the greedy, but hysterical rat Templeton, audiences young and old will fall in love with this classic tale all over again.
Clerks
Without the success of Kevin Smith's homegrown indie hit Clerks, we would be missing a lot of iconic characters and scenes that are still quoted to this day. A film that asks the hard questions, like whether or not Imperial contractors deserved to die on the first Death Star, the comedy galaxy found a new voice. Many have tried to imitate Smith's style, including the man himself, but it's a hard act to follow.
Dave
In case you didn't know, 2020 is an election year. We're not mentioning this to bum you out or tell you who to side with. Rather, it feels like the perfect time to watch the Kevin Kline comedy Dave, in which a guy who looks like the President of the United States has to play the part due to unforeseen circumstances. A totally wide-eyed fable that wears its heart on its sleeve, Dave is a political tale that plays like an adult's fairy tale. Also, this movie has Ving Rhames with hair and Charles Grodin playing an accountant… and how often do you see that?!
Election
Meanwhile, if you really do enjoy your political comedies with the right amount of embittered snark and mean-spirited nature, Election is definitely the place you want to be. In a three-way election for student body president, there are some who really want to be in power (Reese Witherspoon), those that enter the race reluctantly (Chris Klein) and those who just want to watch the world burn (Jessica Campbell). Every twist outdoes the last, in this dark comedy that in no way resembles the actual electoral process.
Fatal Attraction
The erotic thriller was a genre that made a lot of hay back in the '80s and '90s, and it was partially thanks to the success of director Adrian Lyne's Fatal Attraction. As we see Michael Douglas cheat on his wife with Glenn Close, and then break the affair off when his conscience kicks in, the unhinged downward spiral Close's memorable psychopath goes on as a result is still the stuff that villains are made of. Hide your rabbits, hug your family and go in as cold as you can with this dark and delightful thriller.
Midnight Run
A mob accountant (Charles Grodin) has run off with $15 million of the Chicago mob's money and skipped bail in the process. All that stands between him and his freedom is a bounty hunter (Robert De Niro) who has the FBI and the bail bondsman (ReelBlend guest/all around good guy Joe Pantoiano) eager to see him make the collar. By that synopsis alone, Midnight Run would sound like a hard boiled crime drama; but in the hands of Grodin, De Niro and Beverly Hills Cop director Martin Brest, it's a cult comedy classic, and the second of two Charles Grodin-enhanced films in this month's lineup.
Prometheus
Love them, like them or hate them, the Alien prequels have been fertile ground for the imagination of director Ridley Scott and the writers he's worked with on their production. Prometheus is the start of those ventures, as well as the timeline that the famed sci-fi masterpiece will eventually connect with. The film that introduced Michael Fassbender's David into the mix, this origin point of the Weyland-Yutani mythos is a thrilling start to a bold new phase in this series' evolution. Let's hope Alien: Covenant isn't too far off from joining the lineup again.
Two Weeks Notice
Romantic comedies aren't created equally, and Two Weeks Notice is a fine example of the genre done right that consistently flies under the radar. Pairing High Grant at his silliest and Sandra Bullock at her most stern, their roles of real estate developer and personal assistant/legal counsel are just mismatched enough for some true comedy to form. With an easy charm and a truly adorable romance at its heart, you shouldn't have a problem falling for this hidden gem.
V For Vendetta
If you've set out to adapt one of Alan Moore's most celebrated graphic novels and failed to secure his blessing, it almost seems like a sign you're still doing things right. Much like Watchmen before it, V for Vendetta took a tale of socio-political fire and brought it to life in beautiful cinematic glory. Starring Natalie Portman and Hugo Weaving, this chilling near-future tale hasn't lost an ounce of relevance, which is both a testament to its quality and a statement on our current times.
Wes Craven's New Nightmare
It wasn't enough for Wes Craven to introduce the world to his own unique spin on meta-horror in Scream. No, two years before that film would see the light of day, he returned to the Nightmare on Elm Street franchise he helped create and birthed Wes Craven's New Nightmare. If you thought his then future slasher flick was meta, you should see this story of how Freddy Kruger (Robert Englund) tries to escape the world of the cinema and play havoc in the real world.
Spies In Disguise
You might be surprised to find that Spies in Disguise is a recommended title for September's HBO Max haul, but hear us out. Tom Holland's Walter is a nerdy inventor who's easy to love and laugh with, while Will Smith's Lance Sterling is the suave sort of super spy you know he could pull off. Teaming these two formidable talents, in a movie about animal spy tactics and proving oneself in the field, makes this under-the-radar comedy an absolute gem to discover.
Available September 5
The Invisible Man
We're not going to say that you'll finally be able to see The Invisible Man after it debuts on HBO Max. First, you've possibly already seen Elisabeth Moss' tour de force performance as a woman who may or may not be stalked by her supposedly dead lover. But second, and more importantly, that joke is so cheap because it's the one that's already hidden in play sight. Anyone could see that Leigh Whannell's latest Blumhouse hit deserves more than just a mere sight gag.
Available September 19
Just Mercy
The true story of Bryan Stevenson (Michael B. Jordan) and his tireless fight to defend the wrongfully accused Walter McMillian (Jamie Foxx) from charges of murder, Just Mercy, is a tale of justice from the pages of recent history. Now thanks to HBO Max, more people will be able to see this moving drama about one man's passion to defend the innocent, and the psychological effects the American prison system can have on a person, both in the long and short term. With outstanding performances by Jordan and Foxx anchoring an ensemble that includes Brie Larson and O'Shea Jackson, this is a film is a must see.
Available September 26
The future's looking bright for HBO Max subscribers, and September 2020 is going to be quite productive for those of you who are in the streaming game. Be sure to check this schedule often, as titles are subject to change and availability. Until next time, stream responsibly, and we'll see you when October 2020's titles have made themselves visible to the naked eye!
Your Daily Blend of Entertainment News
Senior Movies Contributor
CinemaBlend's James Bond (expert). Also versed in Large Scale Aggressors, time travel, and Guillermo del Toro. He fights for The User.
Your Daily Blend of Entertainment News
Thank you for signing up to CinemaBlend. You will receive a verification email shortly.
There was a problem. Please refresh the page and try again.