The Riddler: 8 Things You Might Not Know About The Batman's Main Villain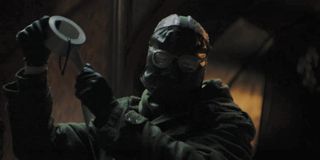 The world of DC Comics, and comic book movies, was shook by the release of the first official trailer for The Batman during the DC Fandome event. Among the many reveals and teases throughout the trailer that has people talking is the first sight of The Riddler, as portrayed by Paul Dano in director Matt Reeves' highly anticipated thriller.
The puzzling alter ego of Edward Nygma (just one of the character's multiple birth names throughout his history) has been perpetuating psychological torment in Gotham City since he first appeared in 1948's Detective Comics #140, as developed by Batman co-creator Bill Finger with artist Dick Sprang, in an iconic green suit bearing a myriad of question marks. Yet, this new interpretation of The Riddler, which Robert Pattinson's Bruce Wayne is said to take on, has a look so different even the most knowledgeable fan could barely recognize him at first.
Of course, this would not be the first time that a screen adaptation took a few liberties with the character, keeping his love of mind games and affinity for the color green intact, but leaving out certain other revealing aspects of his evolution into one of the Batman's greatest foes and beyond. Therein lies another puzzle of what the comic book-deprived fan may have missed. The following eight lesser-known facts may help solve the mystery of The Riddler.
The Riddler Formed An Obsession With Queries As A Child
Years before he became The Riddler (and had the last name Nigma), Edward Nashton grew up obsessed with knowing the answers to everything, even to questions he came up with himself. His fascination was only furthered by a school project requiring students to assemble a puzzle of the teacher's design, which he trained himself to achieve in less than one minute out of an uncontrollable desire to win the assignment. Edward's academic success made him a target for bullies, which was not much different from the abuse he suffered at home, and was just one factor leading to his criminal tendencies.
He Worked As A Delivery Man Before Becoming The Riddler
In the original interpretation of the character, Edward Nashton grew up to become a delivery man, but he quickly grew tired of it, believing his expertise could be best utilized for thievery. However, even that lacked the excitement he craved, inspiring him to adopt his villainous alias and flagship outfit, changing his name last name to Nigma (as in "E. Nigma") to reflect his puzzling personality. Thus, The Riddler was born.
The Riddler Suffers From Various Personality Disorders
It should be noted that The Riddler's gimmick of taunting his victims with brainteasing games is not merely a choice, but really a psychological trait beyond his control. Batman's description of Edward Nigma to Catwoman as a "fanatic narcissist [with] egocentrism, and megalomania crossed with severe obsessive compulsion" in the Batman: Arkham City video game is pretty much taken directly from his most essential origin. Due to his compulsive disorder, The Riddler is unable to not leave some puzzle as a clue to his presence when participating in a criminal act, always leading to his inevitable capture.
A Dip In The Lazarus Pit Helped Riddler Figure Out Batman's Identity
Edward Nigma's truly enigmatic mind has also prevented him from uncovering the secret of Batman's true identity... that is, until he received some unexpected help. In Jeph Loeb's beloved early 2000s arc Batman: Hush, a cancer-stricken Riddler's dip into the Lazarus Pit to prolong his life gives him a moment of clarity that leads him to finally solve that mystery. He tries to use the information to blackmail Bruce Wayne, who then convinces Nigma that revealing the information would only make it invaluable, followed by a threat to reveal his unauthorized use of the Pit to its owner, Ra's Al Ghul.
The Riddler Has Worked Alongside Batman As A Private Investigator
Riddle me this: how does one of Gotham City's most committed criminal masterminds become a force for good? This reformation of character comes from the Infinite Crisis storyline, in which The Riddler emerged from a head injury-induced coma with amnesia, forgetting most of his past (including Batman's secret identity) and taking on a new life as private eye. He even helps Bruce Wayne prove his innocence in a murder investigation, earning his trust as crimefighting collaborator, until he reverts back to his villainous ways, essentially, out of nowhere.
The Riddler Took Control Of Gotham With A City-Wide Blackout
The New 52 continuity gave Edward Nygma (as his last name is officially spelled by then) a full-scale revamp as a trusted analyst working for Wayne Enterprises while Bruce Wayne is just beginning his crimefighting career. Furthermore, The Riddler becomes his major foe in this storyline, Scott Snyder's reimagining of the Batman origin called Zero Year, and in the third act, he takes over Gotham City, transforming it into a blacked-out, flooded, Darwinist wasteland. Fortunately, the Dark Knight, along with Jim Gordon and Lucius Fox, manage to defeat Nygma, earning him residence at Arkham Asylum.
The Ridder Had Female Assistants Named Query And Echo
While The Riddler is now widely seen as a socially alienated loner, but that was not so much the case when he teamed up with two ladies with a thirst for evildoing. Introduced as Query and Echo in a special 1989 villain-themed issue of Secret Origins, the blonde and brunette leave their jobs at a dominatrix club to become thieves, at which point they bump into Edward Nigma as he is just beginning his criminal career, who hires them on the spot. It makes you wonder why they weren't paired with Jim Carrey's Riddler in Batman Forever instead of Sugar (Drew Barrymore) and Spice (Debi Mazar), Two-Face's (Tommy Lee Jones) girlfriends created purely for the 1995 Joel Schumacher film.
The Riddler Had A Daughter Named Enigma
While Query and Echo's legacy has survived in additional storylines and references in other media, later iterations of The Riddler saw him joined by only one female assistant who is, supposedly, own flesh and blood. Enigma was originally introduced as new member of the Teen Titans, around the time her father was still on the right side of the law following his amnesia. However, she would later become Riddler's partner-in-crime once he returned to participating in nefarious acts until he murdered her in cold blood.
What do you think? With all that you now know about The Riddler, are you even more excited to see Paul Dano's interpretation in The Batman, or are you even more afraid of how Matt Reeves could potentially screw the character up? Let us know in the comments and, unless you wish to continue pondering these riddles until the film releases October 1, 2021, be sure to check back for additional information and updates on the Dark Knight's highly anticipated big screen return, as well as even more inside looks at your favorite comic book characters, here on CinemaBlend.
Jason has been writing since he was able to pick up a washable marker, with which he wrote his debut illustrated children's story, later transitioning to a short-lived comic book series and (very) amateur filmmaking before finally settling on pursuing a career in writing about movies in lieu of making them. Look for his name in just about any article related to Batman.
Your Daily Blend of Entertainment News
Thank you for signing up to CinemaBlend. You will receive a verification email shortly.
There was a problem. Please refresh the page and try again.