Upcoming Gal Gadot Movies: What's Ahead For The Wonder Woman Star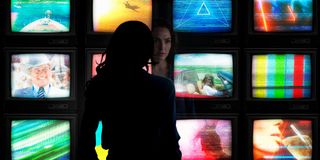 The number of upcoming Gal Gadot movies coming out in the next couple of years is staggering, to say the least. In addition to upcoming DC movies, including a return a third standalone Wonder Woman movie, the Israeli actress is set to appear in a pair of big-budget Netflix thrillers, the long-awaited adaptation of one of Agatha Christie's most beloved novels, an already controversial biographical drama, and more. Much, much more.
Below is a breakdown of where you'll see the former Fast and Furious star on the big screen and on television in the next couple of years. There's a lot to cover here, so let's get started before yet another title is announced…
Red Notice - 2021 (Post-Production)
Gal Gadot and Dwayne "The Rock" Johnson appeared in two Fast & Furious movies before Gadot's Gisele Yashar's act of self-sacrifice ended things for her character in the final moments of Fast & Furious 6. The two will team up once again for the upcoming Netflix action comedy Red Notice, where they will once again be on opposite sides of the law. In the movie, Gadot plays the world's greatest art thief who is being sought out by all of INTERPOL after the agency issues a "Red Notice," a global alert to track her down.
Johnson will play an INTERPOL agent who just so happens to be the world's greatest tracker. According to The Wrap, Ryan Reynolds is also appearing as a character that is the world's greatest con-man, if you can believe it.
The global heist film, which is written and directed by Rawson Marshall Thurber, was originally slated to have a theatrical release through Universal, but when the studio balked at the proposed budget, Netflix swooped in and agreed to take on the project, according to Deadline. Production on Red Notice has been delayed several times since principal photography first got underway, which may or may not have something to do with Dwayne Johnson and Ryan Reynolds attempting to one-up each other with jokes while shooting, but also was because of COVID-19 shutting everything down earlier in 2020. Things picked back up in September 2020 and production was in full swing once again for Johnson, Reynolds, and Gal Gadot. Red Notice is currently set to land on Netflix at some point in 2021.
Death On The Nile - February 11, 2022 (Completed)
First up for Gal Gadot is the soon-to-be-released Agatha Christie adaptation Death on the Nile, which will once again see Kenneth Branagh pull double-duty as the film's star, Detective Hercule Poirot and as the director after doing the same for 2017's Murder on the Orient Express. In the latest big screen version of Christie's iconic whodunit novel, Gadot will be playing Linnet Ridgeway-Doyle, who fans of the classic crime thriller remember as the wealthy heiress who falls into some bad luck aboard the S.S. Karnak and becomes the center of the mystery. Judging by the movie's trailer, Gadot appears to be up to task of playing the beautiful and wealthy passenger.
This version of Death on the Nile was first announced around the time Murder on the Orient Express was released in theaters, with Michael Green returning to pen the script and Kenneth Branagh coming back to do what he does best. The film was originally scheduled to pull into theaters on December 20, 2019 before being rescheduled for an October 9, 2020 release. That date, in turn, was pushed backed two weeks to October 23 before being shifted to December 18 in light of Disney's decision to push back all its releases in light of the COVID-19 pandemic. That date was then pushed back once again to February 11, 2022.
Irena Sendler - TBD (Pre-Production)
Gal Gadot will not only be starring in the upcoming Irena Sendler, she will also be producing the World War II-era story about a Polish woman who saved thousands of Jewish children during the Holocaust. According to a 2019 Deadline report, the film will be produced by Gadot's Pilot Wave production company for the Warner Bros. release of the thriller about the real-life Irene Sendler, who worked with dozens of others to smuggle children out of the Warsaw Ghetto and provide them with false identification to escape persecution from the Nazis. And even though Sendler was captured by the Gestapo and subjected to torture, she never revealed the true identity of any of the 2,500 children she helped save.
The script for the historical thriller is being written by Justine Juel Gillmer, who is best known for writing the harrowing Holocaust film Harry Haft. No director is attached to the project at this time and no release date has been given since the movie's initial 2019 reveal.
Hedy Lamarr - TBD (Pre-Production)
Gal Gadot is arguably one of the most beautiful faces in Hollywood today, and so it should come as no surprise that she will be portraying classic beauty Hedy Lamarr in a Apple TV+ limited series about the actress' life and career. According to IndieWire, Gadot will be playing the "most beautiful woman in the world" in the series that will span 30 years of her career and will take audiences on a journey that will see Lamarr's escape from pre-war Vienna, rise in the Golden Age of Hollywood, and her fall from grace in the early days of the Cold War.
The series, which is being called Hedy Lamarr, was first announced in 2018 as a Showtime original, but Apple TV+ picked it up as the streaming platform was beefing up its list of shows and movies. No release date has been announced at this point.
Cleopatra - TBD (Pre-Production)
Gal Gadot and Patty Jenkins have quite a history together, having previously teamed up for Wonder Woman and Wonder Woman 1984. And while the two will get together for a third installment in the DC franchise at some point in the near future, they are also working on another project about an equally iconic figure: Cleopatra. The plot of the film largely remains a mystery at this point in time, but the script is being handled by Laeta Kalogridis, the creator of Altered Carbon and co-writer of Alita: Battle Angel. When the project was first announced, Deadline revealed the idea to make a Cleopatra movie was that of Gadot herself, who enlisted Kalogridis to conduct research and put together an epic story about the iconic Egyptian figure.
There is currently no word on when the script will be ready or when production will get underway, leaving it hard to pinpoint a release date. Expect to hear more on this project in the coming months.
Wonder Woman 3 - TBD (Pre-Production)
Following the success of Wonder Woman 1984 (despite being released in the middle of a pandemic), Warner Bros. was quick to greenlight a third installment in the DC franchise. Though in the works for well over two years now, Wonder Woman 3 was made official in December 2020 with Gal Gadot set to return as Diana Prince and Patty Jenkins back in the director's chair for a third time.
Although Geoff Johns (who also worked on Wonder Woman 1984) has already come up with a story for the threequel and all concerned parties are down for the project, it remains to be seen exactly when we'll pick up with the Amazonian warrior princess as there are numerous other upcoming Gal Gadot movies and projects being spearheaded by Patty Jenkins, including the upcoming Star Wars title, Rogue Squadron. That being said, it looks like it will be some time before we get the answers to all those lingering questions in regards to the 2020 sequel.
Heart Of Stone - TBD (Pre-Production)
Red Notice won't be the only Gal Gadot-led thriller coming to Netflix in the near future as the streaming giant has acquired the rights to Heart of Stone, which sounds like a female-centric spy thriller in the vein of Mission: Impossible and 007. Written by Greg Ruck, who wrote the graphic novel that would become the 2020 Netflix hit The Old Guard, and Allison Schroeder, who received an Oscar nomination for her Hidden Figures script, the spy thriller, which is believed to be the start of a new franchise, is to be directed by Tom Harper.
At this point in time there is no additional information about Heart of Stone, but considering Netflix acquired the distribution rights as part of an eight-figure deal, per Deadline, expect to hear a lot more about this project moving forward.
Recently Released Gal Gadot Movies
There are a lot of upcoming Gal Gadot movies in the works, which shouldn't be a surprise considering just how busy the Wonder Woman actress has been over the course of the past year. Here are some of Gadot's more recent releases.
Wonder Woman 1984 - Released December 25, 2020
Gal Gadot finally returned as Diana Prince, aka Wonder Woman, in Patty Jenkins' Wonder Woman 1984 on Christmas day 2020. In the followup to the 2017 origin story of DC Comics most fearsome female superhero, Gadot played a version of the Amazonian warrior princess in the middle of the 1980s as she took on Kristen Wiig's Cheetah and Pedro Pascal's Maxwell Lord, in a fight to save humanity. But she wasn't alone because Chris Pine's Steve Trevor, the American spy and pilot from the first go around returned in one mind-boggling way.
Zack Snyder's Justice League - Released March 18, 2021
After what seems like decades (it has only been three years), Zack Snyder's Justice League (also known as "The Snyder Cut") finally came out on March 18, 2021. Fulfilling to audiences and critics alike, the new and improved version of 2017's Justice League did quite a lot to set up the futures for its various heroes and gave DCEU fans hope that the SnyderVerse is alive and well after a rough few years.
Those are all of the upcoming Gal Gadot movies (and a limited series) coming up in the future. And while some of the movies either don't have release windows or their premieres keep getting pushed back, you can keep track of all the 2021 movies and upcoming superhero movies here at CinemaBlend.
Philip grew up in Louisiana (not New Orleans) before moving to St. Louis after graduating from Louisiana State University-Shreveport. When he's not writing about movies or television, Philip can be found being chased by his three kids, telling his dogs to stop yelling at the mailman, or yelling about professional wrestling to his wife. If the stars properly align, he will talk about For Love Of The Game being the best baseball movie of all time.