6 Black Romance Writers Whose Books Need To Be Adapted To Movies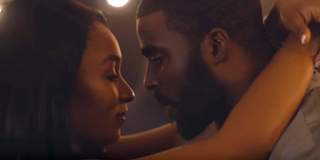 People of Earth! Times, they are rough. There is so much going on (literally every single day), and so much of it which is 100%, Grade A, Not Great, that it can be difficult to focus on the good in life and keep your hopes for the future alive. Well, you know what is great? True love and sexytimes. Even though a lot of folks might not admit it, most of us have a favorite story (or more) which leans heavily on romance, no matter what else is going on, and black romance authors like Beverly Jenkins and Talia Hibbert have certainly given readers a lot to love about love!
Sure there are plenty of romantic comedies out there, but if you are a true lover of actual romance novels, you'll know that one thing those books promise (which can be a big deal right now) is a happy ending for the lovebirds involved. And, right now, when everything seems to be so up-in-the-air, who among us couldn't use a little assured happiness, no matter what disasters life throws in our path?
Of course, while there are plenty of romance novels which have been adapted for the big screen or TV, few if any of those have been based on the works of black authors. Let's face it, we all need to see someone who looks like us get love, get laid and get happy, so here are six black romance writers whose books need to be adapted into movies!
Beverly Jenkins (Forbidden, Indigo)
A great place to start getting some of these diverse stories on the screen would be using the work of Beverly Jenkins. For one, she's got a large catalog of titles which cover a wide range of sub-genres / tropes such as romantic suspense, small town and contemporary. However, Jenkins is probably best known for her historical romances, which help show that the olden times weren't just about struggle and strife for black people. Secondly, Jenkins is the only author on this list who's already had one of her books (Deadly Sexy) adapted into a film, which can be streamed on Amazon and released in 2018.
Talia Hibbert (Get A Life, Chloe Brown)
Oh, boy. Talia Hibbert is no joke, y'all. In just a few years (seriously, less than five) this young English author has published well over a dozen romances that cover some well-loved tropes and romance sub-genres and feature a nearly endless array of diversity. Several of her stories are interracial, but not all of them focus on the black and white of that potential pairing, and also have main characters who've been marginalized for things other than their race. Aside from that, all (You hear me? ALL.) of the sexytimes in her books are blistering hot, even if they also serve up a healthy dose of humor. Any movie made from one of Hibbert's books will absolutely need an R rating, and if that doesn't pique your interest nothing will!
Kennedy Ryan (Queen Move)
I can admit that I'd avoided Kennedy Ryan's work, despite hearing people in the know sing her praises again and again, because the cover art made me think that every book would deal with the billionaire bastard trope I (basically) hate to my very core. Once I gave Queen Move a shot, though, I quickly fell for the characters, story and surprises which were in store. Ryan knows how to develop a love story (this particular one is perfect for those who enjoy a friends-to-lovers tale) and does it with the added benefit of plenty of good ol' fashioned adult stuff to keep you intrigued, and seems tailor made for an on-screen romance.
Rebekah Weatherspoon (Rafe: A Buff Male Nanny)
Lest you think the authors above are the only ones going to bat for as much diversity in their romances as possible, you should know that Rebekah Weatherspoon is right there with them. And, you did not read wrong; one of her books does have the full title of Rafe: A Buff Male Nanny, and I can vouch for the hotness that's on the page in that tome. You'll get a stressed, single, working mom (She's a doctor!), great friendships and, yes, a truly buff male nanny (for real, go look at the cover). Weatherspoon writes the gamut, including stories about queer folks, plus size heroines (and heroes), interracial romances, westerns (with black cowboys!), and (hold on to your kinky butts) BDSM. Who do we have to spank to get a movie based on one of Weatherspoon's gems, already?
Alyssa Cole (A Princess in Theory)
If you haven't yet read a book by the wonderful Alyssa Cole, man, you are truly missing out. If, in another year or so, an official romance sub-genre called "Alyssa Cole wrote this" isn't introduced, I'll be shocked, because this author knows the ins and outs of romance and writes them like a champ. Cole has been publishing for several years now, and someone looking adapt one of her stories could not go wrong with any of her novels as source material. She writes both contemporary and historical stories, but The Reluctant Royals series (featuring a lot of royalty, both black and white, from romance-appropriate fake countries) is a great place to start representing her works on screen. Also? They're all HOT, but you must realize that this matters by now!
Jasmine Guillory (The Wedding Date, Royal Holiday)
Last, but certainly not least, we have an author who is writing the sweet, sparkling, sexy romantic comedies we all need right now, with lawyer-turned-author Jasmine Guillory. She currently has five published novels featuring a breadth of diversity and characters who have to overcome their personal issues (like sorta hating each other) to find love everlasting. Royal Holiday is my fave of the bunch so far, mainly because we get to see some older folks find love and do some amazingly naughty things to one another. But, it should be noted that all of Guillory's books feature characters who are connected in one way or another, so I'd like to start the official motion for some enterprising film studio to start at the beginning and keep rolling until they've filmed them all!
Keep in mind that this is far from an exhaustive list of black romance authors whose books would be the perfect basis for films, so if you have suggestions that were left out, be sure to let everyone know in the comments below!
Your Daily Blend of Entertainment News
Yennefer's apprentice, Gilmore Girl; will Vulcan nerve pinch pretty much anyone if prompted with cheese...Yes, even Jamie Fraser.